The Best Cocktail Bars in DC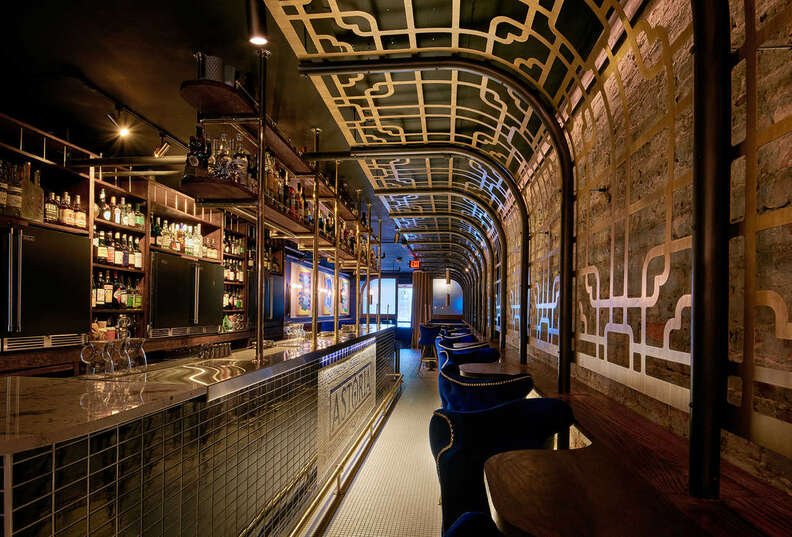 Courtesy of Astoria
Courtesy of Astoria
After years on the upswing, Washington DC has become a cocktail powerhouse rivaling cities like New York, London, and New Orleans. Bars are mixing low-key classics, cutting edge creations, and everything in between. And more than ever, DC bartenders are utilizing high-quality spirits, squeezing their own juices, and making their own sodas, mixers, infusions, bitters, and garnishes. The city also counts a handful of serious distilleries inside its border, providing bartenders with an arsenal of local liquors to highlight.
An unfortunate downside to cocktails becoming better, however, is that they're also getting more expensive. Finding a good drink for under $10 is a chore, and paying $15 for a cocktail is no longer laughable. Thankfully, though, a number of drinks live up to the price. Here are the game-changing, must-visit bars in DC that cocktail lovers need to experience.
U Street
Archipelago was one of DC's first adopters of the modern tiki revival. The space, while subdued, is still kitschy enough with its playful decor, classic tiki glassware, and snazzy cocktail garnishes that add to the flair. The menu includes classics like the Mai Tai and a frozen piña colada alongside more adventurous options like the Truck Bed Funeral, with mezcal, Navy-strength rum, peach cordial, grapefruit, and cinnamon. Archipelago also serves a tasty selection of food straddling tropical and Asian influences, including ham and cheese sliders on Hawaiian bread, dan dan noodles, and addictive crab rangoon dip.
Dupont Circle
The team from Copycat Co. has brought together tongue-tingling Sichuan food and artful cocktails at this visual stunner of a bar inspired by New York City's Waldorf-Astoria Hotel. The cocktail menu (all $14) is structured around classics like the Caipirinha and Moscow Mule, with related suggestions offered for guests looking to branch out. Bartenders are also eager to work with you on a new experiment to fit whatever mood strikes.
Adams Morgan
Bar Charley is the kind of cocktail bar to go to when you don't know what you want. The menu is extensive, especially when it comes to variations on Manhattans, martinis, and Old Fashioneds. There are also riffs on tiki creations that run from "rich and creamy" to "fruity and exotic," not to mention the Suffering Bastard cocktail on tap. For a show-stopping visual, order up The Stepdad, a brooding concoction of VSOP Cognac, Cynar, aromatic bitters, and cedar smoke. The food menu is set up as a sort of neighborhood steakhouse, with affordable cuts of beef along with small plates and appetizers like pimento cheese and Korean-style chicken wings.
Penn Quarter
Chef José Andrés is one of the biggest culinary innovators in the world, and his magic doesn't stop in the kitchen. Barmini is the chic companion to the boundary-bending two Michelin-starred minibar restaurant next door. It's not a cheap place to drink, but you'll feel damn fancy, and it's a great place for a date or a celebration with friends. The sleek bar also serves some whimsical and tasty tapas, such as a foie gras waffle with peanut butter and honey.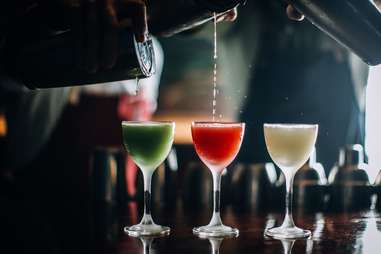 Shaw
Columbia Room owner Derek Brown is one of the premiere leaders of the DC cocktail scene, and a founding member of the city's Craft Bartenders' Guild. His signature bar's primary appeal is its seasonally changing tasting menu, a ticketed $85 four-cocktail experience paired with light bites. Those who prefer to roll without reservations can snag a drink in the indoor "spirits library," or in the outdoor punch garden.
Adams Morgan
Dram & Grain is no longer the low-key speakeasy it was when it opened beneath Jack Rose in 2014. After a hiatus last year, it's moved to a new, sleek, and much larger space in the cellar of The Imperial, Jack Rose's highly anticipated sister restaurant. Creator Director of Beverage Andy Bixby has developed a menu that's heavy on homemade sodas, syrups, and infusions and not afraid to get a little weird. Ingredients and recipes can sound foreign to even the most seasoned drinkers, so don't be shy leaning on staff for advice. Try the Fresh-Baked, with Wild Turkey Rare Breed, baked citrus amaro, fortified cinnamon roll, Trinity bitters, acido, and amere sauvage. Or go for one of the bar's signature classics, like the Teahouse Tipple, with Bombay Sapphire Gin, Nigori Japanese rice syrup, lemon, egg white, Cocchi Americano, and yuzu espuma.
U Street
The word "speakeasy" gets thrown around a lot these days, but it's a pretty apt description in this case (except for, you know, the legality element), as guests enter through an unmarked door off 14th street. The Gibson opened in 2008 and continues to be one of the steady trailblazers of the District's cocktail boom. Bartenders here are masters of classic cocktails, so don't feel bad if all you feel like is an Old Fashioned. The drink list rotates seasonally. This winter, for example, features the Kink in My Telemetry, served warm with Jamaican rum, Averna, vanilla, lemon, and chocolate bitters.
Adams Morgan
The Green Zone is Washington's destination for Middle Eastern cocktails -- a welcome addition to a city as international as DC. Drinks go from floral and light to strong and boozy, incorporating regional ingredients like pistachio syrup, apricot, rose, and mint. The two-story bar hosts live DJs on weekends and has a small patio for people watching along 18th Street. A small food menu of Middle Eastern bites -- like coriander and garlic batata harra fries -- keeps hunger in check.
Georgetown
From the zinc bar to the cozy back library, L'Annexe offers a sophisticated cocktail refuge with European touches. The signature beverages here are made with house liquor infusions like turmeric root gin, melon vodka, and Cognac with lemon peel. It's also somewhere to enjoy a well-made martini or Sazerac with a round of small plates like hummus, beef tartare, mushroom toast, or grilled skewers.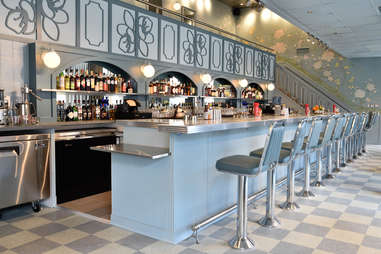 Mt. Vernon Triangle
Morris American Bar takes cocktails seriously, but it's no traditional speakeasy. Its cheery atmosphere starts with the bold marquee and extends to the bright interior, styled with pastel blues and playful lighting. Morris' bartenders hand-carve ice, and pay attention to every drink detail -- from glassware to temperature. The menu changes seasonally, and bartenders are always helpful to mix up something for any taste or preference from the extensive bottle selection. There's no standing room, so be prepared to wait if you're with a large group or visiting at peak times.
Metro Center
Some cocktail bars focus on pre-Prohibition and Civil War-era cocktails, but Round Robin Bar doesn't have to pretend -- it's been in operation since 1850. It may not be the buzziest spot in town, but it's tough to compete with the genuinely old-school feel of sipping a mint julep surrounded by decades of political history. The bar's age hasn't stagnated innovation, though. The cocktail list has plenty of nods to current trends, such as the No Borders, with reposado tequila, mezcal, pineapple, ginger, and habanero tincture. If you get hungry, turn to bar fare like crab cake sliders or truffle oil and Parmesan fries.
Union Market
Serenata sits at the center of La Cosecha, the ambitious Latin American food and retail hall nearby Union Market. The cocktail menu is one of the most diverse in the city, organized by country and highlighting indigenous spirits and ingredients wherever possible. A good pick is the Duende Tango, a Dominican-inspired blend of aged rum, Mama Juana, Aperol, Scotch, orange bitters, and olive. Classics make an appearance, too, so feel free to enjoy a Ti Punch or Cuba Libre while snacking on bar bites that include rum chicken liver mousse or avocado toast with charred chorizo.
U Street/Shaw
An all-day menu featuring $7 daiquiris and Old Fashioned has made Service Bar a popular stop along the U Street corridor. The rest of the lengthy menu is organized by spirit, with options from tequila and mezcal to rum, whiskey, and brandy. And that's not to mention the "hyper-seasonal" selections that change often based on ingredient availability. Fried chicken is the other draw here, whether it's by the piece, bucket, or as a crispy, Buffalo-style sandwich.
Shaw
If you can't decide between a mezcal negroni or a vodka soda, head to The Passenger. This relaxed bar always has a chalkboard menu of special cocktails with unique ingredients, not to mention Chartreuse on tap. But you won't feel out of place ordering an old standard or a simple mixed drink. Craft beer and wine are available, too, along with a small menu of bar food like a half smoke, quesadilla, and chicken wings.
Sign up here for our daily DC email and be the first to get all the food/drink/fun in town.
Travis Mitchell is a freelance writer for Thrillist who has spent more than a decade sipping on DC's best cocktails. Follow @travisjmitchell on Twitter and Instagram.