Telling Stories With Booze: Exploring Columbia Room's World-Class Cocktail Tasting Menu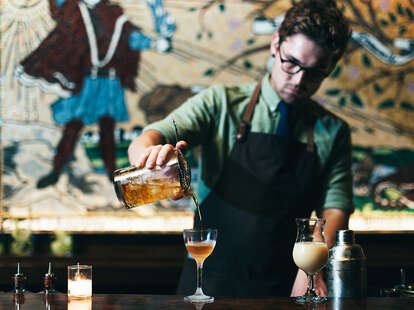 The differentiating factor between a good bartender and a transcendent one is the level of thoughtfulness that goes into a cocktail or a beverage program. Rather than simple riffing on classic cocktails, or playing to the spirit fad of the moment (Malört and Fernet-Branca, we're looking at you), high-level bartenders create programs with intention and a mind for seasonality, thematic design, and balance. DC certainly has its share of bartenders at all bands of the spectrum, and fortunately, that includes several who are truly world-class. For instance, Tyler Hudgens' ever-changing program at The Dabney echoes the hyper-seasonality of Chef Jeremiah Langhorne's mid-Atlantic cuisine, and Lukas B. Smith shows relentless innovation that has led to the creation of experimental tinctures, syrups, and tonics (and now rum, at the newly launched Cotton & Reed distillery).
But the task of creating a cocktail bar dedicated to tasting menus presents a unique set of challenges, and is arguably the most difficult task a bartender can attempt. Most diners don't associate the tasting menu experience with something that could be translated to a cocktail bar (and the practice isn't very common, to boot), but the Columbia Room's JP Fetherston is making a strong case for a change of perception.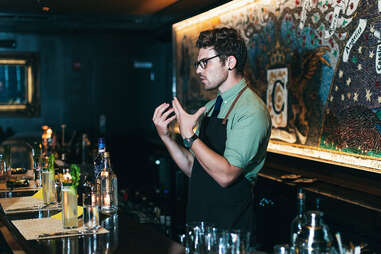 "We're still playing catch-up about the distinction between restaurant tasting and cocktail tasting," Fetherston says. At the previous iteration of owner Derek Brown's Columbia Room -- which was tucked inside the beloved Passenger, forced to move at the end of 2014 after its block was bought for redevelopment, and re-opened in early-2016 in Blagden Alley -- the cocktails served were based on conversations between the patron and bartender, and not as a cohesive, predetermined menu. Tasting menus like the Columbia Room's are meant to be taken as a whole, uninterrupted experience -- like an album designed to be listened to in one sitting rather than cherry picking individual tracks. The experience is a relatively new and untested one in DC. "But people in DC are open-minded," says Fetherston confidently, "DC is one of the best places to try things like this and be successful."
A cocktail tasting menu, like a conventional tasting menu, is a progression of drinks tied together with some narrative or thematic thread, creating a focused experience. Whether or not this experience is compelling depends entirely upon the design and structure of the menu. Since reopening in February 2016, the new Columbia Room -- which features two distinct, more conventional cocktail bar spaces, the Spirits Library and Punch Garden where cocktails can be ordered a la carte, in addition to the tasting room -- has rotated through three seasonal menus and is on the cusp of its fall menu.
Diners can choose whether to opt for three- or five-cocktail courses. The former is the core experience, with three cocktails that represent the theme of the menu, and progress from lighter to heavier, boozier profiles. The latter option bookends the core three with more playful, experimental offerings. "We want the first of the five courses to be be light and playful, and ease you into the menu," says Fetherston. "It's somewhere that we can use an ingredient that's a little out there or funky, and wouldn't have a place in the core menu." The optional fifth cocktail then plays the role of of the dessert course, and has "an element of finishing and closing out the menu."
Fetherston's goal is to take weird and challenging ideas and present them in the most approachable way possible.
The tasting menu experience takes place in the bar's back room. Fourteen leather seats line a dark, polished wood bar, facing an expansive, custom mosaic depicting mythical creatures (each representing one of Columbia Room's team) and bartenders throughout history, including Aristotle who discovered the process of distillation. This sets the stage for Fetherston, and bartender Adriana Aspiazu, to present each drink by recounting the story of how it was conceived and how the ingredients were chosen. The full five courses can last upwards of two hours.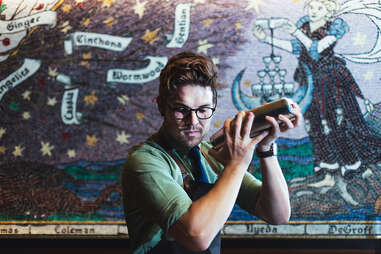 The design process that Fetherston, Brown, and the Columbia Room team undertake before launching each subsequent menu is extensive, conceptual, and vital to crafting an experience that is worth the admission price. "We start by picking a core idea -- a narrative or theme -- appropriate for the time of year, then go down the rabbit hole with whatever's in our heads," Fetherston says. He and Brown collect ideas from their staff, then begin testing ingredients and recipes. Brown provides creative direction and the team contributes ideas, but Fetherston plays the role of chief curator -- setting the theme and tone. For the Columbia Room's spring menu, Fetherston chose to focus on Japan. "When we first talked about spring and what was synonymous with spring in DC, of course the first idea that popped up was cherry blossoms," he says.
Of course, cherry blossom-themed dishes and drinks are ubiquitous in DC in the spring, and Fetherston admits that they were by no means being the first people to think of incorporating the iconic flower into their spring lineup. However, he took the inspiration a step farther than most, and chose to "pull the thread on that connection with Japan and turn it into a full menu." Rather than going through "contortions to put cherry blossoms in everything," Fetherston used the cherry blossom as a springboard towards exploring Japanese cuisine. The menu included matcha, pickled cherry blossom tea, and shochu to create flavors through layers of subtlety and restraint that are the hallmark of Japanese cuisine. The climax of the spring menu involved a small zen garden of edible plum salt and mochi stones, a playful, visual, and interactive culmination of the season's cocktails.
"People in DC are open-minded -- DC is one of the best places to try things like this and be successful."
For the current summer menu, Fetherston liked the idea of using a similarly geographic focus as a starting point. "We chose Latin America because it was interesting and useful to play off of the background of a lot of the Columbia Room staff." Fetherston draws on the cultural experience of his staff to help define the flavors he incorporates. For instance, on a trip to Ecuador, he encountered lemongrass in teas and sodas, and thought it would "read as inauthentic to Western palates because it more commonly recalls the flavors of Southeast Asia," but was corrected by his staff, who assured him that it was an authentic choice.
The Latin America menu highlights flavors across the continent, and works to subvert several common misconceptions. For the first of five courses, Fetherston incorporates ingredients like Inca Kola and chicha for the "Atahualpa Cup," evoking flavors that are "familiar for those of us who've been to a Pollo Rico." Served in hand-carved bowls that Fetherston personally brought back from a trip to the Ecuadorian Amazon, this cocktail drinks light and effervescent, and primes the palate.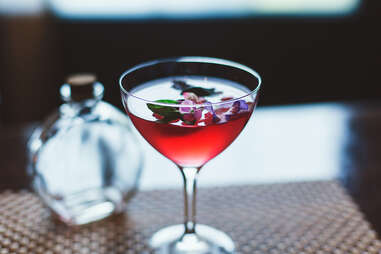 The team also brews their own version of horchata lojana, a common botanical home remedy in southern Ecuador, and a component of the intensely herbal and floral "Cuxibamba." The horchata lojana is brewed from lemon-scented herbs (including the aforementioned lemongrass), and when combined with crude lime cordial and gin juxtaposes citrus and earthiness to create a multifaceted and potent delivery of flavors that is at once light and intense.
The fifth and final course holds special significance for Fetherston, and is a pet project of his. "It's a classed up version of a really goofy Chilean drink" known as a terramoto, famously served at both La Piojera and El Hoyo in Santiago. What was originally "a giant plastic cup of vino pipeno (cheap Chilean table wine), a lot of Fernet-Branca, and pineapple ice cream" is transformed into a subdued dessert cocktail of pale cream fino sherry, dry and funky vin rancio, a touch of sirop de gomme, and "a little kiss of Fernet-Branca in there -- we didn't want to go as full in as they do." As the fifth course and a dessert surrogate, the "Temblor" is bright and tropical from the dry fino sherry, while at the same time nutty and herbal. The caramelized pineapple cream ties it together, coating the experience with a rich but restrained sweetness that gets increasingly potent as the ratio of liquid to cream diminishes.
The full summer menu is an exploration of Latin culture, produce, and flavors. It explores social oddities, as well as misunderstood contemporary appropriations. The experience becomes as educational and interactive as it is delicious.
For the fall, however, Fetherston is stepping away from the geographic narrative, and entering into the abstract. The upcoming fall menu, which will launch in October, will center on the theme of leaves. At first blush, this may sound a touch on the nose as an autumnal subject, but Fetherston is confident that it will be as challenging and surprising as the preceding menus, if not more so. "Leaves seem like a very simplistic idea, but... it's weird and complicated." In the development stage now, Fetherston is contending with more "metaphorical and allegorical interpretations of what is a leaf." One idea under consideration: old books, and the way old paper or parchment can have a consistency and aroma similar to an autumn leaf. "This is going to be the moment in the menu where people stop to say, 'Wait, what?'"
Further afield, Fetherston and his team have floated potential ideas for future menus, ranging from an era of art to a specific painting. Fetherston wants to create an environment that avoids being stuffy or pretentious, although he's aware that there's a certain amount of irony at play, as he makes this statement while standing in front of that gigantic -- and, some might argue, self-aggrandizing -- mosaic. Fetherston explains that his goal is to "take weird and challenging ideas and present them in the most approachable way possible."
Although a cocktail tasting menu is probably not the first thing that comes to mind when considering evening plans, the experience is comparable to a meal at an upscale restaurant. Rather than an afterthought to end a meal, Columbia Room's tasting menu cocktails are the main event. Dining enthusiasts should consider partaking in what Fetherston is creating at Columbia Room -- there are few comparable experiences anywhere on the East Coast.
Sign up here for our daily DC email and be the first to get all the food/drink/fun in town.
Brian Oh is a DC-based international development professional, freelance photographer, and writer that dedicates every spare minute not saving the world to stuffing his face. Follow him on Instagram @brianoh11.