Need a drink on Christmas? Head to H St NE, U St, or Adams Morgan. They have the highest density of bars that care enough to stay open on December 25th. But in case those 'hoods are a hike, here are all the spots we know will be slinging drinks for your post-holiday comedown.
Adams Morgan
Wings > fruitcake. Actually, wings are better than any cake.
 
Adams Morgan
Responsible for your new Christmas tradition: beer and burgers from noon until close.
Adams Morgan
Bring your blues over and rest them on Madam's Organ's bosom, but not until 8pm. We hear it's doing a mac & cheese and shot pairing. That's actually a lie, but take it upon yourself to do it anyway.
 
Adams Morgan
If you don't dig Christmas, revel in knowing it's St. Patrick's Day every day inside Shenanigans. It'll be open from noon to 2am serving free ham and turkey dinners to first responders and those who are hungry.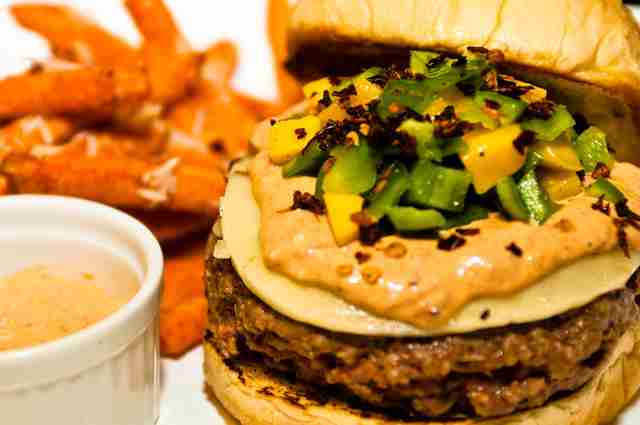 H St NE
Warm up with the Great Chicago Fire burger (hot pepper everything) starting at 5pm.
 
H St NE
Tell out-of-towners tagging along not to order a Manhattan, martini, or a shot you think the bartenders "ought to know." Opens at 9pm.
H St NE
Deck the halls with black lights, because everyone looks hot here.
 
H St NE
Irish bar-meets Jewish deli-meets Christmas. Sounds like a Seinfeld episode.
Petworth
Where hipsters go the night ugly-sweater party season ends. Join them. They don't bite.
Logan Circle
Ask for a Freddy-style super grilled cheese and ye shall receive. Doesn't even matter if you've been naughty or nice.
Downtown
Red velvet screams Christmas, doesn't it? So does splurging on a Manhattan.
 
Downtown
Mint juleps -- a necessity 365 days a year.
 
Downtown
You're ordering the Rum Plum Pum. You just are. The plum vermouth is made in house and tastes like liquid Christmas.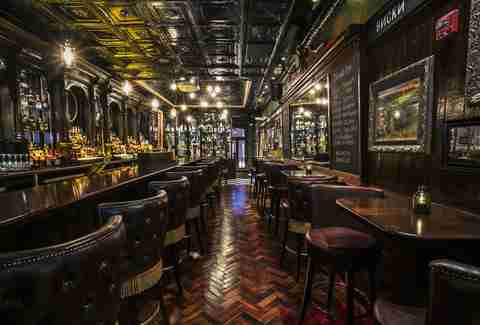 Georgetown
No rest for the weary here. Rí Rá will be serving Christmas dinner with live music in case you want to rock around the Christmas tree. The swanky upper-level Whiskey Room will also be open and pouring drams. Opens at 1pm.
 
Georgetown
Treat thine self starting at 2:30pm in the recently revamped lounge that looks like a billionaire's submarine, bought for casual underwater jaunts.
 
Georgetown
This is where James Bond celebrates Christmas. Didn't you know? Use the last $22 of your Christmas budget on the barrel-aged Manhattan.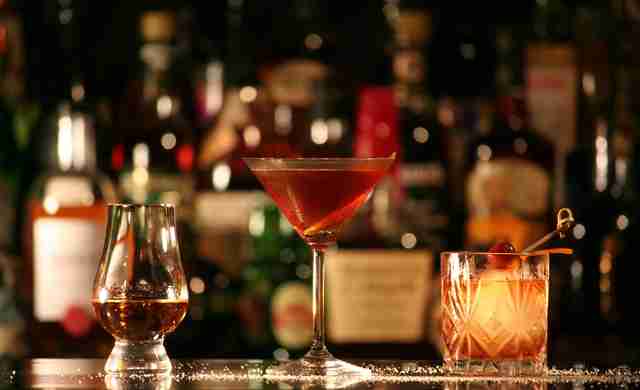 Dupont Circle
Santa brought you 260 whiskeys. Rebellion just happens to be holding them for you. The reindeer said they were heavy, so make it count starting at 7pm.
 
Dupont Circle
For once, the 49 HDTVs won't be utilized for UFC matches, but still, expect the bros to be out in full force when Public opens at 9pm.
Columbia Heights
When only a draft will do. In fact, it will have to because the kitchen's closed. Beers, however, will flow in abundance.
 
Columbia Heights
Go on, play a little pinball. Unlike your relatives, the machines don't talk back. The bar opens at 2pm, and while the kitchen's closed, it's serving a Chinese carry-out buffet from Johnny's. That's why we love Lyman's.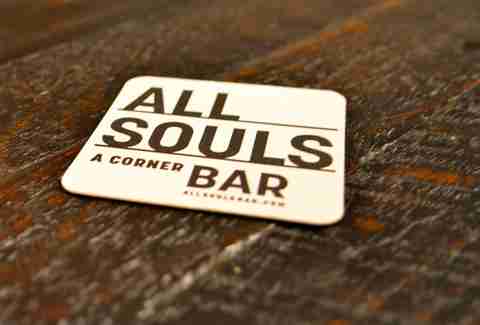 Shaw
Of course this no-frills corner bar is rolling out the red carpet for its regulars.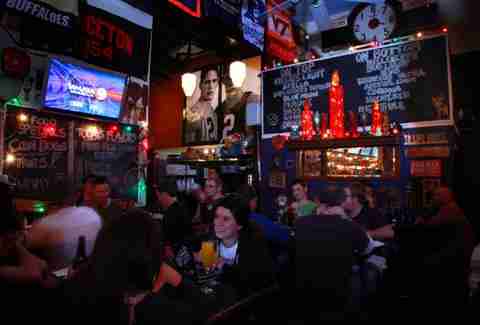 U St Corridor
Something tells us the Santas will be scantily clad. And well served. Visit after 5pm.
 
U St Corridor
This might be the only night of the year that 14th St isn't a crowded theme park, so grab a stool and put down some drinks. Visit until midnight, but note that the kitchen is closed.
 
U St Corridor
Probably your best shot at snagging a Mrs. Claus. At least for the night. Just don't be a Saint Dick. Open 'til midnight, but the kitchen's closed.
Bloomingdale
Come after 9pm for stiff drinks and Christmas movies. Here's hoping for Home Alone.
 
Bloomingdale
Beer-and-shot combos until Christmas is, once again, 365 days away.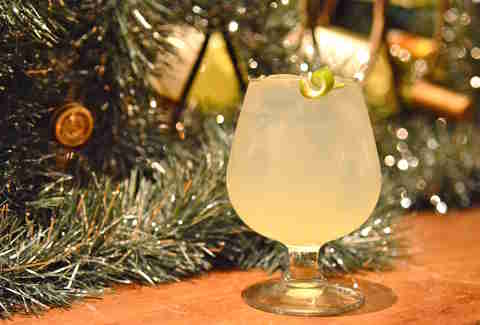 Eastern Market
If you wear those fake reindeer antlers, you could make Mike and Ike (the taxidermied buffalo heads) jealous. Expect some holiday specials.
Sign up here for our daily DC email and be the first to get all the food/drink/fun in town.
Laura Hayes is a DC-based food, drink, and travel writer who also contributes to Washington City Paper, Food Network, Arlington Magazine, and others. Follow her on Twitter: @BTMenu.