A Guide to DC Beer Week for Every Type of Drinker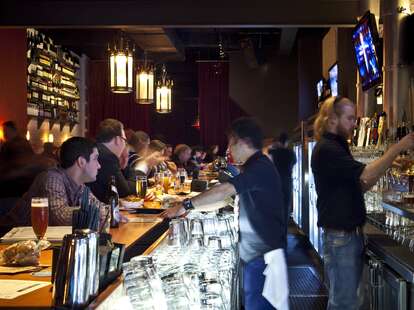 Courtesy ChurchKey and DAKOTA FINE
Courtesy ChurchKey and DAKOTA FINE
Rejoice, craft beer fans: DC Beer Week is upon us. Now in its eighth year, the eight-day celebration of malt, hops, and yeast is our scene's biggest showcase, and from within the District to just outside of it, local breweries and bars are bringing the goods. If you want an idea of the depth, quality, and range of DC-area breweries, look no further than this week's festivals, release parties, competitions, and beer dinners. But with over 50 events, choosing among the options can be a little overwhelming, so we've compiled a list of 10 that are gearing up to be especially great. Cheers!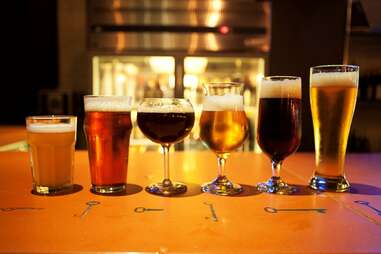 Saturday, September 24th; 12-4pm
Oh, you like India Pale Ales, huh? Well, Blind & Bitter is your chance to try 20 of the best IPAs and Double IPAs available -- although often hard to find -- in the DC market. For the fourth year running, the brewski gurus at DC Beer have rounded up a collection of breweries sure to tickle hopheads' palates, from local hop masters (Ocelot, Union, DC Brau) to nearby up-and-comers (Cambridge's RAR, Richmond's Triple Crossing) to industry heavies (Founders, Great Lakes, Firestone Walker). They're all competing for the title of best IPA, and you're the judge. On this Saturday afternoon at ChurchKey, sample a selection of the beers or go H.A.M. on all 20, then vote for your favorites. The twist? It's a blind tasting, so check the hype and preconceptions at the door, and let flavor, aroma, and (maybe) clarity be your guide.
Saturday, September 24th; 7:30-10:30pm
The craft beer world can be an intimidating place sometimes, full of yeast and foedres and IBUs, oh my. If you're a newbie, Old Ebbitt Grill's BreHaHa is a great entry point. The official DC Beer Week kickoff draws together 10 area breweries, each of which will have two beers for your tasting pleasure, as well as representatives to pour... and explain what you're drinking. And luckily, you won't be doing this on an empty stomach: beers come paired with small plates from an impressive array of local eateries, including Red Apron, Smoke & Barrel, Sixth Engine, and Red Hen. For $75, you get full access to all of these great spots, so whether you're a newbie or not, it's kind of a great deal.
Sunday, September 25th; 1-6pm
Right now, the two hottest styles in craft beer are hop-saturated IPAs and tart or funky wild ales; the people have spoken, and they want opposite ends of the bitterness spectrums. While some events specialize in one or the other, 3 Stars gets you a festival that can do both. That's exactly what the Takoma brewery is presenting with its first Hopfunk Fest, and it's invited some of the buzziest names in the industry to join the party. Perhaps most notable are Florida's J. Wakefield (whose fruit-infused Berliner Miami Madness caused a stampede at Snallygaster over the weekend), the rarely-seen-in-DC Brooklyn brewery Other Half, Oregon barrel masters Logsdon Farmhouse Ales, and San Diego's ascendant Modern Times. So let it be known: 3 Stars is officially sitting at the cool kids' table. $15 gets you entry to the festival, your first beer, and a sweet commemorative glass.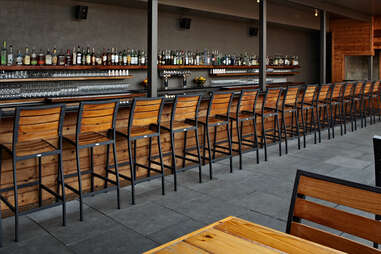 Biggest olive branch to spirits aficionados: Ryes of DC
Monday, September 26th; 5-10pm
Jack Rose Dining Saloon is best known for its collection of whiskey -- 2,687 bottles and counting! -- but the Adams Morgan establishment also has a hell of a beer program. Beer Director Nahem Simon occasionally bridges that gap by loaning a local brewery a whiskey (or even a brandy) barrel he's acquired, and then serving the results of the aging project at Jack Rose. On Monday, Simon debuts entries two, three, and four of Jack Rose's ongoing Willett Rye Barrel Collaboration Series, and the beers that went into these particular barrels come courtesy of Atlas Brew Works, Port City, and Denizens, so, we've got all three letters of the DMV covered. If you're more of a whiskey fan, this might be your night to explore the interplay of beer and booze-soaked, charred oak barrels. While you're there, enjoy a bonus showcase of 3 Stars' growing portfolio of sour ales.
Tuesday, September 27th, 6-9pm
In a flagrant display of Southern aggression, Port City invades the Dupont's Heurich House Museum on Wednesday in a celebration of Virginia's culinary prowess, so expect plenty of oysters, barbecue, Sugar Shack donuts, peanuts, and Citizen Burgers. Oh, and there will be some adult beverages in the form of beer, from Port City and Richmond's Hardywood Park, plus distilled spirits from Loudoun County's Catoctin Creek. It'll be a really nice event at a cool venue, which is precisely the kind of thing we've come to expect from the country's reigning Small Brewery of the Year. Slightly less expected: they'll be bringing a few barrel-aged rarities with them, too, and as an added bonus, the Alexandria town crier is even slated to appear, so you know this thing is going to be lit. Why go to Virginia when Virginia can come to you?
Tuesday, September 27th; 5-8pm
Boundary Stone's Battle of the Barrel Aged is not for the faint of heart. The gist of the event is simple: four local breweries each bring one barrel-aged beer, and for $20, you get to try 5oz pours of all them, and cast a vote for your favorite. The winner gets a dedicated draft line at the Bloomingdale bar, plus 365 days of bragging rights, so breweries don't mess around with their offerings. It all sounds innocent enough, but the next thing you know, everyone is ordering full pours, ABVs start to pile up, and things get… um... hazy. Unsurprisingly, this is an especially popular event within the industry. Thankfully, Boundary Stone's five-year anniversary ale, 5 Spot, is a session IPA (brewed by DC Brau), so there will be a lighter alternative to spell those boozier elixirs. Still... don't schedule any Wednesday meetings before noon.
Wednesday, September 28th; 5:30-12am
How long has it been since you went to a good old keg kill? Too long, right? Revisit the halcyon days of college with Roofers Union's second DC Beer Royale, an event that pits six DC breweries against each other in the name of charity. Attendees are encouraged to make a donation at the door, and whichever brewery's keg kicks first gets the whole pot. Of course, that pot goes towards the charity of the brewery's choice and not, say, a new hopback. Basically, there are so many wins involved in this scenario that I lost count. Make it to the rooftop of the Adams Morgan roof on DC Beer Week's hump day.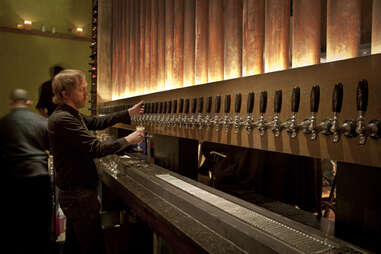 Thursday, September 29th; 4pm-11pm
ChurchKey has 55 draft and cask lines, and on Thursday -- for the second year in a row -- they will all flow with beer brewed, fermented, and kegged right here in the District. What? Why are my eyes red? I'm not crying tears of joy and local pride... I have no idea what you're talking about. Anyway, DC breweries will bringing everything in their arsenal from flagships and seasonals to one-offs and rarities. Order up a glass of Right Proper's dry-hopped Berliner Weiss Kick.Kick.Snare, or Hellbender's 100% wheat Dunkelweisse, and marvel at how far this scene has come in the past seven years.
Friday, September 30th; 6pm-11pm
OK, all of these competitions and festivals are swell, but what about something extra special? What's an event you could bring a date to or, hell, even celebrate an anniversary at? DC Brau is stepping up its game this year, offering what could be the week's most ambitious event. What exactly it is remains to be seen, but here's what we know: on Friday, a bus will pick up attendees at City Center and transport them to a "truly one-of-a-kind outdoor location," where a five-course beer dinner curated by Chef Mike Friedman (Red Hen, All Purpose) awaits. They're billing it as an Evening of Magical Mystery, and I am buying. I expect to see several Lady and the Tramp spaghetti kisses followed by sips of On the Wings of Armageddon.
Saturday, October 1st; 1pm-4pm
There's a whole world of tart, sour, and wild beers out there. If you tried a lackluster gose or two and decided they just weren't your thing, you might be missing out on some beers you'd love... of course, the only way to find out is to do the tasting for yourself. You won't find a better opportunity to do so than Denizens' 'Make It Funky' Wild Beer Fest. On the last day of DC Beer Week, the Silver Spring will pour over 75 different funky beers from at least 24 craft breweries. Attendees will get a chance to see what local operations have been souring up, while sampling more established operations like Avery and the Brewer's Art. Denizens will serve almost ten funky offerings, so there's no doubting its dedication to the cause. Tickets cost $55 and cover infinity pints… crash courses don't come much cheaper.
Sign up here for our daily DC email and be the first to get all the food/drink/fun in town.
Philip Runco talks to people who make beer and music. A lot of these conversations end up on BYT. Follow him on Twitter @PhilRunco, on Instagram @prunco, and on Untappd @prunco.