8 reasons you need to take a DC Brew Bus tour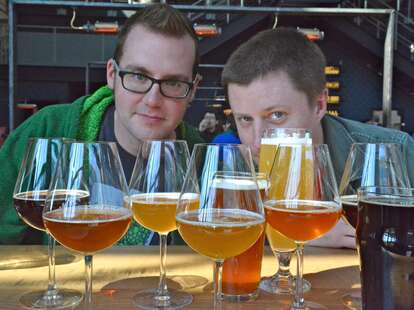 Select Saturdays and Sundays, Reston Limo will shuttle you around in style to the region's best breweries. We know this because we tested out the DC Brew Bus, stopping at Bluejacket, DC Brau, and 3 Stars Brewing Company. Here are the top eight reasons you should too:
1. You can visit regional breweries all in one day without the need to blow up a friendship recruit a designated driver, or lose valuable beer time fumbling around on your phone to find the way. Pay $39 to let a limo bus navigate while you get all weird and high school in the back.
2.The actual sultans of suds are the ones leading the tours. Get to know people like Neighborhood Restaurant Group Beer Director Greg Engert. The guy's an English literature lover turned living, breathing encyclopedia of beer. He was in particularly good spirits because Bluejacket's $10,000 pump had just arrived -- to aid them in brewing a battalion of funky sours.
3. No superficial tours here: they mean it when they say behind-the-scenes. Check out the walk-in where there are kegs for days. Or, the lab where they monitor yeast health, oxygen levels, and tank temps. Keen-eyed tour goers can even find gems like a brainstorm board littered with potential new beer names.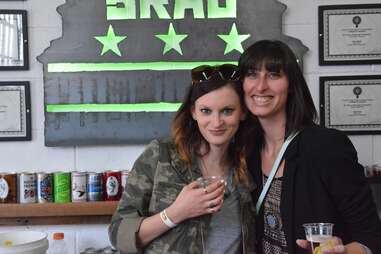 4. Each brewery will load you up with free tasting tickets so you can try old favorites straight from the source, or go with something new. Or offer to help your friend move next week in exchange for his tickets and try ALL THE BEERS.
5. Hear deeply personal, R-rated stories about how local breweries got their start. The 3 Stars founders, Dave Coleman and Mike McGarvey, hold nothing back. Catch some details on how they turned basement home brewing into a booming beer business, and then repeat these delightful nuggets of info in front of friends (who didn't take the tour) to flaunt your superior beer knowledge.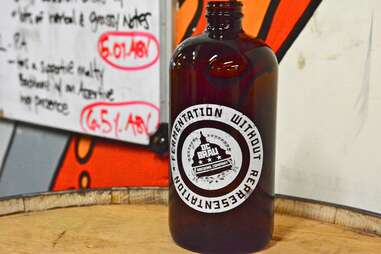 6. With transportation taken care of, tours are the perfect time to pick up a growler or two. Or three? Definitely three. The bus is equipped with ice coolers for optimal growler storage. Some breweries, like DC Brau, offer six-packs as well.
7. Tours run from about 11am-5:30pm, so you're going to get hungry. Each excursion will have at least one opportunity to eat, whether from a food truck or an in-house, full-blown food program. Frankenbutter and blue cheese fries anyone?
8. Or, be like this guy and bring your own snacks. Don't share. Back of the bus mentality, remember?