These are DC's Bad Decision Bars
The Bad Decision Bar: where one little drink leads to one little ride home on the Metro where you sleep past your stop only to awaken with four texts from "Skintern Blonde" and two different stains on your shirt you can't identify. Here are a dozen of DC's finest (or worst?) examples...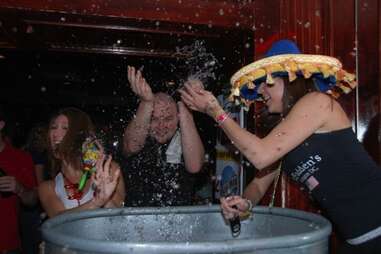 McFadden's
Foggy Bottom
Dance on bar, ride on the bull, crush someone at mini bocce (shots!), grind on a co-worker (more shots that won't go down nearly as well as the first ones). McFadden's is an Irish amusement park attracting a well-balanced mix of college students and adult rec league participants who think they are still in college. Their WTF Tuesdays generally lead to "Why Are There 30 Leprechauns Attacking My Skull With Sledgehammers" Wednesdays.
Rumors
Dupont Circle
Not just a Fleetwood Mac album anymore! It's also where you can find yourself sucking down Long Islands as the bride-to-be from a bachelorette party (there will be at least three occurring) tells you that you have kind eyes and she's not sure about this whole marriage thing. A bathroom sign astutely advises "If you left your drink on the table, buy a new one when you go back." Careful out there!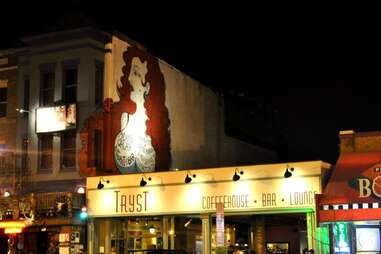 Madam's Organ
Adams Morgan
A blurry photo in front of the most instagrammed rack in DC is a fine way to let the world know you've spent the evening "where the beautiful people go to get ugly", though after enough half-price beers, its possible that lady you were smashing faces with after your triumphant off-key rendition of "Jesse's Girl" was more of the "where the dubiously attractive go to reap the benefits of cheap drinks and dim lighting" variety.
Café Saint-Ex (Downstairs, Obvs)
U Street
A dark, sweaty basement den of questionable choices stands in stark contrast to the tasty fare being eaten above by attractive locals in nice sweaters who actually have their lives together. It's kind of a heaven and hell thing. A loyal patron says, "I've never NOT made out with a girl there, but don't quote me on that." Whoops.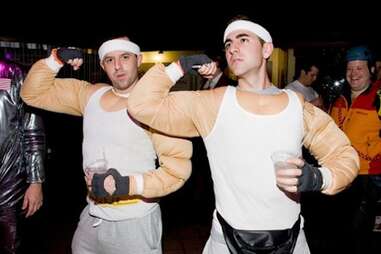 Smith Point
Georgetown
This faux-nautical yacht-y club is the perfect place to find yourself slapped with a lawsuit because the guy with the popped collar and salmon pants who picked a fight with you, claiming that you spilled beer on his Sperrys, turns out to be some trustafarian with a "III" after his name. Fun fact: getting sloppy here Thursday-Saturday is known as the trifecta. Fun fact #2: the Bush twins were big fans. Completion of a Bush twin trifecta cannot be confirmed.
Little Miss Whiskey's Golden Dollar
H Street
Here you'll find Zoe Barnes wannabees drinking Hill Kool-Aid known as "Awesomeness" that contributes to a floor stickier than ZBT's basement. There's black lighting and a decided New Orleans vibe, but don't be a creeper and show up with beads. Instead, show some skin and EARN those beads.
Sign of the Whale
Dupont Circle
Nine dollar cocktail pitchers? Hordes of people who have had enough cocktail pitchers to make belting out some Chumbawamba seem like a good idea? A particularly treacherous staircase? A stone's throw from a lap dance at Camelot? What could go wrong?
Public Bar
Dupont Circle
Wait, why is that shirtless guy doing pushups? Is that bachelor party having a pull-up contest on the rafters? This place has more excess testosterone than Alex Rodriguez posing for a centaur painting, and that's not even factoring for when it's UFC Fight Night. Oh, and it's the go-to Raiders viewing bar, renowned for their measured reactions to their steadily competitive football team. So yeah, it's pretty chill.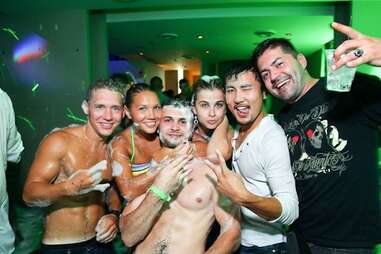 Café Asia
Downtown
Cheap sushi slingers by day, sh*t show club by night. But what happens in between? Post-happy hour hook-ups in coed bathrooms initiated by $4 sake. Come midnight, this is a champagne-straight-from-the-bottle, occasional-foam-party kind of place that involves TSA-style frisking to enter. And to think you just wanted some California rolls!
Local 16
U Street
Here you'll find girls in "Virginia is for Lovers" tanks arm-wrestling while charged up on RB&Vs and plenty of cheap beer. When you inevitably get rejected by one such tank-topped lady, just channel your anguish into singing "Like A Prayer" like no one can hear you. But they can. They all can.
Lucky Bar
Dupont Circle
Last night's a little hazy. You think you ended up at Lucky Bar, but you aren't sure. You vaguely recall nearly getting into it with some Jersey Shore types for staring at one of their girlfriends (which you were, but whatever) then trying to hide out with some soccer hooligans who you couldn't understand but they kept feeding you whiskey shots so it must have been okay? Ah ha -- you took a selfie in front of the "hot nuts" machine. Yep, you were at Lucky Bar.
Wonderland Ballroom
Columbia Heights
Everyone's body is a wonderland on the most grope-tastic dance floor in DC. That shower you take the next morning might wash all that stranger sweat off of you, but it won't clean up the loss of your dignity. Yeah, you know what you did.