Touring the DC area's newest brewery with a beer expert
Denizens Brewing Company is officially running at full tilt. Not only is every cool corner of the brewpub now open for your beer sipping satisfaction, but they also (finally!) have an impressive entourage of their own beers on draft. We brought beer expert Garrett Peck —author of Capital Beer— with us to sample all seven suds, so you know what to look for on your first (or next!) visit to the area's newest brewpub.
Before grabbing seats in the beer garden, we caught up with Denizens Brewmaster (and co-owner) Jeff Ramirez (left) and Assistant Brewer Kevin Corcoran. Garrett asks Jeff for his brewing philosophy. "That's simple," he says. "Blast rap music to get it done." But Jeff's being bashful; he's a mad scientist who was born to brew. His weaponry includes five tanks and three strains of yeast, and from there he's able to produce a broad spectrum of beers with varying styles, colors, and ABVs. Sours, he says, are coming, as is a Munich-style dunkel.
Speaking of the downstairs, it opened to the public this month, and will be the perfect place to hole up come winter. With pints priced at $6.50, sample pours at $3.50, and flights of four at $9, you'll be spending a lot of time here. Bonus: from your seat you can hear, smell, and see the brewing process, making the whole thing feel very meta.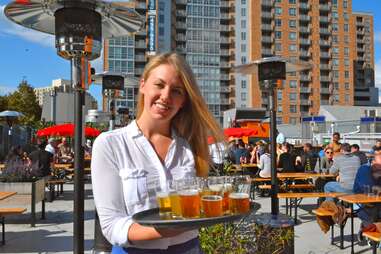 But until the polar vortex hits, take advantage of the boisterous beer garden where we posted up for the afternoon to sample our way through seven brews. Play cornhole in between sips, and soak in some late fall sun. Now, onto the beer:
Denizens Southside Rye IPA
Garrett's take: "Woah, you really pick up on the pine. Other beers in this style are spicier though -- this is subtler and I like its tang."
More delicious info: A slew of late edition hops are responsible for the piney, fruity flavor of the brewpub's only IPA. It also gets its flavor from Jeff's technique of extending whirlpooling and adding hops at different times, allowing the best of the aromatics to be captured. IPAs are polarizing these days — but this one has potential to appeal to the masses.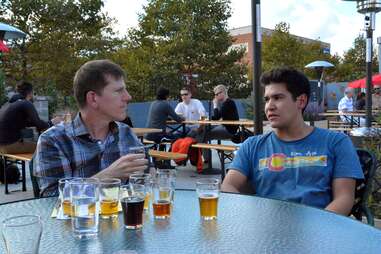 Denizens Lowest Lord ESB
Garrett's take: "Most Americans don't know a lot about English bitters because we borrow so much from Belgium. This one has a long finish. Usually, when we're trying this style, it's from a bottle, which is totally different. Well done."
More delicious info: ESB stands for "extra special bitter" and Jeff says it's a style he has slept on a lot. He uses a two-to-one ratio of English Target hops and American Crystal hops, which were big in the '90s, much like Collective Soul. It's served unfiltered, though it's still a bright beer, due to the typical British technique of using "finings".
Denizens Big Red Norm Red Ale
Garrett's take: "It's rich, malty, and creamy. Definitely not Killian's Irish Red. It's much, much better and well balanced. Can I upgrade to a pint please?"
More delicious info: This is the namesake beer of Norman Lane, the unofficial mayor of Silver Spring... and the town drunk. Jeff says the malt-forward beer gets its color from small additions of heavily roasted dark malt. He also says it tastes a little like a Tootsie Roll. It packs a punch at 7.6% ABV.
Denizens Born Bohemian Pils
Garrett's take: "It has a nice bitterness and matches up to the benchmark pilsner, Pilsner Urquell — which you never get to try on draft. This is super fresh."
More delicious info: Jeff uses Saaz hops and Urquell yeast in true Czech style. The beer also benefits from the process of softening the water. This is Denizens' true session beer. So go ahead and have a few.
Denizens Big Bad Bohemian Lager
Garrett's take: "This Kellerbier screams floral and is wheat beer-like, even though it's a lager. You find many other local breweries with this style — it's really creative for what DC's doing right now. Very rustic."
More delicious info: The high-gravity Bohemian Pilsner has the same malt and hop ratios as the brewery's flagship pilsner. However, it's kegged unfiltered, and each keg is dry-hopped with nine ounces of New Zealand hops. The unfiltered style lends a slightly cloudy appearance and good mouth feel.
Denizens Third Party Tripel
Garrett's take: "You can smell the yeast from far away, and when you taste it you get a lot of sweetness. This is most definitely not a session beer."
More delicious info: He's right -- at 9.4% ABV, you won't be having two. It has the same signature golden color and frothy head as a Belgian Tripel, so if you've brought a Belgian beer obsessive with you to the brewery, this is their pint.
Denizens Pumpkin Porter
Garrett's take: "The nose is heavy on the allspice; it smells like Christmas. I don't usually gravitate towards something like this. I think we're the only country that wants our beer to taste like pie."
More delicious info: The London porter base is on the lighter side, with subtle coffee notes. Jeff introduces raw shredded pumpkin into the mash, along with a blend of spices. This is the same technique used by Cambridge Brewing Co., which Jeff says is the king of pumpkin beer. He uses mace and allspice in addition to nutmeg, Chinese ginger, and cinnamon chips. Get it through Halloween.
It would be cruel to send you off without a game plan for grub. Not to worry. Denizens is home to BBQ Bus, one of DC's favorite food trucks. Tackle a two-meat picnic plate with smoky pulled pork and baby back ribs; fried pickles; BBQ wings; smoked beef brisket sandwiches; and so much more. Their homemade sauces span North Carolina, Kansas City, and Memphis styles. If you tip heavily, they might even roll you down the hill to the Metro.
Find Denizens Brewing Company at 1115 East-West Highway in Silver Spring, MD. While you're there, keep an eye out for Jeff and his fellow co-owners, Emily Bruno and Julie Verratti. Save one of your many toasts for suds loving women, because women-owned breweries are few and far between.
Sign up here for our daily DC email and be the first to get all the food/drink/fun in town.