Hogo means "high taste", so it makes sense that the Brown bros' temple of tiki & upscale diner food stays open until 2:30am. And when in the right mindset, it makes sense that it's decorated with a topless mermaid, the hood of a '39 Pontiac, and a giant tapestry of Zombie Elvis

Unlike the traditional Queen's Road cocktail, this Queen's Royale gets a kick from sparkling wine, and Domaine de Canton

Served in a hurricane glass, the pineapple/Blackwell rum/campari Jungle Bird will lead to you doing all sorts of bizarre mating dances too.

Behold the Pinky Gonzalez! Blanco & reposado tequila, Cointreau, and agave, served in a pineapple

Hungry? Why wait? ....This is why. Follow the arrow to food

The sparse diner hosts rotating chefs serving late-night dining options (look out, nonexistent Washington DC Denny's!). Also, it looks nothing like the inside of Ben's Chilli Bowl, so don't even bother bringing that up to them

Guest chef Javier Duran of The Passenger is doing Hawaiian diner food like this smoked Kalua pork shoulder, Kalbi (soy glazed short ribs), and sauteed cabbage.

You'd be crazy not to try the Loco Moco with two fried eggs on top of two burgers, served with 'mac salad. So also, you'd be healthy not to try the Loco Moco

Soy-marinated spam sushi is so common in Hawaii, it's apparently available at 7-Eleven. In a related note, 2:30am at a Hawaiian 7-Eleven is a great place to run into a topless mermaid or Zombie Elvis.
Recommended Video
It's Worth Getting Sloppy For This Grilled Cheese Taco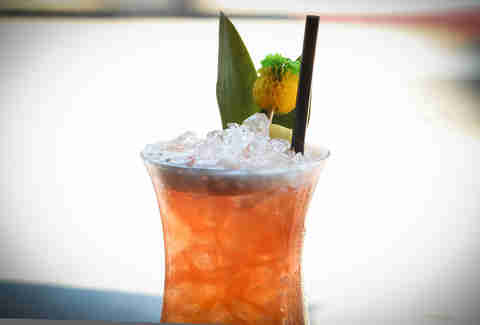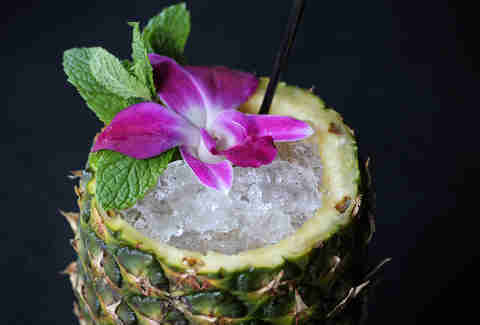 Previous Venue
Next Venue
Venue Description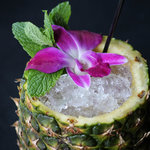 1. Hogo
1017 7th St NW, Washington, DC 20001
Hogo is an upscale diner that stays open until around 2:30 AM. The interior homes some unique decorations that range from topless mermaids to giant tapestries of Zombie Elvis.