Derek Brown Reveals His Favorite DC Neighborhood Bars
Derek Brown's influence on the DC bar scene can only be described as mammoth. Chances are The Passenger was your gateway to cocktail appreciation (and lots of dates), and the original Columbia Room set a standard many are still trying to reach across the whole damn country. Now he's behind "the DB-3" in Shaw: Mockingbird Hill, Eat The Rich, and Southern Efficiency, with a new iteration of the Columbia Room on the way. When Derek's not mixing and mingling at one of his own spots, where does DC's bar tsar toss one back? We found out.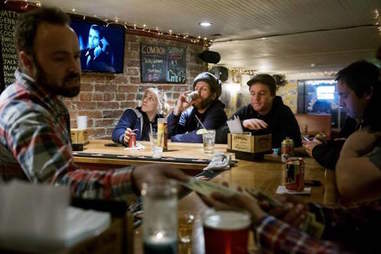 Courtesy of Showtime
Bloomingdale
This magic little dive didn't swagger jack any other bar -- it's original as funk and also devoid of d-bags (probably because the bar's not afraid to playfully mock people). That's why it was the first bar to leave Derek's lips like a secret he couldn't keep. "Without hesitation, Showtime. It's such a great bar. That jukebox is impossible to beat because of its amazing, curated selection of music that's free," he says. You don't have to dance, but others will. Adding to Derek's Showtime love sonnet: great bartenders, and beer & shot combos. That's what he drinks, and you should, too.
Courtesy of Farrah Skeiky
Columbia Heights
Bieber, Beyoncé, Broderick. What do these three have in common with Room 11? They're triple threats. While the celebs can entertain on screen AND on stage, Room 11 has the holy trinity of inebriation covered, according to Derek. "They're a triple threat -- they have beer, wine, and cocktails, and everything is well-curated," he says. "Then you add food and the fact it's a comfortable place to sit and eat and you have it all." That's where he brings out-of-towners. "Everyone is charmed by Room 11." The 11th St standby doesn't need more than four cocktails because they're done right. We dig the burnt sugar old fashioned.
Courtesy of Jack Rose Dining Saloon
Adams Morgan
"My strategy is to try my best to get through as many whiskies as possible," Derek says. He admits Jack Rose Dining Saloon can be a destination bar to some because of its staggering selection of brown liquor (2,390 bottles), but his frequent visits dictate neighborhood bar status. "I'll happily order a cocktail, too, especially if Arleigh is the one making it," he says of his favorite bartender. If you're going to adopt Derek's exploratory strategy, pad your stomach with fried chicken skins and jalapeño hushpuppies.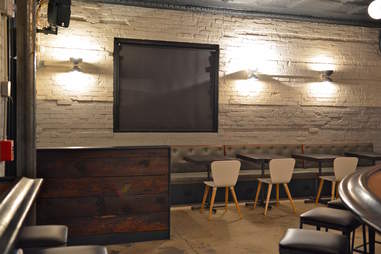 Laura Hayes/Thrillist
Shaw
In a time of all things artisanal, handcrafted, and overdone, it's refreshing to encounter a bar that aspires to be nothing more than a hang out. The cocktails are given numbers instead of never-ending names a mixologist thought of in the shower, and the snacks are simple. "The owner is an old hat at bartending and beverage programs and his selection is great," Derek says of the unpretentious David Batista. "All Souls has a great jukebox, comfortable seating, and the special of sparkling rosé and Maker's Mark is hard to find." You read that right. "The All Souls" is an $11 expert pairing of pink bubbly and bourbon served neat.
Laura Hayes/Thrillist
Shaw
Derek digs the brewpub around the corner from his three bars in Shaw. "They make their beer on the spot, the food's good, the bartending's good, and they have a raccoon with lasers coming out of its eyes," he says. It's a panda, Derek. Two actually, and the mural makes one hell of a photo backdrop. When at Right Proper, Derek swigs on one of Nathan Zeender's originals -- Ornette. The rustic farmhouse wheat ale is named for jazz musician Ornette Coleman (RIP). Good news for Derek and other fans, there's now a second place to fill up. The Right Proper Brookland Production House just opened in an old car repair shop on Girard St NE.
Courtesy of Tom Williams
Bloomingdale
"Boundary Stone is the very definition of this in some ways," Derek says of the quintessential neighborhood bar. "Sit down any day of the week and drink some whiskey. They can make a cocktail, and you can get a good beer there, too, making it a well-rounded bar. Its aspirations are to be what it is, a really good bar, so they win." Don't be surprised if you lose track of time as you sink into a booth and work your way through the whiskey list with 100 lines. Find old favorites or have a fling with something foreign. As an added bonus, Boundary Stone just pimped out its kitchen, so expect top-notch honey hot wings and chili cheese half-smokes when all is said and done.
Laura Hayes/Thrillist
Shaw
"They root for teams I don't care about; they serve spirits that aren't really my thing; they don't really make cocktails; and it's a dive; yet I feel perfectly at home there," Derek says about the Chicago and Detroit-themed bar unafraid to serve Malört. So what does he like about it? "The bartenders, the bartenders, and the bartenders. They're a little surly and a little fun. They make the best classic cocktails, no, just kidding." Mega kidding. While they have bartenders who could probably sling a solid cocktail, they won't, so don't ask. "It's pretty bare bones, but somehow I always have the best time." Order a Stoh's or a Goose Island 312 to fit in.
Courtesy of Katie Presley
Petworth
Book worms who double as booze hounds should make a beeline to the Reading Room tucked in the back of Petworth Citizen. That's where bar stars Dan Searing, Carlie Steiner, and Chantal Tseng can be found. "If you catch a night with them, you're lucky," Derek says. Chantal is especially crushing it with her literary-themed nights. She picks a new author every weekend and creates a five-cocktail menu based on their work that she serves up Friday and Saturday nights. Shakespeare, Poe, and Hemingway have been checked off and the next few weeks will usher in Jules Verne, Hans Christian Andersen, and others.
Courtesy of Black Whiskey
Logan Circle
If you haven't caught on yet, the king of cocktails actually prefers to drink things neat. That's why he hearts Black Whiskey. "I've never asked for a cocktail there, but maybe they make awesome cocktails," he says. "But if you have a place that has whiskey and it's pretty simple, you win my affection. That's what I want." While Derek says he appreciates that the bar is "paired down," they actually have a mini-arsenal of options: 95 bourbons/American whiskies, 30 ryes, 15 Irish whiskeys, 50 Scotches, and 13(!) Japanese whiskys. Bar manager Marc Zahorchak says he's trying to get a whiskey from every state, but there are also plenty of options for those who haven't boarded the whiskey bandwagon.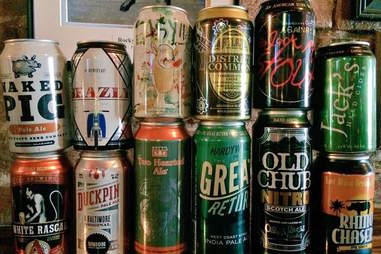 Courtesy of The Pug
H Street NE
If Derek is fixing for a bender, he goes to The Pug. It's in his neighborhood, so he can just roll home, but that's not the only reason he fancies it. "I love The Pug. It's just a good drinking place. You know when you walk in there that you're going to do some serious drinking, so you prepare for it. I like that. No bullshit." Who wouldn't love a bar whose motto is: "No idiots. No bombs. No shooters. No specials. No politics." Oh, and, "Relax. Drink. Be cool. Behave." You're drinking can beer forked over by tattooed bartenders and playing Connect Four in the dark while making out.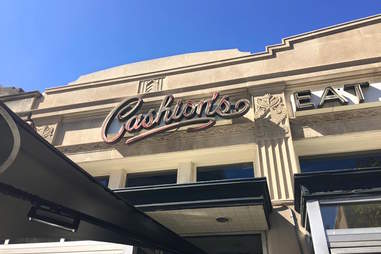 Courtesy of Cashion's Eat Place
Adams Morgan
This one's a bit sentimental, especially in a city where a new bar opens every time CNN switches into Breaking News-mode. "I started going there 10 years ago; they've had some really great bartenders in there, and they always have a good wine selection," Derek says. Indeed, Cashion's Eat Place is the only neighborhood bar where Derek might sub whiskey for wine because Justin Abad does such a great job putting a list together. But, if that's not your thing, go for one of their simple cocktails like the Kentucky Sparkler with sparking wine, bourbon, and vanilla syrup, or the French Riviera with rye, apricot brandy, and lemon.
Sign up here for our daily DC email and be the first to get all the food/drink/fun in town.
Laura Hayes is a DC-based food, drink & travel writer who also contributes to Washington City Paper, Food Network, Arlington Magazine, and others. She'd follow Derek to any bar with whiskey and has already gotten caught peeking into the new Columbia Room. Follow her on Twitter @BTMenu.