Warm your brain with 6 great DC Rickeys
DC's signature cocktail, the Rickey, dates back to 1883, when Colonel Joe Rickey threw back quite a few limey libations in Shoomaker's at 1331 E St (now relegated to a Marriott). The lobbyist didn't like his lush claim to fame, but DC likes it well enough to slam the summery gin-based beverage year-round, probably to trick its collective brain into believing it's warmer outside. Here are six great ways to get your Rickey on around town:

Bourbon Steak, Rickey
Georgetown
BS schools us on the original Rickey recipe. Four Roses bourbon, half a lime, and Fever-Tree soda. You heard right: bourbon. It wasn't until later that someone went weaksauce and allowed gin to take over. Jamie MacBain will also make it for you with Green Hat Gin -- Snoop approves -- so you can decide if you're old school or new school.
Teddy & The Bully Bar, Sheeny's Rickey
Dupont Circle
Teddy says why pick just one? Their best-of-both-worlds Rickey has both Green Hat Gin AND a Woodford Reserve reduction that imparts just the right amount of sweetness. This quencher also has the requisite seltzer and not-so-requisite Key lime pie foam. Sometimes this bad boy is even available on tap. Rickey-stand, anyone?!
Daikaya Izakaya, Rickey-san
Chinatown
Yes, this Rickey earns the Japanese sign of respect. Hendricks Gin, matcha green tea soda, yuzu, and lime combine for a perfect sipper that's not too sweet. Lukas Smith's siphon is where the magic happens -- the matcha soda is a subtle, caffeinated kick in the (snow) pants. Savor every sip knowing yuzu is illegal to import in whole fruit form.
TNT, Born of a Bottle, From Heavens Hand
Arlington
Todd Thrasher's created one hell of a concoction for your consumption: Cardinal Gin, lime, lemongrass, white pepper, cumin, and yuzu bitters. Get one at Arlington's bona fide rocker bar, TNT, tucked in the back of Eamonn's a Dublin Chipper. Lime's Asian cousin makes another appearance in this complex, spicy Rickey, whose flavor is... waitforit... explosive! Also worth a go: the Rickey-esque Thymes Like These.
The Passenger, Johnny Utah
Mount Vernon Square
Vaya con dios, brah, because the Passenger's Johnny Utah is crafted with Green Hat Gin, Cocchi Americano, Velvet Falernum, lemon, and soda. To say Green Hat Gin is a local favorite would be the understatement of the year, and it's only January. Julia Hurst's Rickey leaves one with a single lingering question: "You gonna jump or jerk off?"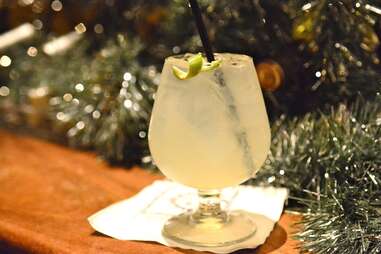 Café Soleil, Green Rickey
Farragut Square
This flavor-blasted bad boy gets its green hue from a half ounce of the green stuff -- the kind that's already legal here in DC. In addition to absinthe, the Green Rickey contains lime, Tanqueray Gin, St. Germain Liquor, and Pellegrino. Not a fan of the anise imparted by the green fairy? They carry an original Rickey too.