Here are the best clubs (all kinds of them!) in DC
On a night spent bouncing all over DC (maybe not literally, unless you travel by pogo), somewhere between the happiest of happy hours and the greasiest of late-night eats, you need to hit up a club. So we sought out DC's best.
9:30 Club
U Street
Why this place rocks: You can crowd surf, but you can't sit down. If you turn around, there's a good chance you'll find a bar. Unless you were already facing a bar, in which case, good job. There's food if your activities in the pit work up an appetite, and there's the best sound system in the city. No really, like HD for your ears. Don't miss the built in dive bar/make out cave with the exorcist-like stairs, you devil.
U Street Music Hall
U Street
A good 'lil Saturday night at U Street Music Hall? RB and vodka or Natty Boh-fueled dancing in a basement venue for the underground community. This DJ-driven dance club has beats and bass that could jump-start a pacemaker. You've been warned -- though if you have a pacemaker this might not be your scene anyway.
DC Improv
Dupont Circle
If your dancing verges more towards the comedic, leave the laughter to the professionals, whether it's Joey Coco Diaz, the dirtiest man over 50, or a topless Bert Kreischer. Opt for the raunchier late night show, even if it means ignoring a front-row bachelorette who heckles the comedian because "it's her special day".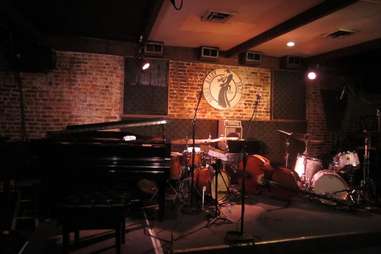 Blues Alley Jazz Supper Club
Georgetown
Coming in with the most literal name in Georgetown -- wait, there're no rhinos at Rhino, just frat guys?! -- is Blues Alley. Arrive early and don't let the crowd cramp your style. Get some tickets, some creole, and check out this soulful institution that gives a nod to the 1920s and '30s.
The Huxley
Dupont Circle
It's no coincidence that this library book-lined club has a Great Gatsby quality to it. Club owner Ryan Seelbach hails from the family who founded the Louisville, Kentucky hotel that inspired Fitzy's masterpiece. Like Gatsby's taste -- this spot isn't cheap. But it's a true nightclub -- bouncers, Belvedere bottle service, and a dearth of shoes with laces.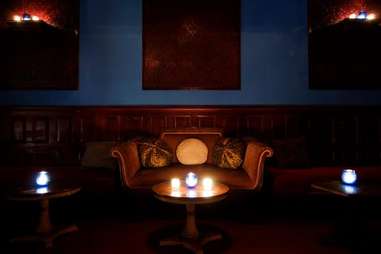 Eighteenth Street Lounge
Dupont Circle
For the coziest of club-going, try Eighteenth Street Lounge with its five dimly-lit rooms to explore and plush velvet couches. Gritty-swank pretty much sums it up, get ready to sip a martini while swaying to reggae. But stop selling this spot as a "secret" lounge to your friends. Just stop. They have 5000+ Facebook fans thanks to their top DJs and live shows.