Washington DC While guitar lovers are strumming a sad tune about the closing of the Guitar Store, the rest of us are rejoicing that there's now a building full of Bavaria in Dupont Circle. If having a BRAND-NEW BEER GARDEN wasn't enough for you, here are five reasons to check out Sauf Haus Bier Hall this weekend.
Recommended Video
Here's How to Keep Your Beer Cool & Discreet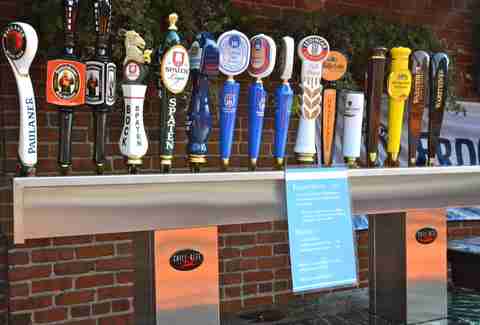 1. 100% German Drafts
Every drop poured from 16 taps comes directly from Germany. Decide between liters (or half-liters) of brews from Hofbräu, Paulaner, Erdinger, and the like. Sauf Haus, by the way, is not named after a not-so-great Denzel Washington movie. Rather, it originates from a German song about chugging. Cheers to that. Continue Reading
2. The Giant Eats
The pretzels at Sauf Haus aren't palm-sized. They weigh up to 2lbs, and require a team of beermates to tackle. On some unfortunate low-carb diet? Fear not -- bratwursts, debreziner, and frankfurters are available as well. Also: oysters may or may not be gracing the menu soon.


3. The Best of Both Worlds
A 2,000sqft patio ups your chances of being able to enjoy the great outdoors. On the flip side, Sauf Haus has the advantage of having two indoor floors, so you can throw back beers in inclement weather and Winter (and also when it's too damn hot out). You're hit with the feeling that you're in Munich on every floor, thanks to touches like a tiny glockenspiel.
4. Beer-tails & Brandy
Even the cocktails are beer-centric. The GerMAIN Beer is a refreshing glass of Bluecoat gin, St. Germain, and Radeberger pilsner. Margarita fans should try the MexiCAN. It's made with Maestro Dobel tequila, Grand Marnier, lime juice, and agave nectar, getting a boost from Warsteiner Premium Verum (another pilsner). If you insist on doing shots, they won't be vodka. It's all about German brandy.


5. An Extra-Long Happy Hour
Zee Germans are generous. The Sauf Haus happy hour runs from 4-7pm on weekdays. Specials include $8 half-liters; $14 liters; and $2 off other drinks, like those cocktails we mentioned. So go ahead drink a discounted beer with your foosball match.
Previous Venue
Next Venue
Venue Description
1. Sauf Haus
1216 18th St NW, Washington, DC 20036
With 16 German drafts (non-German beer is not welcome here!), giant pretzels, and a sweet outdoor space with long, communal tables, Sauf Haus is all that you could ask for in a beer hall. Oh, and they've got foosball and brandy, too.