DC is stuffed with frill-less wonders. You know the type -- places where you can hide out and forget the world over cheap beer, the occasional Jell-O shot, and the drone of millennial karaoke. Dives are romantic in their own way because most take you back to your younger days when Natty Boh was all you could afford, and anything seemed possible. Like threesomes and peace in the Middle East. These 11 dive bars in particular are DC's dirty little secrets. They're where people go to be who they are, instead of who they pretend to be at the office. And for that, we salute them. 
 
Recommended Video
'Friends' Is Celebrating Its 25th Anniversary With This Immersive Pop-Up Exhibit
Mt. Pleasant
Dive bar must-have: Cash only

The Raven is the Netflix and chill of bars. There are no expectations (remember that), you can come as you are, and there's barely any money involved. You're drinking beers, shots, or mixed drinks. And remember, mixed drinks are different than cocktails, so don't roll up asking for a Sazerac like the Logan Circle dweller that you are. The Raven remains one of the oldest watering holes in the city, with its regulars dating back to the 1940s for a reason. Come before 8pm for $2 Natty Bohs and pretzels to find out.
H Street NE
Dive bar must-have: A healthy obsession with canned beer

"Nice cans" is a perfectly acceptable greeting at The Pug. The bar stocks 15-20 canned beers at all times, and because nothing is sacred, they also serve canned cocktails and wine. Although owner Tony T. prides himself on being equally welcoming ('warmly gruff,' we'll call it) to strangers and regulars, there are some rules: "We're definitely serious about the no bombs," he tells us. "On occasion, we'll use more than one bottle to make a cocktail or a shooter, but it definitely requires a good mood." If you come hungry, note that your food is coming from a vending machine (but a really cool one).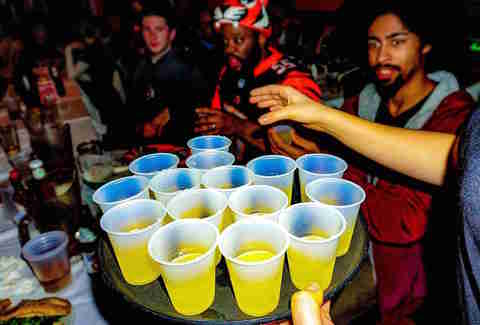 Downtown
Dive bar must-have: Dungeon-like digs

You have to go below ground to enter The Bottom Line. The geography of the matter is symbolic, and so is the lack of cell phone service. People have been going to TBL to avoid being found since 1979. The drinks are strong, the lighting is dim, and there's probably a bunch of loud people in matching T-shirts playing flip cup with the seriousness of brain surgery. The reuben ain't bad, and sometimes it's nice to take a medical holiday from the craft beer scene in favor of a list with old friends like Blue Moon and Bud. Just watch out for the Bengals fans -- you saw how they behaved on Wild Card weekend.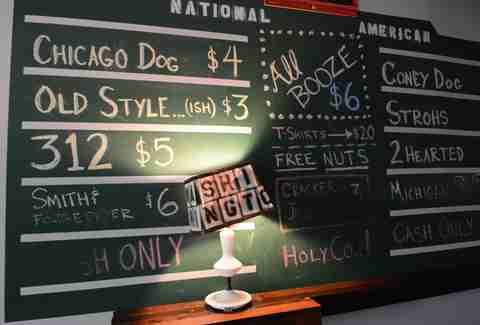 Shaw
Dive bar must-have: Surly (but lovable!) staff

The lords of the drink at Ivy & Coney are a hoot. Not warm and fuzzy, but a hoot. Take the brand new bar door emblazoned with fake hipster restaurant names generated here, for example. Who does that? But, the door's not the only new addition at the Chicago and Detroit-themed dive where Strohs flows and Harry Caray looks on. 2016 ushers in a retractable roof deck and a brand new food menu with treats like a deep-dish dog painted with Gino's East-style marinara sauce and a wing dog made from deep-fried green chili chicken sausage. Plus, who doesn't love a menu organized by "mediocre beer, OK beer, good beer, better beer, and booze"?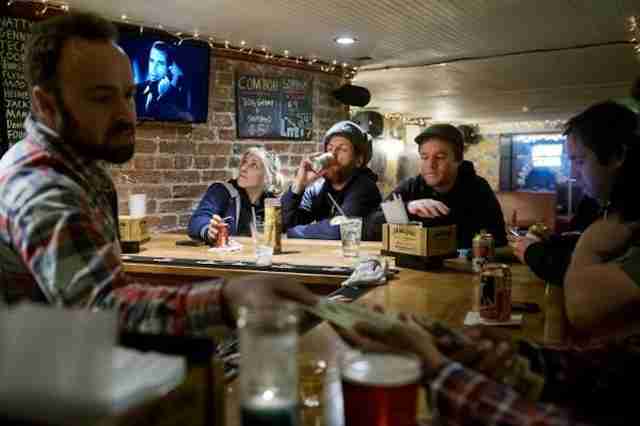 Bloomingdale
Dive bar must-have: A quirky house band

Yep, Granny & The Boys still play every Sunday from 7:30-10pm. The octogenarian-lead funk fusion band is the unequivocal best way to end a weekend. Good music fills Bloomingdale's cash-only dive the other six nights of the week too, thanks to a free jukebox stuffed with rhythm & blues tracks. You're drinking a beer and shot combo -- more specifically a Natty Boh with a shot of rail booze -- for $5. Staff says this accounts for 70% of orders.
Capitol Hill
Dive bar must-have: Wacky place to sit

Because the best parts of grade school happened on the bus, Trusty's installed one upstairs. But the bus bar isn't the only reason to pull up a stool at this decade-old Hill East dive, popular with DC United fans. Beer comes in mason jars, the half-smokes are hot, and being a "neighborhood bar" isn't manufactured. For best results at Trusty's, embrace the nostalgia and play Connect Four or another board game on the patio.
Capitol Hill
Dive bar must-have: Regulars so regular they're fixtures

This taxidermied shrine to all things dive attracts the most steadfast of regulars -- even Janet Reno couldn't resist being a repeat customer because of the burgers. It also reels in everyone from politicos to what may very well be hobos, and that's why we love it. The family-run business has been welcoming customers since 1947, and even survived a fire. Translation: There's a lot of character. And all-day breakfast. And beer at 8am.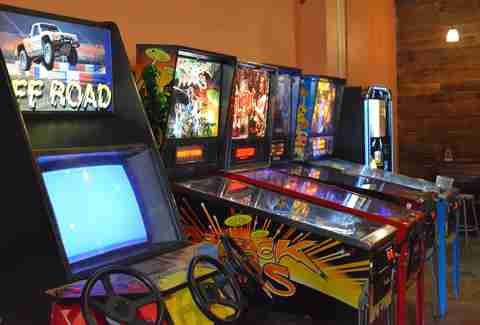 Petworth/Columbia Heights
Dive bar must-have: Arcade games

Twenty bucks goes a long way at Lyman's Tavern -- a round of cold beers, a couple of meatballs on Wednesdays, and a whole lot of pinball. The Montana-themed bar that looks like a ranch exploded on its walls is still a relative newcomer, but it's not lacking in divey ambiance. From a Walking Dead obsession to an ambitious supper club, there's a lot to latch onto. They also take a firm stance on politics, which they're quick to share online: "As usual we will not show the debates. They are a mockery of the United States and we will not try to profit off of them."
U Street
Dive bar must-have: Live music, sans cover

Solly's offers live music on Fridays and the occasional Sunday. "Very seldom do we charge a cover," says Solly (John Solomon) himself. Thursdays will fill your ears too, only with really enthusiastic "Kostume Karaoke." The U Street bar slinging regional favorites like Baltimore-style pit beef, PBR beef chili, and BBQ pulled pork also rocks an insanely long happy hour on weekdays from 3-8pm. Another show of divey generosity? Charity trivia night Wednesdays at 8:30pm. Ten percent of proceeds during the game (which always includes a DC-specific trivia round) go to rotating charities.
Park View
Dive bar must-have: An oddball beer & shot combo

Order a "Gentleman's Combo" blind at Looking Glass Lounge and see what shows up. Spoiler alert: It's a bottle of Yuengling and a shot of Clontarf Irish Whiskey. Because THAT makes sense. (...) Even though LGL barely sneaks in as a dive because serving fancy-pants shishito peppers is definitely a flag on the play, we dig the bar's crush on vinyl, play fighting with DC Reynold's, and cheap specials on burger night (Wednesdays). Get the garlic fries; no one's kissing you after you take them on a date to Looking Glass Lounge, anyway.
Petworth/Columbia Heights
Dive bar must-have: Bathrooms that entertain

Who goes into a dive bar bathroom and says, "Gee, that's boring"? No one! They have to have character, or at bare minimum, some scrawled messages that draw a laugh. "John loves Deb as long as she doesn't vote for Hillary," and the like. Red Derby fits the bill, but obviously, there's more to it. It doesn't have to be happy hour for RD to serve $2 beers (but it does have to be Natty Boh, Strohs, or Bud). Then there's the fact that you can score $5 margaritas and Manhattans on Mondays. Finally, it's worth touting that the cash-only spot also does a mean, divey brunch (get the morning burger with tots).
Sign up here for our daily DC email and be the first to get all the food/drink/fun in town.
 
Laura Hayes is a DC-based food, drink & travel writer who also contributes to Washington City Paper, Food Network, Arlington Magazine, and others. She will keep drinking at dive bars until someone names a beer and shot combo after her. Follow her on Twitter @BTMenu.