This DC bar has the craziest, craziest rules
At the '80s-themed game bar Thomas Foolery, you'll never hear, "Stop acting like a child!", "Grow up!", or "Why can't you be more like your successful, though very anti-social half-brother?" because, 1) your unapologetic stepmother won't be around, and 2) the place is filled w/ Mario Kart, old-school candy, and ridiculous party rules -- yes, one does involve doing "The Carlton" -- for discounts. Here are the seven rules you need to know before heading in:
Rule #1: Ice Someone
There's no pre-defined price for Smirnoff Ice: you play Plinko and pay whatever number you hit. Here, our friendless editor ices himself. It's actually really sad in a lot of ways, if you care to think about it.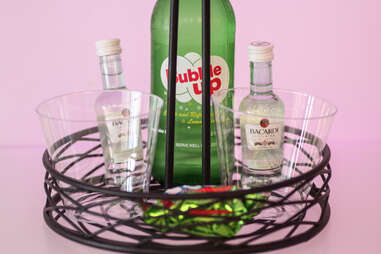 Sidenote: If you have at least one more friend than our editor, grab a "cocktail kit for two", which comes with specialty soda, two mini bottles, and one piece of retro candy.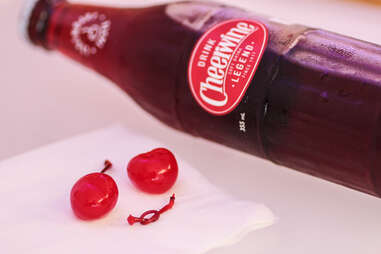 Rule #2: Cherry's Up
Remember that cherry stem knot-tying thing high school guys would tell girls they could do, thinking it would guarantee them an over-the-pantser? Yeaaaaahhh, neither do we... but, if you can tie a cherry into a knot in your mouth, you get a Cheerwine for $1.
Rule #3: 30-Day Champion
If you play hop-scotch and buy something for 30 days in a row, GET A JOB you can select a beer for the permanent menu.
Rule #4: Dance Party
Show up dressed as Carlton from the Fresh Prince of Bel-Air, and get down like he does above for 10% off any item.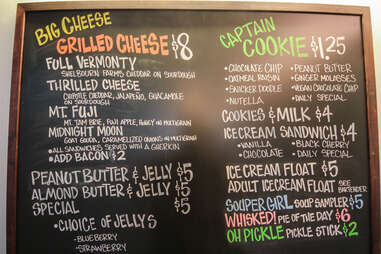 You'll need some energy to get through all seven, so grab a bite from the Big Cheese food truck, the Soupergirl truck, or Captain Cookie.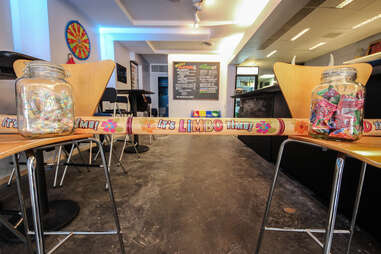 Rule #5: Limbo
Like any regular adult, you'll likely have no problem bending and walking at your "thigh-midpoint" under the bar. And for that week of pain, you'll win free candy from Tom's Candy Store. So... yay!!!?
Rule #6: Cups
This one might be more for the ladies, but -- in case you're a HUGE Anna Kendrick fan -- perform her "Cups" song and receive $1 off a cocktail kit.
Rule #7: Wine Taste-Test
Finally impress your ice-queen stepmother by spotting the difference between four types of red or white wine, and get that ungrateful woman a $2 discount. And then tell your dad about it, as part of your "My generosity means I should get everything in the will" speech next time you guys are all together.