Catfight: How Does DC's New Cat Cafe Stack Up to the Japanese Original?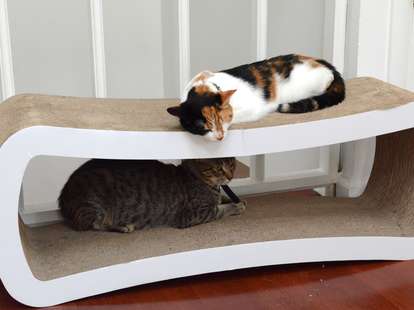 Laura Hayes
Laura Hayes
Washington DC now has its first cat cafe, which makes all the sense in the world given our similarities to Tokyo, where the rent-a-cat concept got its start. We're overworked, crammed into tight living quarters with no-pet policies, and we're a little lonely thanks to the flaky dating scene.
But how does DC's own Crumbs & Whiskers stack up to the original? You would think the land of all things kawaiiiiiii and Hello Kitty would have the edge, but DC surprised us with some pluses. Here's how they compare.
The cats
Let's get down to why you're there -- feline four-leggers saddled with the mighty task of making you happy for an hour. The first thing you'll notice at a Japanese cat cafe is corgi cats. Yes, the genetic flop that instantly makes things cuter is in play. The stubby-leg cats are known as mijikai, which translates to "short" in Japanese. Though there are regular-statured creatures too, the mijikai are the most memorable.
Even with its standard-leg cats, Crumbs & Whiskers edges out Japanese cat cafes for one enormous reason -- you can "catnap" them. All 30 cats are available for adoption through the Washington Humane Society (WHS), thereby turning an otherwise esoteric experience for hipsters into a very good cause. Those wishing to adopt must go through WHS's process (read: paperwork) before swinging back to pick up their new pet.
How it works
Obviously, the first thing you do at a Japanese cat cafe is trade in your dirty outdoors shoes for slippers that hundreds of other cat lovers have worn. Then, wash your hands and fork over some yen. A cat cafe visit may be the only thing in Tokyo cheaper than DC. Take Cat Café Asakusa Nekoen, for example, where an hour costs only 800 yen (about $6).
Next up? Awkward linguistic hurdles. Since the rules are typically written in Japanese only, cat cafe employees are forced into a game of charades where they pantomime what you can and cannot do to a cat. Once you've won the game, order a green tea or ginger ale and stake out a spot on low-lying furniture close to cats that strike your fancy.
The welcome process at Crumbs & Whiskers should go easier for you because it's in English. First, they'll ask if you have a reservation. This is a MUST, given the cat cafe has reached Rose's Luxury-level hype. One hour costs $10 on weekdays and $12 on weekends and holidays. Food and drink from a diner across the street are available for purchase -- though most patrons stick to iced coffees (this is Georgetown we're talking about). Unlike Japan, there isn't really an opportunity to stay longer than an hour because reservations start and end on the hour and they limit the number of cat fanatics to 35.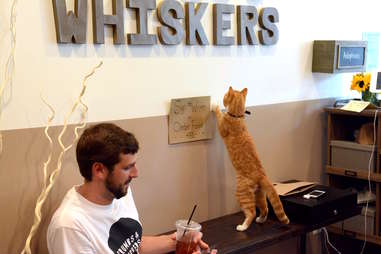 The rules
Here's where things line up. Crumbs & Whiskers' rules are almost identical to Japanese cat cafes. Owner Kanchan Singh tells us she consulted WHS when drawing them up and also pulled from her memories of visiting a cat cafe in Thailand. Here are Kanchan's dos and don'ts: sign the waiver; spritz hand sanitizer; be gentle; no flash photography; keep lids on all cups; never wake a sleeping cat; stay awesome.
Compare them to Cat Café Nekorobi's rules. The Japanese accomplish the whole waiver thing with a sentence: "When the cats hurt you, we give a first aid. However we cannot refund or bear your medical expenses." That would never be enough in the US of A -- the land of lawsuits.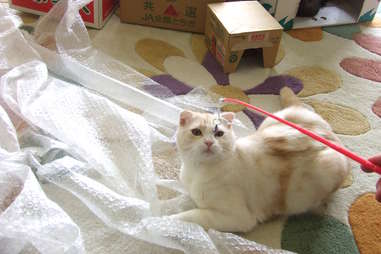 The vibe
The Japanese cat cafe is more pensive than playful. Patrons often visit solo to de-stress. After all, the cat cafe concept was borne out of a need to cure loneliness in big cities where isolation is as common as crowds (an oxymoron, we know). That's not to say groups of office ladies don't show up to spend time together while their husbands pound practically frozen beers with colleagues up the road. Based on more than a handful of experiences at different cafes, we noticed that Japan keeps a favorable cat-to-human ratio and a calm environment.
There are fewer misanthropes at Crumbs & Whiskers and the atmosphere is a bit more boisterous. Expect to find canoodling couples discussing who would be responsible for changing the litter box. The guy may have a "save me" look on his face because he's contemplating if his lady is already turning into her mother. In other nooks are groups of friends gossiping as they try not to wake sleeping cats.
Design is a big part of the experience at Crumbs & Whiskers. The first floor has an industrial vibe while the upstairs is light-filled and modern. All the furniture is mere feet off the floor, which we're sure is to make it easier to coax cats to come sit with you, but we can't but feel that it looks a little like the setup for an orgy.
Capturing the moment
It should come as no surprise that cameras are an integral part of the cat café experience in Japan. We're talking about the land of Nikon, Canon, and Sony after all. What we didn't expect was to settle down to a cat sesh only to be distracted from our pensive, melancholic thoughts by a cat superfan wielding a camera, light kit, a belt of different lenses, and other gadgets. Snapping pictures is also huge at Crumbs & Whiskers, and we actually saw more DSLRs than lowly iPhones. Restrain yourself from shouting -- EVERYONE'S SEEN A CAT BEFORE -- as you ogle their fancy Nikons with envy.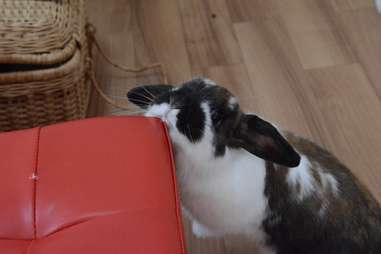 What's next?
Japan has already moved past cat cafes to introduce the world to bunny cafes, owl cafes, and beyond. We checked both out on a recent trip to Japan. They're both set up differently than a cat cafe. Most notably, it's hard to shake the similarities between the bunny cafe and a brothel. Patrons file into a room and survey about 30 caged rabbits before selecting one to take to a private room (each with its own theme) to spend intimate time with for an hour. The owl cafe is more similar to a cat cafe in that you can walk around and visit with all the owls -- they just happened to tethered down. Will DC go for any of these next-level animal experiences? Only time will tell.
Sign up here for our daily DC email and be the first to get all the food/drink/fun in town.