There are so many ways to appreciate a good night out in Washington DC. But what about those precious in-between hours where you're fresh from work, the sun's still out, and you need to decompress. Ah yes, the beloved happy hour. For those days when that first post-work drink can't come soon enough, here's your guide to happy hours all over the District, with the best pick no matter what neighborhood is most convenient for you.
Adams Morgan
Jug and Table
When: Tuesday-Friday from 5-7pm
The Deal: The first floor of Roofers Union is dedicated to wine -- and there's hardly a region or variety that's off-limits. Wine director Chas Jefferson favors rustic table wines, and that's reflected on the diverse menu. Happy hour features a $6 white, red, and rosé, as well as half-off 64 ounce jugs -- enough for 12 glasses. Local draft beers are $4, and mixed rail drinks are $6.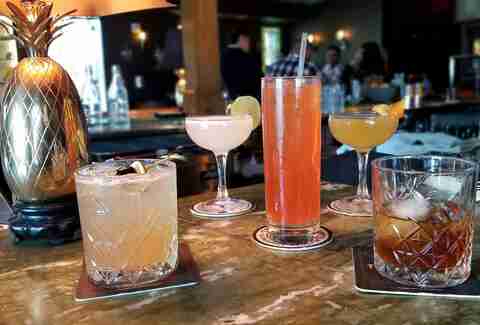 Bloomingdale
Truxton Inn
When: Monday all night, Tuesday-Friday until 7 p.m.
The deal: You can't stay the night at this cozy neighborhood cocktail bar, but you can sip on $6 bourbon or rye Old Fashioneds (try them with tequila or mezcal, too), $5 house white or red wine, and $3 cans of Narragansett Lager. Food is limited to a small selection of salty and crunchy snacks to stave off any pre-dinner hunger. 
Capitol Hill
Tortilla Coast
When: Daily 3:30-8pm
The deal: It's little surprise why the generous daily specials on frozen margaritas, beer, and Tex-Mex snacks remain a go-to for Hill workers. Drinks start at $4 for a can of Mexican lager and inch up from there, capping at a $15 32-ounce El Jefe margarita. Stick with the cheap stuff or upgrade to "fancy sangria," premium tequila, and larger plates of food for a few bucks more. 
Chinatown
Circa
When: Monday-Friday from 4-7pm, bar area only
The deal: Skip the Capital One Arena's pricey concessions in favor of a pre-game (or pre-show) drink at this wide-ranging American bistro. Draft beers are $5 in the bar area, and the list usually includes a good number of local options. House wines are $7 and the daily cocktail is $8. The best deal for food is to pick one of the sizeable flatbreads, offered at $8.
Cleveland Park
Indique
When: Monday-Friday from 5-7pm
The deal: This Indian restaurant along the Cleveland Park strip pairs upscale food with a casual atmosphere. It offers a $5 punch of the day, $6 wines, and 22-ounce bottles of Kingfisher beer for $7 during its weekday happy hour. House cocktails or house gin or vodka tonics run $8. Bar bites of samosa chat, spiced beef appams, and achari chicken paratha tacos are $5-$6 each.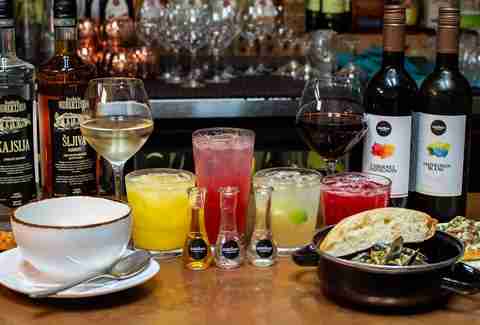 Clarendon (Arlington)
Ambar
When: Monday-Friday from 4-7pm
The deal: Make a date with the Clarendon location of this lively Balkan spot and its generous selection of $5 drinks and small plates. Sip the vodka-based kiwi smash, a rum basil cooler, or a classic margarita or mojito. Savory dishes range from garlic bean dip to a ground beef and veal kebab and "drunken" mussels with rakia, garlic, and capers. Beer, wine, and rail drinks are included as well. 
Dupont Circle
Hank's Cocktail Bar
When: Tuesday-Friday from 4-7pm
The deal: The second floor of Dupont's Hank's Oyster Bar is the new home of this craft cocktail bar known for its unique ingredients and recipes. Select wines and beer are a welcome $4 during happy hour, and cocktails like the sustainability-focused Trash Gimlet (gin, house cordial, and bitters) and the Champagne Dreams (bubbles and a rotating shrub or syrup) are $7 a pop and Old Fashioneds are $8. 
Foggy Bottom
North Italia
When: Monday-Friday from 4-7pm
The deal: Look past the fact that this Italian restaurant is a national chain and embrace the $16 bottles of house red and white wine and $10 margherita (or daily special) pizza at its bar happy hour. The shareable chef's board is also a deal at just $10, with lots of cured meats and cheeses. And draft beers and glasses of house wine or sangria are just $5.
Georgetown
El Centro
When: All day Monday, Tuesday-Friday from 3-7pm
The deal: Richard Sandoval is serious about his love of Latin food, and on Monday nights, he really turns up the heat with $5 margaritas, beers, and wine all night long. Cocktails here pack a punch, so order up an order of $5 chicken flautas, $5.50 nachos, $4.50 vegetarian tacos, or one of the other discounted Mexican snacks. The same deals run during the rest of the week's happy hours.
H Street
Hill Prince
When: Tuesday-Friday from 5-7pm and Saturday and Sunday from 3-7pm
The deal: No-nonsense cocktails highlight the menu at this H Street hangout. Happy hour features a $6 gin and tonic, whiskey sour, and dark and stormy -- along with some $5 brews and $7 wines. Orders of pickled okra, togarashi corn nuts, and a soft pretzel with mustard aioli run $4 a pop. 
Logan Circle
Black Jack
When: Tuesday-Thursday from 6-8pm, Friday from 5-7pm, Saturday from 3-5pm, and all-day Sunday.
The deal: Those in the know bypass the crowds spilling out from the Pearl Dive patio and instead head upstairs to this relaxed bar. Take advantage of discounted raw oysters, $11 mussels, $7 pizzas, and Southern-inspired eats. The bar pours $5 draft beers from its solid craft list along with $6 wines, a $7 daily punch, and $8 whiskey-of-the-day cocktails. Exposed brick, red curtains, and string lights give the experience a vintage, casual vibe. 
Mt. Vernon Triangle
Alta Strada
When: Daily from 4-7pm
The deal: At Alta Strada, chef and restaurateur Michael Schlow aims to create a welcoming, neighborhood Italian kitchen. His happy hour is proof of that with its $8 margherita and bianco pizzas (the crusts have a nice amount of crisp and heft) and $5 beef meatballs in a spicy tomato-basil sauce. An evening here wouldn't be complete without a few rounds of $6 Aperol spritzes or $8 Negronis, or well-priced house wine and beer.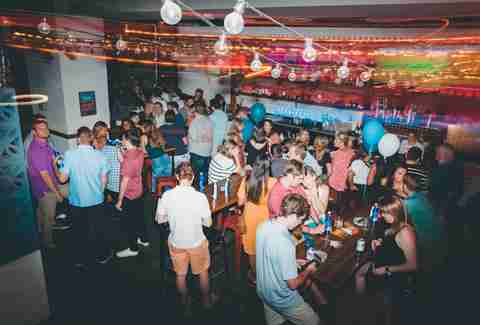 Navy Yard
Mission
When: Monday-Wednesday from 5-7pm, Thursday-Sunday from 4-7pm, and Thursday-Saturday from 10pm-close.
The deal: There's something for every taste at Mission's Navy Yard happy hour, including both inside and outside seating across from Nationals Park. Sip on a house margarita, a vodka and raspberry-mint lemonade for $8, or a large DC Brau or Dos Equis draft for around $5. A large platter of Nachos Volcan are a solid deal for sharing at $9 ($4 with meat added). 
Shaw
Shaw's Tavern
When: Monday-Friday from 4-7pm and Saturday-Sunday from 5-7pm
The deal: Happy hour deals can be had seven days a week at this neighborhood tavern -- a rarity Shaw. Unwind with $3 Miller Lites, $4 Sam Adams seasonal beers, and $5 house wines and rail drinks. If you get hungry, select appetizers can be enjoyed for half-off, as well. 
U Street
Archipelago
When: Tuesday-Friday from 5-7pm
The deal: Slow down after a long day with one of a few $8 tropical happy hour cocktails at this Tiki-inspired bar. There's always a Piña Colada, a rotating classic, and the Ti Punch -- a particularly boozy mix of rum, cane syrup, and lime. Select craft beers are $4 a can with wines at $6. Make a meal of it with egg rolls for $3, hot chicken steam buns for $5, or a chili-laced bowl of Dan Dan noodles for $6.
Sign up here for our daily DC email and be the first to get all the food/drink/fun in town.