Booze, Battles, and Brothels: A Tour of DC's Most Illustrious Drinking History
After a few too many drinks, we're lucky if we can remember what happened the night before, never mind a hundred years ago. Thankfully, there are a few experts in our city who delight in keeping the city's more devilish details straight for us. Garrett Peck is an author, historian, and tour guide who has written several books on booze and prohibition, including Prohibition in Washington, D.C.: How Dry We Weren't. Derek Brown is known as the award-winning bartender who owns four of DC's most beloved bars and restaurants, but he also wears a historian hat as the first-ever Chief Spirits Advisor at the National Archives.
These two know all about DC's besotted past, and were willing to share some particularly gin-soaked anecdotes behind six historic spots in the city. Here are some aspects of the city's history your high school history teacher didn't see fit to let you in on.
Old Ebbitt Grill
While the Old Ebbitt Grill has moved locations multiple times since its establishment as Washington's first saloon in 1856, the restaurant has been located in a very notable spot since the 1980s: the building that was once Keith's Vaudeville Theater, which Woodrow Wilson visited on Saturday nights during his presidency. This same block used to be home to the Rhodes Tavern, from 1799 to 1984, which didn't look like much -- just a plain brick townhouse -- but actually served as the spot where Congress met after the Burning of Washington evicted them in 1814. Before that, the tavern saw many a politician come through for a drink or a rendezvous. "This is not only where people stayed, but it's where a lot of business got conducted. So you would stay there, take your meals there, and also drink there," Peck says.
The Old Ebbitt Grill also used to be a boarding house called the Ebbitt House, which was visited by numerous notable figures, including Mark Twain. Twain spent the winter of 1967 in Washington, getting into all kinds of trouble as a political journalist. He wrote scathing commentary about prominent politicians and bureaucratic corruption, and of course, he drank his face off while doing so. Before his literary career took off, Twain was known to "run petty schemes simply to get a drink," according to John Muller's Mark Twain in Washington, DC. He and his partner-in-crime, writer William Swinton, were often "enchanted by alcohol." Twain recalls that their booze habit caused them some financial hardship, as newspaper writers making just a dollar per article. "[Twenty-four dollars a week] would have been riches to us," Twain wrote, "if we hadn't had to support that jug." Once when they were short on cash, Twain sold a lost dog he found at the Ebbitt House for $3. When the dog's owner came looking for his pet, Twain offered to help find the dog -- for a fee of $3. Twain bought the dog back from his original customer at the same price and returned it to the owner... ending up with the $3 he needed to fill the jug.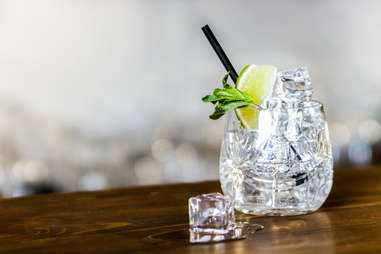 1331 Lounge
1331 was Shoomaker's address, and the birthplace of DC's official cocktail, the Rickey. Founded in the 1850s, Shoomaker's was later bought by a prominent lobbyist, Colonel Joe Rickey. "It was quite a place, and it was also a little bit of a dive, it turns out. While the drinks were expensive, the décor was shabby," says Brown. "There was once a steward or a porter who got fired because he wiped down one of the tables, and when it was reported why he was fired, it's because they said to him, 'Do you know whose elbows have been on that table?' Because it was pretty much every famous person," he explains. "This place was kind of a who's who of Washington visitors," Peck says. "Basically every president came to drink here, except for Rutherford B. Hayes, who was a teetotaler."
The bar is even better known for the Rickey's creation story. "The Rickey was invented by George Williamson, who was the bartender and president of Shoomaker's," Brown explains. "He invented it, purportedly by taking Colonel Joe Rickey's regular drink, which was a bourbon soda, and squeezing a lime and dropping it in," Brown says. "Apparently, Rickey didn't like it, and he especially didn't like it when people started calling the drink after him," Peck adds. "And yet the name stuck, because it was invented at his bar."
In 2011, Brown and Peck spearheaded the effort to designate the Rickey as DC's official cocktail. "Using Prohibition in Washington, DC as evidence for the Rickey, we approached Jack Evans on the City Council, and asked them if we could get an official proclamation declaring the Rickey to be DC's official cocktail," Peck recalls. They expected it to be a long, circuitous process, but the strength of their case made things easy. "We had the proclamation three weeks later," Peck says.
"I think somebody just needed to bring it to their attention," Brown explains. "I don't think it's controversial. This is the drink that DC's best known for." The Rickey, which is known in the bartending community as "air conditioning in a glass," is still a hit to this day, with countless riffs showing up on menus all throughout Rickey Month in July.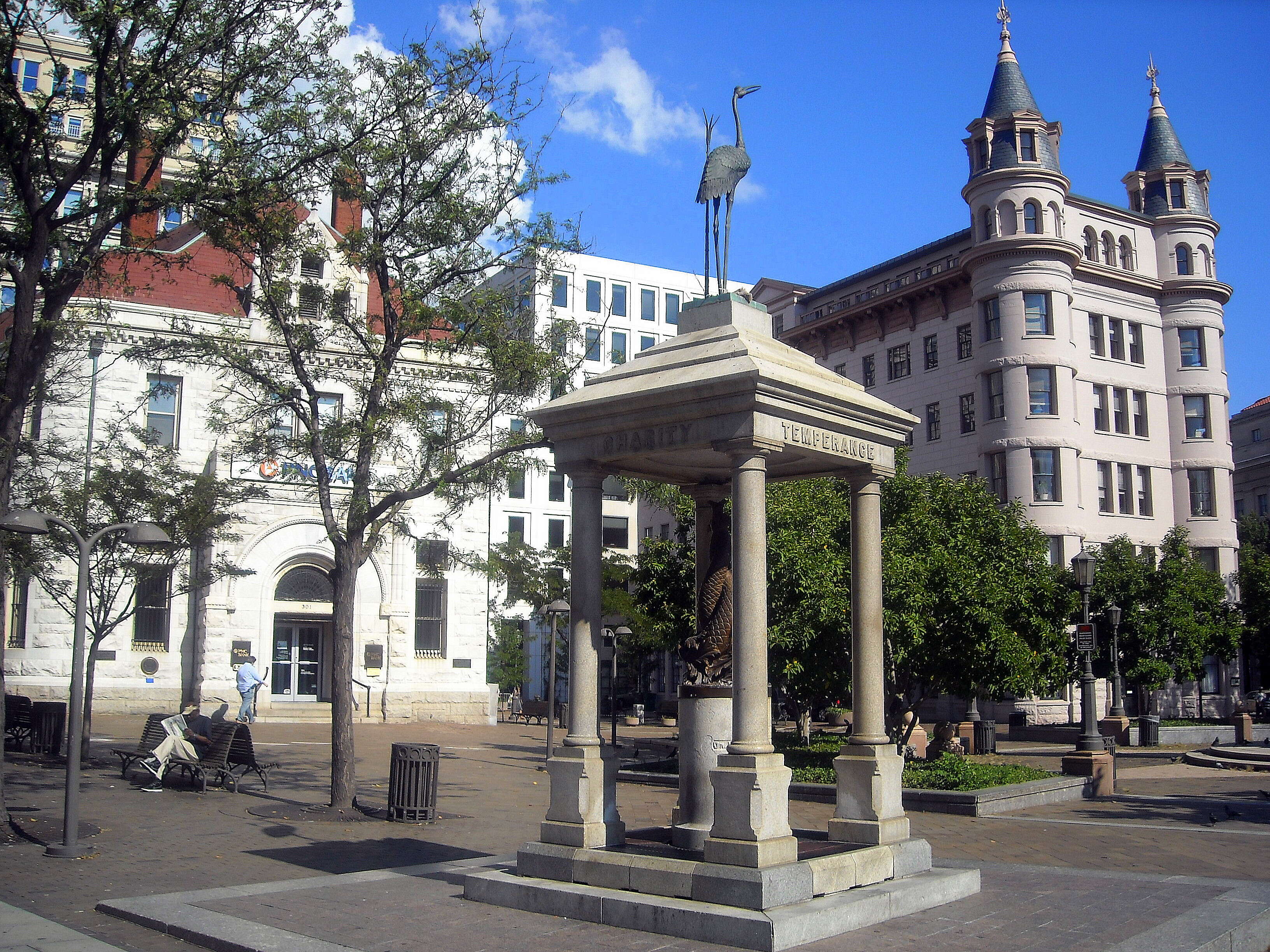 The Temperance Fountain
You've probably walked right past this fountain hundreds of times, but chances are you've never stopped to give it a second look. This fountain is one of about 50 commissioned by temperance crusader Dr. Henry Cogswell. "We're one of the few cities that still has one," Peck says. (There's also one in Tompkins Square Park in New York, which you can drink from.) Cogswell financed the fountains in an effort to convince people that drinking water is ultimately superior to downing whiskey.
The monument to Temperance is worth that second look, but it might not really be worth a third. "It's an ugly fountain. It looks like two fish are copulating, and that's not something you want to drink out of," Brown jokes. The fish are part of the fountain's on-the-nose water theme, as is the crane that sits on top. But perhaps symbolism wasn't quite enough. "I mean, this idea that you could get people to stop drinking whiskey by giving them water seems unlikely," Brown says. We'll give Cogswell an A for effort, anyway. "They won the battle, but they lost the war. They foisted prohibition upon the country," Peck says, "and then they fell on their faces because the country still wanted to drink." And drink we did.
The White House
It goes without saying that there's plenty of history wrapped up in the White House, but the standard walk-through doesn't really touch on the boozy background of our former presidents. One of our country's wildest, gate-crashing house parties transpired in James Madison's White House in 1814 (no JMU jokes, please), when it was cut short by some unwelcome party crashers. On August 24th, 1814, during the War of 1812, the British invaded the city. "It was a raid," says Peck. "There was a short battle in Bladensburg, Maryland, and we got our butts kicked by the British."
After the battle, the Brits made their way toward DC, and Madison sent a messenger to the White House to warn Dolley, who was preparing for her daily dinner party. "Dolley loved to entertain. She was really a great hostess," Peck says. They typically hosted 30 to 40 people every day. On this particular day, they had to flee before the British arrived. This also happens to be one of the moments that Dolley is remembered for -- she requested that the famous portrait of George Washington by Gilbert Stuart be rescued from the house.
When the British arrived at the White House in the evening, they found a feast. "All the wine was still chilled, the food was waiting for them, for 40 people, so all these officers all sat down and they had a dinner, and then at the end of it, they burned the White House," says Peck. "We made dinner, and then the British ate it for us."
Rum Row
Rum Row, a stretch of Pennsylvania Ave that runs from the National Theatre to 14th St, was exactly what it sounds like. "It was where all the great bars were in DC," says Peck. Relatedly, it was also part of "the Avenue," the city's entertainment district during the early 1900s. DC residents flocked there to frequent brothels, bars, and gambling dens. In 1906, there were 47 bars along Pennsylvania Ave between the White House and the Capitol.
Unfortunately, Rum Row was demolished in the 1980s by the Pennsylvania Avenue Redevelopment Corporation. The most prominent spot on Rum Row was Shoomaker's, which the JW Marriott pays tribute to with their 1331 Lounge... although the scene here doesn't get quite as rowdy as it did back in the day.
The Willard Hotel
The Willard Hotel was first built in 1850, but it has been rebuilt and renovated several times since then. The hotel has hosted a bevy of famous guests, including Presidents Taylor, Lincoln, Grant, and Wilson, and luminaries from the likes of Martin Luther King, Jr. and Charles Dickens to P.T. Barnum and Buffalo Bill. Walt Whitman (who lived nearby at the site where the W Hotel now stands) wrote about the Willard, as did Mark Twain. The circular Round Robin Bar, known for its classic cocktails, has charcoal portraits of many of its visitors adorning the walls. "I love the fact that while that bar itself might be younger, the Willard has such an illustrious history, and was certainly a drinking place for many people," Brown says.
In non-drinking news, the "Battle-Hymn of the Republic" was written at the Willard, and it was also the spot where a secret peace conference took place in 1861 to try to prevent the Civil War from happening.
Sign up here for our daily DC email and be the first to get all the food/drink/fun in town.
Lani Furbank is a freelance food writer and a proud JMU grad who thinks the Madisons were badasses. (Go Dukes!) Follow her on Twitter and Instagram @lanifurbank or read her blog at www.LanisCupOfTea.com.