We've Got That Good Gin, Now Where's the DC Whiskey?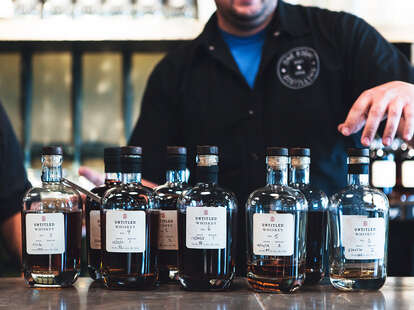 DC has been producing some excellent spirits lately, and the city is filled with understandable hometown pride -- you'd be hard pressed to find a good bar in the area that doesn't stock Green Hat gin. And in fact, locally made vodkas, limoncellos, gins, and other homegrown spirits are more and more commonplace every year. However, while clear liquors may be the spirit of choice for some DC drinkers, many in the area are patiently enduring the absence of a locally made brown.
The business of producing whiskey is inherently a forward-thinking endeavor: the lead time for a whiskey is at least two years, so there are no returns on the investment for at least that long, if not longer. But many of the DC-area distillers that are producing gins and vodkas have intentions of selling their own whiskey at some point in the future. Operations like New Columbia Distillers or One Eight have been opening and distilling whiskey, holding tours and tastings, but to some extent, this is a holding pattern.
Each week, new barrels of these distilleries' own whiskies are coming out of stills and being put into barrels, while other barrels lay patiently in their rick houses until they come of age and are ready to be bottled. Some barrels of whiskey in DC's own distilleries are even approaching two years of age. Unfortunately for the impatient among us, most of these barrels are in for at least another year of aging.
This leaves these distillers in the position of producing a product that won't see the light of day until 2017, 2018, or much later, but DC's burgeoning distiller community has found success in spite of this. We checked in with DC's resident whiskey super nerd, Bill Thomas of Jack Rose, and visited three of DC's distilleries to discuss how they are coping with the waiting game, how they are planning for the future... and to even crack open some barrels to sample the whiskey that we'll all be drinking in the coming years.
The long game
"We were adamant about making our own whiskey, putting it in full-size barrels, and aging it ourselves," says John Uselton, co-owner of New Columbia Distillers, who notes that making a DC whiskey was part of the plan from day one. "But we knew that there was no way we could have whiskey available within five years." Since opening the first craft distillery in DC in 2011, Uselton and his partner Michael Lowe have been making a name for themselves through their wildly successful Green Hat gin, but they've also been working quietly in the background, laying down barrel after barrel of whiskey.
"Right now, we've got about 25 barrels," explains Uselton. "Most are rye whiskey." Of those 25 barrels, the oldest whiskey in the New Columbia facility is about three years old. "Our idea, when the barrels are properly matured, is to release a barrel, hold a barrel, release a barrel, hold a barrel." Following this staggered release schedule would allow New Columbia to let select barrels continue aging. "Say the first barrel released is five years old, then the next year we can release some six year old... and just keep going down the line."
Asking the question of what kind of whiskey is actually in these barrels leads down a fascinating rabbit hole. "We like our 70-30 rye mash bill [the make-up grains that are used in the brewing, fermenting, and distilling process], which is 70% rye and 30% malted barley, but the barley is half distillers' malt and half brewers' malt," he says. Rye whiskey is often accompanied by both corn and barley in its mash bill, but eschewing the corn "gives it a nice body," Uselton says.
Recalling a recent release of the Parker's Heritage Collection, Thomas compares New Columbia's mash bill with that of the 2015 PHC malt whiskey. "They went with the malted barley and the corn [65% malted barley and 35% corn], but I'd like to see it on the rye side," he says.
Nearly all of New Columbia's whiskey is the aforementioned rye base, but Uselton and Lowe have experimented with different mash bills and barrels from different suppliers. The latter point somewhat out of necessity than innovation. One of the main obstacles whiskey producers currently face is a shortage of cooperage (barrels or casks). "We couldn't get any new barrels," laments Uselton. But a chance encounter with a representative from the A. Smith Bowman Distillery in Virginia, who themselves use cooperage from Independent Stave Company in Kentucky and Kelvin Cooperage in Missouri, landed New Columbia with a steady supply of used bourbon barrels. By law, bourbon is required to be aged in new, charred American oak barrels, so using used cooperage lands New Columbia's whiskey in the category of American whiskey.
"But that's fine -- I think American whiskey should be the fastest growing category," Thomas says. "It gives you latitude to experiment and create some great stuff, while still following the tenants of whiskey-making that make whiskey great. I don't give a shit about used cooperage; I care about the final product."
Uselton estimates that New Columbia's first bottle of whiskey will hit the market in about two more years. While that timeline is an estimate, Thomas, who has spent significant time and money visiting distilleries tasting and purchasing barrels, has noticed that "rye tends to age faster and gain a lot more character quicker -- the two-year-old ryes that have been coming out have been really palatable, but for bourbon, it's more like four years." Upon cracking open one of New Columbia's barrels to sample the whiskey, Thomas remarks that he "can't wait to see this at 2 and 3 years," but that it could conceivably be a product that's releasable today.
"For some of the older experimental barrels," Uselton says, "if one turns out nice, maybe we'll release it as just that barrel, but we haven't decided yet." While by no means a certainty, the tantalizing prospect of a single-barrel whiskey release from New Columbia does exist.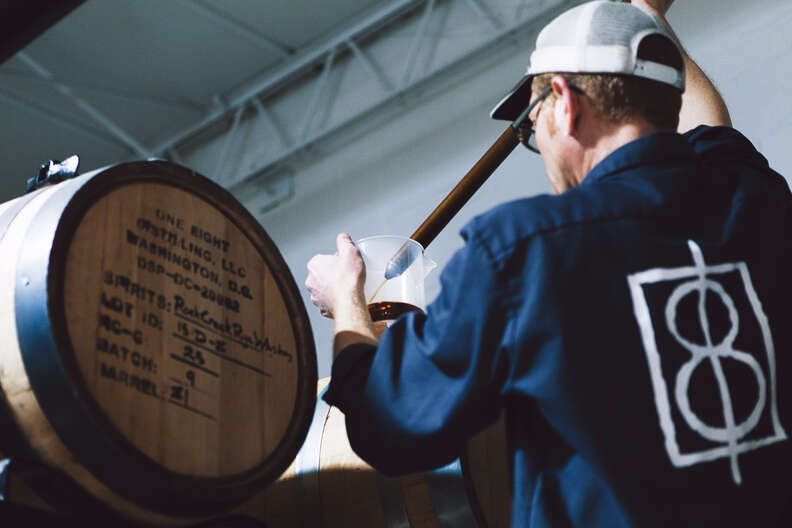 One Eight Distilling is located just steps from New Columbia in Ivy City. Though One Eight is a more recent venture than New Columbia, having opened in January 2015, they have managed to stockpile a much larger inventory than New Columbia's 25 barrels. "We're a little under 700 barrels at the moment," says Sandy Wood, co-founder of One Eight. "We're mashing and distilling four days a week right now." While New Columbia's whiskey falls under the American Whiskey category, One Eight's is regulation bourbon and rye, using new American Oak barrels from Independent Stave and Kelvin. Another distinction: One Eight uses both the standard 53-gallon barrels and smaller 25-gallon barrels. "Smaller barrels have more surface area relative to the amount of liquid inside," explains Wood. "They're going to extract and pull color and flavors faster, so the aging duration is faster." While a whiskey aged in a 53 gallon barrel might come of age at around four years, "for 25-gallon barrels, we're looking toward 20 to 22 months." The majority of One Eight's whiskey is rye of two mash bills: one with corn and one without corn.
The first whiskey that One Eight distilled has been in a barrel since December 2014, which means that some of the 25-gallon barrels of rye are nearing their target age. "We're coming up on our first independent products soon," says Wood. While we couldn't coax anyone into confirming an exact release date -- the mantra for all of these distilleries is basically, "it's ready when it's ready" -- there's a solid chance that we'll see this rye in the second half of 2016. "Needless to say, we're very excited," Wood says.
Of a somewhat different model than both New Columbia and One Eight is the Jos. A. Magnus Distillery (also located in liquor-heavy Ivy City). Instead of designing his own recipe and mash bill, master distiller Brett Thompson is reverse engineering history. Joseph Magnus was a historic spirits distiller, blender, and rectifier (one who purchases whiskey from a supplier and bottles it for resale) in the late 1800s. When Magnus' great-grandson Jimmy Turner found a 122-year-old bottle of Magnus bourbon, he engaged Thompson and a dream team of renowned whiskey professionals -- including whiskey analyst Nancy Fraley, former VP of Buffalo Trace Richard Wolf, and former general manager and distiller at Woodford Reserve Dave Scheurich -- to sample the ancient bottle and reverse engineer what made it so great.
Through nosing and sampling, Fraley detected arancio and Armagnac, which hinted at a sherry finish. This was further reinforced by the discovery of ads from Magnus offering used sherry barrels for sale. Scheurich even went as far as to engage yeast archeologists to sample yeast from stills of the same era to see what kinds of yeast would have been used in the late 1800s. From that blueprint, Thompson is attempting to recreate the Magnus bourbon today, and to achieve this dream, he is working with barrels sourced from Canton Cooperage, and three mash bills that Scheurich and Fraley believed would create a similar flavor profile: a 70% corn, 20% rye, 10% malted barley; 70% corn, 20% wheat, 10% malted barley; and 70% rye, 20% corn, 10% malted barley.
Jos. A. Magnus is projected to lay down 500 barrels a year. "We want to have a lot of inventory," explains Thompson. "I think bourbon you put out at 18 months looks nice, but doesn't taste as nice. We're thinking minimum four to five years before we even think about bottling."
Keeping the lights on
"The hardest part when you start out," Thomas says, "is how you cashflow the business -- it's a huge upfront investment." With revenue from whiskey sales not projected to arrive for one, two, three, or even more years, these young distilleries have found other ways to monetize in the interim. While New Columbia has a steady stream of sales from its Green Hat line of gins, One Eight and Magnus are in fact selling whiskey... just not their own. A common practice among young distilleries is to source whiskey from large suppliers like Midwest Grain Products in Indiana and release it under their own brands. This practice can be as simple as bottling the whiskey as-is with no additional processes, but One Eight and Magnus have taken steps to make their MGP whiskeys their own -- until they can do the whole thing from scratch.
One Eight's "Untitled" series of whiskeys are exercises in different varieties of barrel finishes and blending whiskeys. They work largely with a nine-year-old MGP bourbon that is finished in different kinds of sherry, wine, or cognac casks to achieve different flavor profiles. Their most recent release, "Untitled 7," is One Eight's first blend across mash bills, with three different base whiskeys offering two finishes: the nine-year-old MGP bourbon finished in Cognac, a six-year wheated bourbon finished in cognac, and a four-year-old Tennessee sour mash bourbon finished in port. While the "Untitled" series has seen success, it is not the end game for One Eight. "We will eventually transition fully away from sourced products as our production hits full capacity." Wood says. "If I were to hazard a guess, I'd imagine that would be within five years."
Similarly, Thompson is sourcing an MGP bourbon and applying different finishes, but with the goal of recreating the flavor profile of the historic Magnus bourbon. "To come to the flavor profile of what Magnus was, we use a combination of 60% Oloroso sherry finish, 20% Pedro Ximénez sherry finish, and 20% cognac finish." Thompson is also recreating another Magnus whiskey that will be releasing soon: the Murray Hill Club. "We didn't have a sample of what Murray Hill Club tasted like," explains Thompson, "so we had to draw upon descriptors." The modern Murray Hill Club is a blend of 20% 18-year-old bourbon, 50% 11-year-old bourbon, and 30% nine-year-old light whiskey. The inclusion of the light whiskey (whiskey distilled above 160 and no higher than 190 proof and aged in used bourbon barrels) was inspired by descriptions of the original as "smooth and approachable."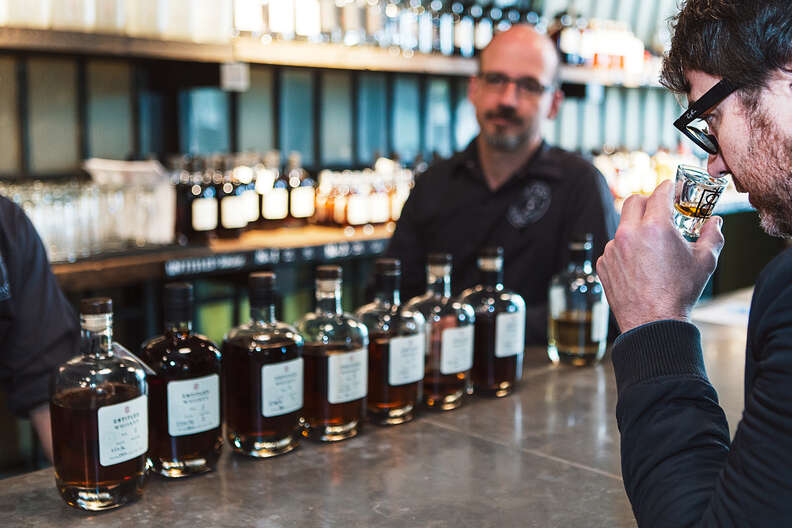 DC synergy
This surge of craft distilleries in DC in recent years is no coincidence: in 2015, some laws were passed that basically allow distilleries to offer onsite sales and tastings, and to serve cocktails. "The new laws make DC one of the best places to open a distillery," Thompson says. As all of these new distilleries open simultaneously, they've been creating a community of cooperation and mutual exchange. "We've had things break and John [Uselton] from Green Hat has saved our butt multiple times," laughs Thompson.
Not only do the distillers share knowledge and resources, they are also developing innovative products across industries. For instance, One Eight is collaborating with local breweries and coffee roasters to develop barrel-aged products. They've worked with Hellbender and DC Brau to distill beer, and have aged whiskey in barrels that the breweries aged their beer in -- yeah, we know, normally that process goes the other way around. They've also collaborated with local coffee roaster Vigilante Coffee to age whiskey in barrels that were used to age roasted coffee beans.
In DC, craft whiskey distilling is rolling fast along the tarmac, poised to take off. While we'll have to wait a while on some of the bourbons, Washingtonians can be held over with gin, vodka, experimental MGP finishes, and hopefully a rye or two. In just a few years, the market will offer us plenty of local brown options -- and force us to choose between ordering a Green Hat gin Negroni or a New Columbia rye Old Fashioned.
Sign up here for our daily DC email and be the first to get all the food/drink/fun in town.
Brian Oh likes his whiskey sherried, cask strength, and served neat. Follow him on Instagram @brianoh11.