How JP Fetherston Has Been Changing the DC Cocktail Game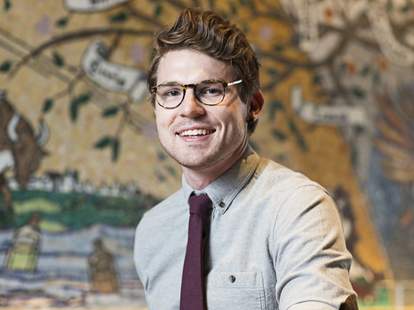 Courtesy of JP Fetherston
What do you see as this year's biggest change or development in DC's drinks scene?
The interesting development I see is increasingly specialized concepts and more intense focus on certain categories, like Espita and agave spirits. We're not just opening a cocktail bar anymore -- we're seeing more and more specificity in terms of the spirits, the design, the theme.
Tell us about your favorite cocktail or ingredient from 2016, and what you loved most about it.
I'm racking my brain on this one because, shamefully, since we reopened Columbia Room in February, I feel like I've barely gone out. I've had some awesome drinks at The Dabney and barmini, but my favorite would have to be something I had up the road in Baltimore, at Parts & Labor. It was a beer cocktail with aged rum and saison, and was amazing. I never order the same drink twice in one sitting at a bar, because I want to try everything, but I had to have a second one of these. Favorite ingredient? Armagnac!
With such an intricate and evolving menu at Columbia Room, how do you keep things fresh and innovative each season?
It's pretty simple, really: We just try and pull the thread on weird, interesting, and challenging ideas we have. We try to surprise ourselves and chase things that we're unfamiliar with. A big part of what we do with the tasting menu is pass on the sense of discovery we felt with certain ingredients, techniques, and drinks to our guests. Also, always write down inspiration and ideas. The oddest, most hare-brained concept can pop into your head at any moment, and you had better record it, because you never know when it might come in handy.
Which aspect of your career is the most rewarding?
I'm not going to lie, some of the perks of my particular job are amazing -- trips to far-flung corners of the country and globe, access to the best spirits, wines, beers, and food in the world -- but there are two aspects of this business that I treasure above all. One is the pleasure of having a guest lose themselves at the bar for a while and take pure, simple joy in something new that they drank, ate, or learned. The second is the camaraderie of our industry. This is an intense, stressful, and draining job, and the friendships and connections you make with your colleagues are forged in fire and battle-hardened.
What excites you about DC's drinks scene right now?
There is an energy and an independent streak here that keeps expanding and expanding. We're not seeing big chains or big names coming in and dominating the scene. We are growing our reputation, and our colleagues are pouring their energies into their own independent projects. And we're changing outdated laws about breweries and distilleries, which is exciting.
What are you looking forward to in 2017, and what do you think the new year has in store for the DC drinks scene as a whole?
I honestly have no idea, and that's kind of the exciting part. One thing I personally am looking forward to is getting beyond the madness of the first year of Columbia Room being open, and having a little more time to get up to speed with all of the amazing things my colleagues are out there doing... I think I'll be able to give you an amazing answer for what's hot in 2018.
Sign up here for our daily DC email and be the first to get all the food/drink/fun in town.
Lani Furbank is a freelance food and drinks writer who is crushing hard on the bar stars in this year's winners' circle. Follow her on Twitter and Instagram @lanifurbank or read her blog at www.LanisCupOfTea.com.