Recommended Video
It's Worth Getting Sloppy For This Grilled Cheese Taco
First, head downstairs, and you'll find this unsuspecting door. Wait. Is this an apartment party?
Oh phew, it's actually a 60-seat lounge w/ a wood bartop, custom leather booths, and four make-out-worthy alcoves, from which you can sip on choice cocktails like:
A classic whiskey sour with a luxardo cherry garnish sweetened w/ a touch of honey.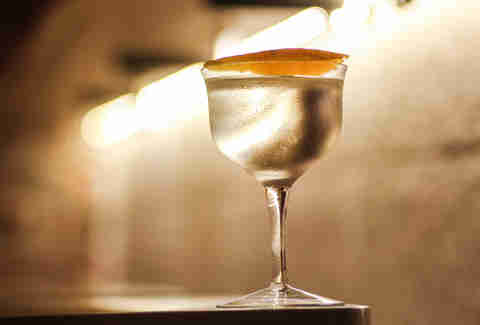 The New Day w/ blanco tequila, Salers Gentiane, and Aperitivo Americano. And an orange hat.
The Gimlet (gin/lime/housemade cordial) shines above the rest because of the light we put it under, and its vintage glassware.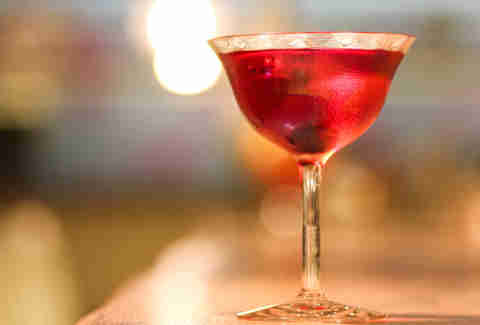 While the picture isn't very indicative of the name of the drink, the Darkside is a smooth combo of gin, Barolo Chinato, and Peychaud bitters.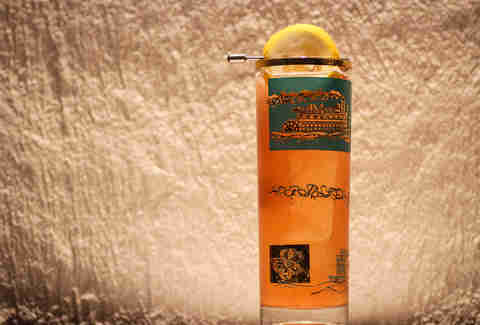 The unnamed rum/Campari/cane sugar/Stillwater Cellar Door is perfect for when you want a beer and a cocktail at the same time. Wait -- isn't there some sort of saying for taking care of two things at once?
Previous Venue
Next Venue
Venue Description
1. 2 Birds 1 Stone
1800 14th St NW, Washington, DC 20009
Situated in Logan Circle, 2 Birds 1 Stone may be hidden beneath Doi Moi off bustling 14th Street, but it's far from unknown in the DC cocktail world thanks to its expertly crafted concoctions. The chic, often-crowded bar is known for its original creations (check out the punch du jour) and its re-imagined classics, such as a tequila-infused dark & stormy. The stylish, subterranean space is surprisingly bright, sporting plush seating and exposed brick.