Washington DC Dust off your beer steins (or boots) Washingtonians, because beer garden season is back -- at least for some of DC's finest outdoor beer-slinging establishments. Here are five of DC's top spots that're already open for your outdoor (daytime perhaps?) drinking pleasure this weekend.
Recommended Video
This Outdoor Food Hall Serves Up All Things Deliciously Asian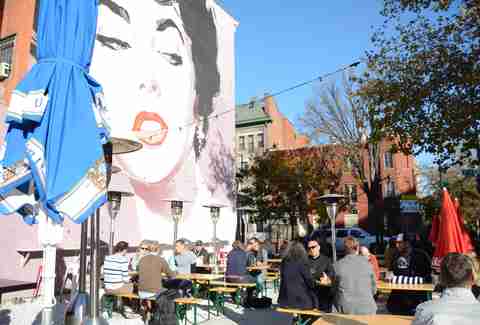 Dacha (click here for info and address)
Shaw
Dacha's second season sounds promising. They launched a long happy hour Monday-Thursday from 4-7pm. Then there are the menu additions, like a rare Weihenstephaner Korbinian on draft. The perks of bringing in food from your fave place, plus your pup, are still in place from last year. Also, pretty soon you'll be able to fill your boot with beer at a second Dacha location in Mt. Vernon Square. Continue Reading
Garden District (click here for info and address)
Logan Circle
The gates are open at the only beer garden in town that'll put a whole pig's head on a platter for you and your friends (call to order ahead). Draft beers include Hofbrau Original Lager, Kostritzer Schwarzbier, and an easier-to-pronounce Avery Ellie's Brown Ale. Also, a visit to GD isn't complete without an order of hush puppies.


Biergarten Haus (click here for info and address)
H Street
Start Spring off in this cozy courtyard by going all-out with their beer sampler. The $45 tray comes with .02L of all 13 drafts. Find what you like, and you'll be set for the rest of the season. Beers range from a light Gaffel Kolsch to a Spaten Optimator Dopplebock. Whatever you do, keep the Laugenbrezel orders coming.
Bardo (click here for info and address)
Northeast DC
The beer garden that doubles as a brewpub is open and ready for your beer business. AND IT'S HUGE. Even if you rolled up with 499 friends, there would still be an outdoor seat for you. They make 25 different beers and we've got the descriptions. A highlight is a 14yr-old barley wine on draft. Cornhole is pretty much required.



Westover Beer Garden (click here for info and address)
Arlington, VA
If listening to live music while reclining in a sweet Adirondack chair sounds like a nice setting for you to have an al fresco beer, you'll be happy to know the Westover Beer Garden is open already. There are 16 endlessly rotating beers on draft, food like burgers and tacos, and even wine, if you must.