The 10 best cocktails to drink along 14th St
Whether you love it, hate it, or feel weirdly ambivalent about it, everyone seems to have an opinion on the quickly changing area along 14th St. Which is why you and your friends should sit down and discuss the matter… over cocktails… on 14th St. Specifically, these frosty numbers: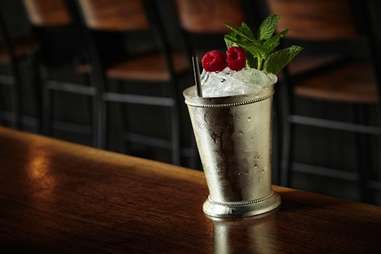 The Picasso at Kapnos
2201 14th St NW; 202.234.5000
The whole-animal spit-roasting spot from Isabella is also cooking up sweet 'tails, like this Templeton rye, aged apple vinegar, raspberry, rhubarb bitters, and mint number. Added bonus: that sweet, sweet metal cup.
Patron Tequila Sunset at Bar Pilar
1833 14th St NW; 202.265.1751
Previously named one of the best frozen treats in DC, you'll want to finish Summer off by dropping a straw in this Tequila Sunset slushie with Cointreau Pilar, OJ, Hum pomegranate, and house sour mix.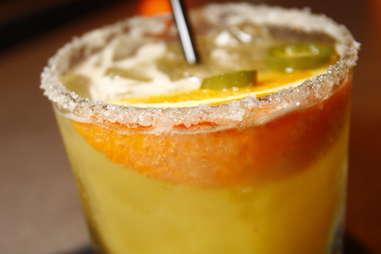 The Spicy Mango Margarita at El Centro DF
1819 14th St NW; 202.328.3131
Head downstairs to the Tequileria for this mango margarita w/ Tanteo jalapeno, lime, fresh mango puree, chiles, and ginger, or maybe one or two or 20 of their other 199 tequilas & mezcals.
Maple Derby at Black Jack
1612 14th St NW; 202.986.5225
You'll probably come up with, like, 100 different gambling jokes associated with drinking the Maple Derby (bourbon/ grapefruit/ lime/ ginger/ maple) at Black Jack. Though, sadly, we couldn't think of any.
Via Garibaldi at Ghibellina
1610 14th St NW; 202.803.2389
The Via Garibaldi has egg whites and lime, but also Fernet Branca, which apparently is very popular on the West Coast.
Pompidou Plombier at Le Diplomate
1610 14th St NW; 202.332.3333
Too many Pompidou Plombiers -- w/ bourbon, crème de cacao, and cold-brew Punt e Mes -- will also, unfortunately, leave you e mess.
TBD at Etto
1541 14th St NW; 202.232.0920
The TBD is basically a Negroni, but they've pretty much already determined it'll be a mix of housemade vermouth, Campari, and Green Hat gin.
Slushitos at Estadio
1520 14th St NW; 202.319.1404
Though it might sound like a frozen Cheetos drink (which, honestly, could either be really great or really horrible), Estadio is actually just putting booze and ice together with either cranberry/ ginger/ brandy/ cava or pistachio/ manzanilla/ sherry/ gin.
Hellfire Sazerac at Black Whiskey
1410 14th St NW; 202.800.8103
So you won't get to play with the flame-throwing atomizer absinthe spray used to make the Hellfire Sazerac w/ Thai chili-infused tincture and rye, BUT they do have free pool, which is, like, almost as awesome.
Dancing in Botafogo at DNV
1155 14th St NW; 202.737.1200
Just below Thomas Circle, DNV is helping to keep that debate going and nerves chilled w/ the frozen Dancing in Botafogo: Leblon cachaca, lime, and basil.