12 Reasons to Visit Espita Mezcaleria Immediately
Shout it from the rooftops -- 2016 is the year of mezcal. No one is making you unfriend whiskey, but mezcalerias are popping up in major cities across the US, and we finally have one to call our own, so embrace it. Espita Mezcaleria opened in the heart of Shaw, offering Southern Mexican grub that pairs insanely well with their 85 (and counting) mezcals. Here are 12 reasons you need to make your way there immediately.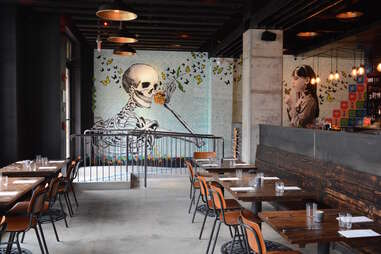 1. The street art is sick
Street artist Yescka may hail from Oaxaca, but he gets DC. The first thing you see when you enter Espita is a mural of skeletons symbolizing slimy politicians. The restaurant commissioned the founder of the political art collection ASARO (Assembly of Revolutionary Artists of Oaxaca) to adorn the walls, and Yescka is fantastic. Also look for butterflies -- symbolizing immigrants -- and the giant face of Frida Kahlo.
2. It's run by a master mezcalier
You've heard of a sommelier, but get used to "mezcalier" rolling off your tongue, because that's what Espita's Josh Phillips demands you call him. JK, he's actually just a laid-back dude who can talk agave spirits like a savant.
"Most mezcal isn't smoky, although people tend to assume that," Josh explains. "The original mezcal that came into the US was for cocktails, and it needed to be smoky to stand out in a drink." If you dig through Josh's mezcal menu -- which reads more like the wine list at an especially well-stocked restaurant -- you'll find descriptors ranging from "pipe tobacco" to "stinky cheese." Take advantage of Josh's smarts at one of the forthcoming Mezcal 101 classes -- or at least fire off some questions during your meal. Your friends are tired of hearing you tout your whiskey knowledge, so now you can impress them with something new.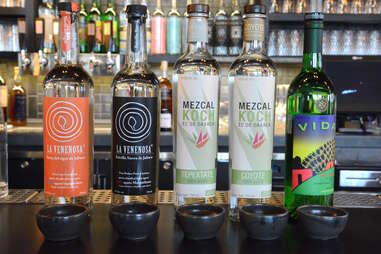 3. There are so, so many options
Choose your own adventure at Espita, where you can try mezcal in 1oz, 2oz or 6oz pours, in flights or in cocktails. There's only one restriction. "We say sip it, don't shoot it, because you want to enjoy the flavors," Josh explains (though we won't ever rule out body shots).
For a little fun, try a 2oz pour -- it comes in a veladora adorned with a cross. "In Mexico, a lot of people go to church, light their candle, walk off with their candle holders, and then drink mezcal out of them," Josh says.
And don't miss the flights that come with sal de gusano and orange wedges; one showcases different vintages from a single producer, while another features blends. Try some pairings while you're at it -- the funky La Venenosa Raicilla goes beautifully with eggplant sopes.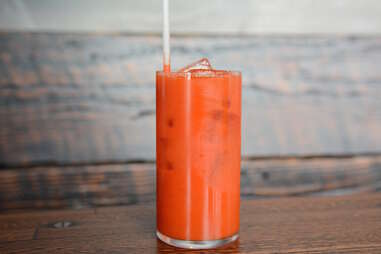 4. Escape the same old cocktails
Megan Barnes' cocktail menu offers twists on classics so twisty that you won't even recognize them. "I take classics and mess them up -- and coming from the Columbia Room, I know a ton about the classics," she says.
We're smitten with the Guajillo, made with guajillo chilies, mango, and mezcal. "Guajillo chilies are real table strainers with incredibly mild spice," Josh says of the highball drink. It's savory, earthy, and not the slightest bit sweet -- a perfect first drink.
5. There's a drink named after Frida Kahlo
Another bar star is the Quiet Rebel, which is Yescka's nickname for Frida Kahlo. The cocktail is Megan Barnes' play on a Vieux Carré, bringing together mezcal, cognac, Dolin Rouge and an absinthe rinse -- for a boozy drink you'll want to press repeat on.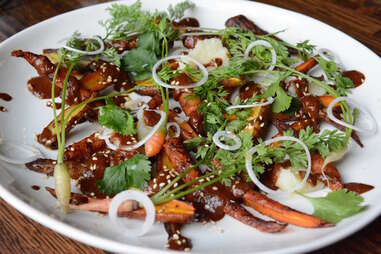 6. They offer seven -- seven! -- kinds of mole
Once you've worked your way through some of the mezcals in Josh's library, it's a good idea to get some food in your stomach. The biggest marker of Southern Mexican cuisine is mole, and Espita goes all out, with seven moles on the menu, from mole poblano with carrots and parsnips (pictured) to mole negro with a lamb neck topping. Chef Alexis Samayoa sets them all on a simmer when he leaves the restaurant around midnight, and checks them first thing in the morning. It took him two months in a test kitchen to perfect his moles. "There is no recipe. This is our interpretation of what mole should be," he says. "It's what I learned from watching ladies in Mexico -- there's no notepad, there's no scale, it's just, 'throw in some of this and a bit of that, and come back tomorrow.'"
7. Your new favorite bar snack has arrived
Do yourself a solid and order up Espita's Ibirria De Short Rib sopes with salsa rojo, onion, and fresh green. They're a set of twins you don't want to pass on. The warm, crispy, fried shells might remind you of the heavenly taste of Fritos -- and the short rib is deliciously savory
8. You can also keep it fresh
Not every dish at Espita is heavy. Yes, they have gooey cheese pots, called fundidos (which are delicious), but they also have delicate ceviches, which bring a sense of balance. For warm days, there's hamachi with pineapple, watermelon radish, and sangria granita. Another raw stunner: the sea scallop ceviche with avocado salsa, pickled jalapeño, scallions, and cilantro.
9. Excellent tacos
Goodbye subpar taco Tuesdays, where restaurants count on strong margs to hide bland tacos. Hello, Espita's lineup of eight creative, flavorful disks of love. Some of our favorites include the lamb barbacoa, smoked pork jowl, and maitake mushroom. Certainly, the toppings are excellent, but what makes Espita's tacos truly memorable -- even after a steady stream of mezcal, are...
10. The corn tortillas
"Every other day, we cook 50lbs of dried corn. Once it's cooked and bloomed, it becomes 80lbs," Samayoa says, with the look of maniacal excitement one might make before climbing a mountain. Tortilla makers arrive at Espita at 6am every morning to fire up the plancha -- and they don't stop until 1,000 tortillas are ready for service. Break off a piece untouched by salsa to taste the tortilla's veritable terroir -- Espita imports the corn directly from Oaxaca.
11. The bar grows buzzier as the night goes on
The kitchen stops serving dinner at 10pm, but that's no Cinderella signal to head home. In fact, when Espita switches over to bar mode, things only get better. They still serve a taqueria menu (don't worry -- the short rib sopes are on there), and the vibe is fun, full of mezcal fans swirling copitas until close.
12. They've invented the perfect nightcap
Before you peace out, try one last cocktail: the Que Onda, another classic variation from Megan Barnes. The daiquiri impersonator mixes mezcal with El Dorado 8 Year Old rum, lemon, and cold brew coffee-flavored simple syrup. Of course, Espita isn't using just any coffee -- its neighbor, La Colombe Coffee Roasters, supplies the beans -- which complement mezcal surprisingly well.
Espita Mezcaleria currently serves dinner and operates its late night taqueria menu seven nights a week, with lunch and brunch coming soon. Find it at 1250 9th Street NW; 202-621-9695; www.EspitaDC.com.
Sign up here for our daily DC email and be the first to get all the food/drink/fun in town.
Laura Hayes is a DC-based food, drink, and travel writer who also contributes to Washington City Paper, Food Network, Arlington Magazine, and others. Josh Phillips made her a fan of sipping mezcal neat in one sitting. Follow her on Twitter @BTMenu.