DC now has a Middle Eastern cocktail pop-up. You read that correctly.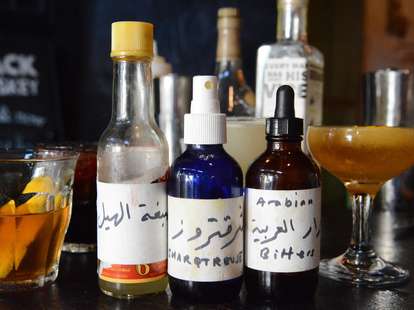 Laura Hayes
Laura Hayes
The Arab world may not exactly be known for its craft cocktails (or its non-craft cocktails, for that matter), but one pop-up bar is changing that, one pour at a time. Enter, The Green Zone — a bar brazen enough to serve something called F*** ISIS punch. The name comes from the safe zone in Iraq, where you can occasionally find an ex-pat party. Check them out every Friday night in October (except for Halloween) by visiting the ground floor of 14th Street's Black Whiskey. Here's more of what to expect.
Meet Chris Hassan Francke. He's a World Bank employee by day, Middle Eastern mixologist by night. The Green Zone is a passion project he hopes to convert from pop-up to permanent establishment -- which would be WAY more exciting than Middle Eastern private sector development. He's Iraqi, but his drinks are inspired by ingredients from Iran, Turkey, and other Arab regions.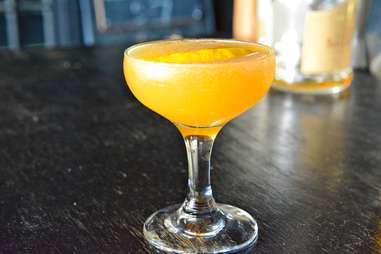 The October 3rd drink menu boasts six libations, including the Lebanese No. 1, made with cognac, Lebanese apricot syrup, lemon, and secret ingredients. Between sips, snack on free Lebanese bar snacks like pumpkin seeds, turnip pickles, olives, peanuts, and carrots with lemon & salt. Should The Green Zone get green-lighted, Chris hopes to serve Lebanese street food.
​Get ready for more talk of secret ingredients. Chris is pretty much a pioneer in the Middle Eastern cocktail field, so we understand why he's keeping some things hush hush. Chris labels his secret serums in Arabic, so only he knows what they are. Uh oh, Chris, this is DC... where people speak a minimum of three languages.
Cocktail bars are few and far between in places like Lebanon, Turkey, and Egypt. "They drink local beer, a spirit called arak, and Black Label; Johnnie Walker is the barter currency in the Middle East," he says. Case in point: his grandparents in Beirut were less than excited about a gift of small-batch craft whiskey. They just want Johnnie.
The Janissary Corps cocktail tastes like you're lying on an edible bed of heavenly Middle Eastern pastries. That's because Chris squirts in his house-made pistachio syrup. "It's liquid baklava," he says. And it's addictive. Also in the glass: locally produced Green Hat gin, lemon, and those secret ingredients again.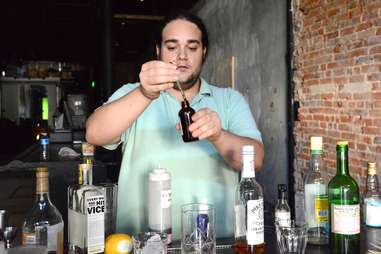 With the exception of the booze, Chris makes everything himself in true mad scientist-style. His stash of homemade syrups, bitters, and spritzes rivals top-notch cocktail haunts in town. And he's always playing around with something new. Right now, it's infusing Armenian brandy with figs, dates & apricots, and infusing Pisco with coffee, for a take on a Black Russian called Turc Noir.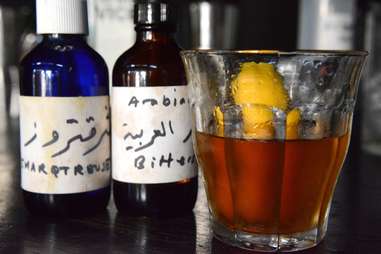 You'll also want to try the Saz'irac. If you've ever been in a bar, you can probably guess this drink's a play on a Sazerac. But instead of a visit from the absinthe green fairy, The Green Zone goes with a house-made Chartreuse rinse. Chris calls it "Sharqtreuse," a play on the Arabic word for "East". The cocktail is enhanced by Chris's Arabian bitters, which smell a bit like baking spices.
Onto the punch with a punchy name. Chris's F*** ISIS punch stars Vimto, a British soft drink that's big in the Arab world. It's like no soda you've ever popped, because it's flavored with grapes, raspberries, blackcurrants, herbs, and spices. Quite honestly, it tastes like Manischewitz. The pre-batched punch also contains white rum, lemon, soda, and house-made bitters. "This one's a creeper," Chris warns.
In addition to six cocktails, Chris will serve vodka or rum high balls mixed with Middle Eastern non-alcoholic sodas, Lebanese sangria, and Lebanese and Moroccan wine. The Green Zone is open Fridays this month from 5pm-last call (2:45am), including tonight. Check it out, and remember -- make cocktails, not war.
Sign up here for our daily DC email and be the first to get all the food/drink/fun in town.