Where to Watch the Nationals in the World Series in DC
The last time a DC team played in the World Series, the country was still in the midst of Prohibition. Luckily, this time around, your drinking won't be relegated to speakeasies, and DC has plenty of sports bars fit for drinking and watching the game. But we're in the big leagues now, so here's a rundown of bars with the best drink specials and tons of TVs for watching the Nationals in the World Series all around DC.
Navy Yard
Conveniently located just steps outside the ballpark, The Bullpen is a no-brainer for baseball fans. The bar opens at least two hours before each home game, so attendees can grab a beer before heading into the stadium if they were lucky enough to snag tickets. But the bar will also show games one and two on giant screens while the team is on the road.
Navy Yard
This swanky seafood restaurant wouldn't normally come to mind when thinking about sports bars, but this is the spot for partying like the players. After sweeping the St. Louis Cardinals to advance to the World Series, the team went to The Salt Line -- partially owned by first baseman Ryan Zimmerman -- to celebrate. The bar may not have Budweiser, the brew that doused players as they drank it out of the National League trophy, but you can order half-priced oysters, $5 local drafts from DC Brau, and $7 draft cocktails during out-of-town games.
Navy Yard
Another spot close to the action, Walter's Sports Bar was made for watching baseball since it's named after Walter Perry Johnson, a pitcher who carried DC's team to a World Series title the last (and only!) time the District won it all in 1924. With more than 30 TVs and 24 beers on a self-serve tap, you'll never have to worry about missing a play or stealing the bartender's attention away from the action.
H Street Corridor
The Pug has quickly become one of the go-to spots for Nationals fans to watch their team this season. This dive bar famously says "No idiots. No specials," and owners have been ordering pizza throughout the postseason for well-behaved fans to enjoy for free alongside cheap beer.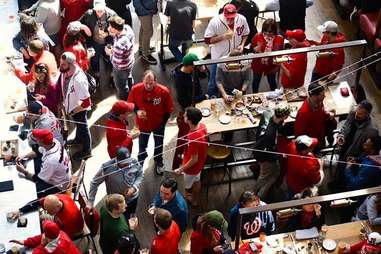 Navy Yard
Bluejacket took full advantage of this potentially once-in-a-lifetime occasion and created a fruity double IPA, dubbed 86 Years, for the World Series. You can try it during a tapping and watch party for away games on Tuesday and Wednesday, or opt for food specials starting at $4 and other drafts and cans for $5.
Penn Quarter
I'll say it: Size matters. And at Penn Social, the 22-foot-wide main TV and 10-foot-wide sidekicks are equipped to get the job done. The bar is known for its arcade games -- perfect for those slower innings -- and bartenders pour $5 drafts of local favorites like DC Brau and Right Proper Brewing Company.
U Street
Known for its drag brunches and bingo, Nellie's Sports Bar will show the World Series games on TVs all throughout its two-story space. The bar is running specials like $3 Miller Lite and Coors Light, $6 drafts of Sam Adams Seasonal and Coney Island Pilsner, and $15 buckets of beer -- some of the best prices around.
H Street Corridor
From basic discounted drinks to unconventional free Uber rides to the stadium, the self-proclaimed official bar of the Nationals has been offering specials all postseason. For every game in the World Series, they'll have $4 tall boys and $5 shots that you can sip while watching the action on flat screen TVs inside or in their outdoor, heated beer garden.
Columbia Heights
This dedicated sports bar has almost two dozen TVs, the same number of beers on tap, and is constantly filled with sports fans any night there's a game. The bar is swapping out its regular Tuesday night trivia with a baseball-themed contest (with prizes!) and a watch party in honor of the Nats' postseason berth. Lou's will have specials like $4 Miller Lite, $4 Bud Light, and $5 Sam Adams, and it's one of the few spots in the northwest quadrant serving Earned Run Ale, a golden pale ale with a Nationals-themed can brewed by local-favorite Devil's Backbone.
Adams Morgan
This isn't your average sports bar. The Game features a menu of greasy favorites like burgers and fries alongside expertly crafted Filipino dishes. The 50-seat bar will be showing the World Series on 14 TVs, so, in theory, you can't have a bad view. Although typically closed on Tuesdays, The Game will open for Games 1 and 6 (if necessary) and offer specials like $30 buckets of San Miguel beer, $10 beer and shot combos, and $8 chili cheese fries.
Sign up here for our daily DC email and be the first to get all the food/drink/fun in town.
Liz Provencher is an editorial assistant at Thrillist and a former DC dweller. She grew up rooting for Boston sports teams so she's, uh, more used to this whole championship thing. You can follow her on Twitter.