They're invading the Navy Yard... with amazing beer and BBQ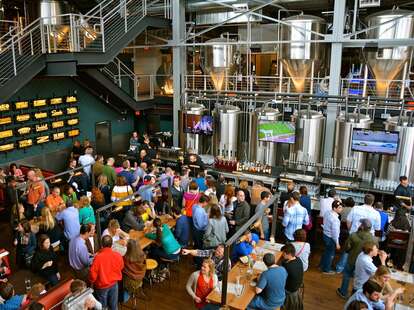 Laura Hayes
Laura Hayes
Appropriate considering it's housed in a former munitions manufacturing warehouse, Bluejacket came out barrels blazing, producing 20 drafts on the property from the get-go. Plus, there's an Arsenal of tasty eats to help you withstand the forthcoming sudsy assault on your stomach. Literally, there's an attached restaurant dubbed "The Arsenal". But enough military pun-time... to the drinking!
Neighborhood Restaurant Group's head man Michael Babin just might be clairvoyant, with a knack for setting up shop in areas on the cusp of something great. Look what Birch & Barley and ChurchKey did for Logan Circle. You're up, Navy Yard.
See if you and your friends can hit a Bluejacket home run by trying all 20 drafts. Heavy-handed tasters for $3 or less should help put the goal within reach. Consider it a grand slam (not the Denny's kind) if you manage to try all five cask beers, too.
"I'll take Forbidden Planet for 500 Alex." The perfect first beer, this dry-hopped Kolsch is a tropical vacation with "bold passion fruit, peach, and mango aromatics". Oh, and unlike actual tropical vacations, it costs way less than $500. At the heavier end of the spectrum is Suede, a 9.6% ABV Imperial Porter made with avocado honey brewed in collab with Stone & Oregon's 10 Barrel.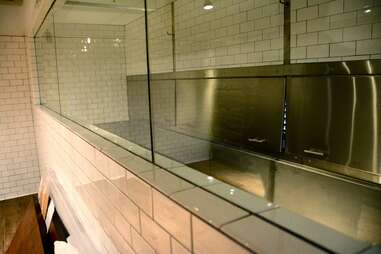 As you might imagine from the brews mentioned above, beer teammates Megan Parisi and Greg Engert will continue to innovate. Come Winter, this oversized tub will be used to produce some seriously funky sours. Vents to the great outdoors will expose the beer to the elements before it's stored in wine barrels that will age it to ideal, Prince-in-his-prime levels of funkiness.
Hungry immediately? Snacks available in the bar area include three varieties of smothered fries. Go with General Satan's Sauce for some heat. Further potato-based snackage includes house made tater tots, or get a little meatier with five-spice pork rinds and fried pig's tails.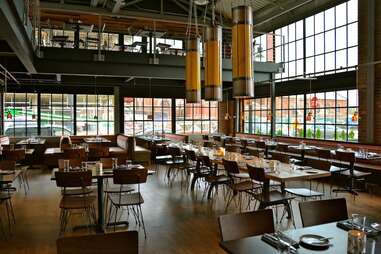 At 530p you can migrate to The Arsenal, where husband-and-wife team Tiffany Maclsaac and Kyle Bailey are doing the damn thing (strictly from a culinary standpoint, sicko) with a menu that ranges from American BBQ to house made Italian pastas to German beer hall classics.
Though the two are secretive about the particular ingredients they use (as is often the case with BBQ), we can confirm that the ribs are coated with North Carolina-style BBQ sauce. They pair nicely with The Butcher -- a lager brewed with Red Apron Butchery's half-smoke spice mix.
Yes, we promised pasta. This sweet potato gnocchi's studded with crispy duck meatballs. Bet you weren't even expecting duck meatballs! The whole thing pairs nicely with Figure 8 -- a cask scotch ale brewed with 30lbs of figs, baking spices, and coffee.
The 18hr short rib won't take nearly that long to consume, especially with accompaniments like braised cabbage and Parmesan spaetzle that tastes like the Hofbräuhaus's, but better. But what to drink? Try The Panther -- a deep black lager with flavor imparted by German-grown Saphir hops.
Even the half rotisserie chicken slays it. Probably because of the pretzel stuffing (note to self, make subtle Thanksgiving suggestion to mom). Try it with James & The Giant -- a peachy (ahh... well played) Belgian strong blond ale. After consuming all of this, you might have to be... Roald (!) out of here. Lucky for you it's Metro accessible, so you just need someone to roll you as far as the train.