Thrillist's Roof Deck Power Rank: The 7 best rooftops to drink on in DC
You know what's awesome during the Summer? Jell-O Pudding Pops. Where the hell did those go, anyway? But coming in a close second is drinking on a roof, which is why we spent months doing it just to bring you our top seven favorites in the city:

7. 1905
1905 9th St NW; U Street; 202.332.1905
Right off 9th St, this hidden gem's a perfect getaway from the U St crowd and is cute as hell with its stained glass, vine-covered trellis, and steel framing from a Wyoming barn.

6. H St Country Club
335 H St NE; Shaw; 202.399.4722
With its lifeguard chairs and strung-up light bulbs, the beach-themed top deck of H St Country Club makes up for its lack of sand with margs & tacos, plus ping pong and cornhole.

5. Jack Rose
2007 18th St NW; Adams Morgan; 202.588.7388
The whiskey saloon packs in 160 on the main floor, where the retractable giant roof provides cover from the potential rain, and, if you forget your umbrella, don't worry: the back tiki bar has plenty of those.

4. Brixton
901 U St NW; U Street; 202.560.5045
Green marble bars and wrought-iron railings are what'll surround you at this very, very big deck/roof at the corner of 9th and U St, where you'll grab an English brew on tap and then get even more bitter(s) when you have to head downstairs to use the loo.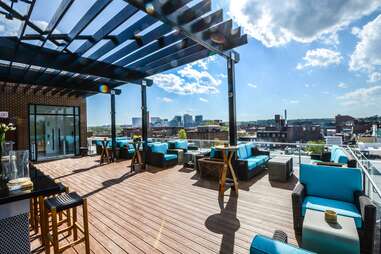 3. Observatory
1075 Thomas Jefferson St NW; Georgetown; 202.337.0900
Located on top of the Graham hotel, the Observatory is the only public roof deck in Georgetown, and this 3000sqft monster is where you'll sip on hand-crafted cocktails and make weird existential comments while taking in the panoramic views of DC & VA.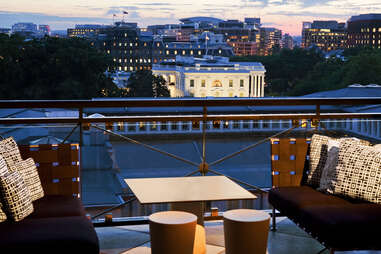 2. POV
515 15th St NW; 202.661.2400
Point of View is aptly named because this rooftop terrace has very strong opinions about topical things overlooks the White House and provides stunning views of the Washington Monument. And while it lacks a great happy hour, the view, rotating list of international DJs, and seasonal 'tails tip the scale in its favor.

1. DNV
1155 14th St NW; Logan Circle; 202.737.1200
14 floors up, DNV takes the cake, then eats it while you gape at the stunning views from the pool and lounge accented by sleek chrome and dark wood. Their solid list of happy hour drinks -- including punches, sangrias, 'tails on tap, frozen beverages, and seasonal cocktails -- ensure their spot on top.