Weekdays (11a-7p) and weekends (4-7p), hit Poste for $6 local beers like DC Brau The Public Ale/ Port City Optimal Wit/ Chocolate City Brewery Cornerstone Copper Ale, and bites from nearby friends like fried Rappahannock River oysters and smoked wings from a farm called Polyface, also how to describe the way your face can change after enough $6 beers.
Previous Venue
Next Venue
Venue Description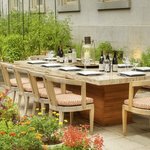 1. Poste
555 8th St, NW , Washington, DC 20004 (Penn Quarter)
Poste has you covered for delicious local beers and craft cocktails ON TAP, like the "That Ginger is a Peach" -- made with bourbon, peach nectar, and Osterwies Hard Ginger Beer.