Washington DC No need to travel South of the equator to feel like you're at the World Cup, because DC's international vibe means all the fútbol fun comes to us. Bars are opening their doors early and making special drinks that will remind you why you root for your favorite team. So grab your crew, leave your vuvuzela at home because it isn't 2010, and get yourself to these prime viewing spots.
Redline Gastrolounge
Chinatown
The Chinatown drinkery will be serving nationally themed drink specials depending on what countries are hitting the field that day. And because Redline bills itself as a place with "French flair", the bar has even invited their Swiss embassy buddies to watch their June 20th match against France. A little rivalry never hurt... though, is it even possible to have a rivalry with the Swiss?

Continue Reading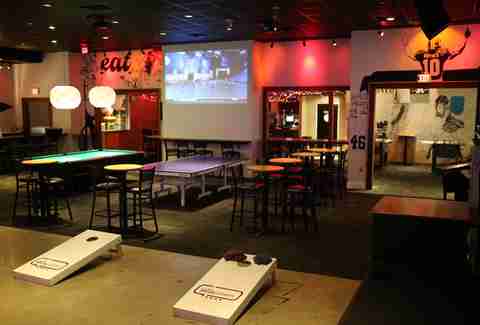 Penn Social
Chinatown
Bigger is truly better. Penn Social will be showing every US and Italy game during the World Cup, no matter what time the games begin. No one will have to worry about seeing every pass because the matches will be screened on a 22ft behemoth. Plus, the bar will be having "fantasy football" games the day of the matches. There will be drink specials as well, such as $3 Bud Lights, but it's the healthy seven-plus yards (or 6.7 meters for the rest of the world) of screen space that really makes this a draw.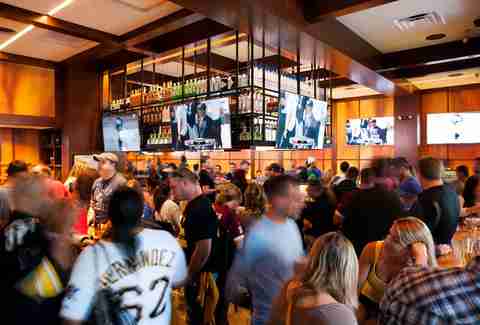 Bracket Room
Arlington, VA
Those in Arlington will be able to join the World Cup frenzy without crossing the Potomac. Starting June 13th, this popular bar (from former The Bachelor Chris Bukowski!) is opening its doors at 11am. Every single day. $5 will score plenty of drink specials, including all their beers. And the food specials will keep on coming throughout the week: $4 tots on Mondays, $7 steak tacos on Tuesday, and $7 burgers on Friday.


Biergarten Haus
H Street
Leave it to the Germans to kick DC's World Cup viewing into high gear. The beer garden on H Street, where it's often elbow-to-elbow, is throwing out an option to those seeking a bit of space while watching the matches. You can score a reservation for yourself and your friends. However, the reservation option only extends to parties of 15 or more, and only for the first game of the day. So... start making friends!
Capitol Lounge
Capitol Hill
Here's a reason to celebrate whenever the US team scores a goal: a free shot of Jack Daniel's. That's right: every time the good guys send the ball to its home, everyone at the bar enjoys some free Tennessee whiskey. For those who need some beer to chase down said whiskey, there will also be $12 Bud Light and Yuengling pitchers for spectators.


H Street Country Club
H Street
For those having trouble sitting still during soccer matches, or who want something else to do until the next game begins, H Street Country Club will keep you entertained. The bar opens early during the World Cup, so the drinking and indoor mini-golf can begin before the first kickoff of the day. And H Street Country Club isn't the only place on H Street to open its doors early for World Cup viewers: The Queen Vic, Argonaut, and others are also doing the same, if you want to do some bar hopping.