Screw camping: the 5 outdoors-iest bars in DC
You've probably asked yourself this question a thousand times before: why would I ever go camping in the woods, when I could instead go to five bars that LOOK like the types of places you'd go camping in the woods? Exactly. Here's a look at a quintet of DC's flannel hot beds (including one that just opened!).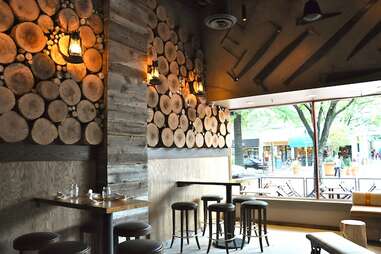 Copperwood Tavern
Shirlington Village, VA
New this month, Copperwood Tavern serves up moonshine and beer-sauced grilled meat in an atmosphere you might call arousing (there's lots of wood).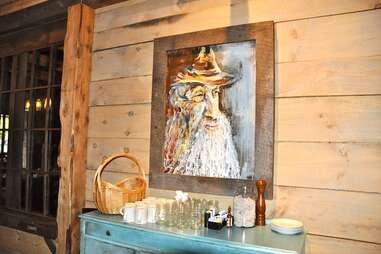 Copperwood comes courtesy of the dudes behind The Mighty Pint and gives a serious shout out to the late, great moonshiner Marvin "Popcorn" Sutton, a Cocke County, Tennessee bootlegger known for his beard, profanity, and awesomely named home county.
Copperwood'll let you sip your moonshine (they've got six kinds) while you super-meta-ly look at a behind-the-bar picture of a cabin whose wood made the bench you're now sitting on.
Look at this nook with a faux moonshine rig above it. LOOK AT IT. Don't you just wanna sit here and eat bison meatballs and bison chops?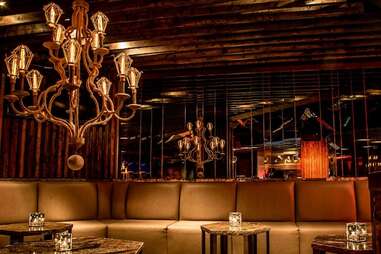 Kabin
Dupont Circle
Because nothing goes with cabins quite like club dancing (?), roll up your flannel sleeves, grab a Three Pins shot, and get your grind on at Kabin. The owners say the nightclub is a 180-degree departure from the DC social scene. It's probably closer to a 167-degree departure, but still.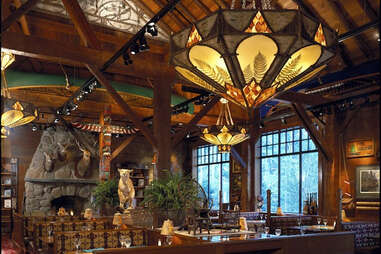 Clyde's Tower Oaks Lodge
Rockville, MD
This place is like one of those choose-your-own-adventure books, not because you'll immediately skip to the back and then cheat your way to living happily ever after, but because they actually have a lot of different options: there's a boathouse bar, a tack room, the Saranac room, epic porches, and the show-stopping Great Room, constructed out of a 200-year-old timber barn they brought in from Vermont. Also: fried pickles and 14 beers on tap!!
Buck's Fishing and Camping
Chevy Chase (DC)
Buck's is so neighborhoody that they don't take online reservations or bother with Twitter. You actually have to SPEAK to each other, much like a real camping trip. Oh, and everything is fire-lit so you'll look good drinking a beer and eating that wood grilled steak.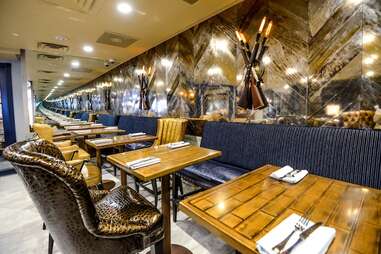 Teddy & The Bully Bar
Dupont Circle
The 26th president? He really liked "big sticks", but he freaking LOVED "bigger guns", which's why there's no shortage of rifles at his namesake restaurant. Cozy up under some artillery and discuss your hunting conquests over 26-day barrel-aged Old Fashioned's. Like you do.