How to drink your way through Shaw in 5 steps
Brian Oh
Brian Oh
Shaw is the poster child for "up-and-coming" in DC. A little past the awkward pre-teen stage of having just a few businesses to draw traffic, and well into its post-adolescent-finding-yourself stage with throngs flocking to the newest, coolest spots, Shaw has been coming into its own. In fact, you can embark on a thoroughly satisfying bar crawl through the neighborhood and never set foot in an establishment that's more than a year old. So we did! And you can, too:
8pm – Beers (because of course beers)
Right Proper Brewing Company (address and info)
Under the sprawling mural of pandas and reindeer laying waste to DC with lasers and flame throwers (obviously), you'll start your evening at this Shaw brewpub that has its neighborhood pride emblazoned on its beer glasses -- "Made in Shaw". Long, communal bar sections and tables are perfect for convening with your booze-minded crew to sample Right Proper's ever-changing menu of small-batch brewed craft beers, like the Raised by Wolves -- a dry hopped not-so IPA that's aromatic and citrusy with a bitter finish. If you haven't eaten, grab a grease coat to prepare for the rest of the evening with their Chick-fil-A homage of a sandwich. You'll need it.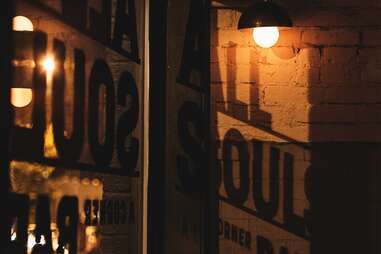 9pm – Cocktails by numbers
All Souls Bar (address and info)
Hop across 7th to meld into the shadows at the supremely unpretentious All Souls, which welcomes you into to its inky, film noir-ish den that will make you feel instantly at home (particularly if home happens to be a grizzled PI's office at the beginning of a Humphrey Bogart flick). Ordering a cocktail is easy as picking a number. Two through seven represent minor tweaks to classics like Manhattans and Negronis, and then an eponymous offering: sparkling rosé and a shot of Maker's (because why not?). Settle into the deep maroon, leather corner booth and rest up for more.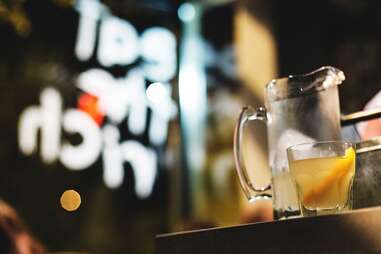 10pm – Drink more... something at The DB3
Eat the Rich (address and info), Southern Efficiency (address and info), Mockingbird Hill (address and info)
Start making your way down 7th, and this is where your night becomes a Choose Your Own Adventure story. Derek Brown's multi-concept triumvirate (affectionately dubbed the DB3) consists of Eat the Rich, Southern Efficiency, and Mockingbird Hill. Feeling brine-y? Turn to page 39 and hit up the Motörhead-inspired Eat the Rich for oysters and pitchers of citrusy, boozy cocktails. On a Southern gentleman kick? Flip to page 41 and duck inside the bourbon palace that is Southern Efficiency to sample a carefully curated collection of American whiskeys. Longing for the Spanish countryside? Thumb through to page 43 and partake in one of DC's newest drinking trends: sherry (and ham). Or do what we all did in junior high, and put your finger on each page to find the best ending. Hint: you win on every page.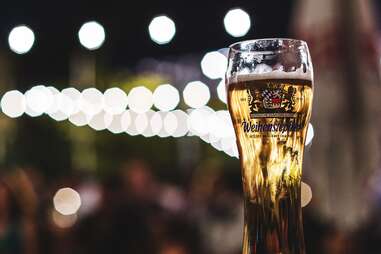 11:30pm – Beers Part 2: Return of Beers
Dacha Beer Garden (address and info)
At this point you should be feeling extra-friendly. Good, because Dacha has become a DC favorite and standing room-only affair on busy nights. Under the watchful and ever-sultry gaze of a young Elizabeth Taylor, you'll be rubbing shoulders with all kinds of people as you raise boots full of Hefeweizens and Dunkels. Jostle for a seat at one of the picnic tables, pat a neighborhood dog, make way for the roaming empty glass collectors, and then empty more glasses.
12:30am – Fade to black
Ivy and Coney (address and info)
Congratulations. You've successfully sampled some of DC's best watering holes. But now you just want to get back to basics... Ivy and Coney awaits. Through the nondescript, blink-and-you'll-miss-it door, Ivy and Coney is everything a dive bar should be, and a shrine to all things Chicago and Detroit, including hot dogs, Motown, and Strohs. Grab a handful of complimentary peanuts (toss the shells on the floor), plus a $3 beer, and get a head start on your hair of the dog.
Sign up here for our daily DC email and be the first to get all the food/drink/fun in town.