6 reasons to hit Slipstream, a killer coffee & cocktail bar in Logan Circle
Americans love drinking coffee. They also love drinking booze. But which do they love best? That is a silly question, because they shouldn't have to choose! That's why Logan Circle's Slipstream is taking things well past dumping some whiskey in a dubious cup of drip coffee just to get through the day. The husband-wife team Ryan Fleming and Miranda Mirabella are all about "crafted coffee and libations" at this 14th Street cafe/bar/eatery that'll make sure you never dump an energy drink over some cheap vodka ever again. Here's what you need to know before they open on Monday: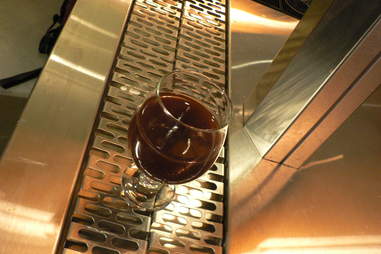 Ross Perkins
1. The coffee flows like Guinness
Slipstream will have two types of coffee on draft (both of them coming from Michigan's excellent Madcap) – cold-brew coffee and coffee brewed over ice. And Ryan notes that the coffee is made with nitrogen infused into the brew. It'll be like having a nice cold Guinness. But way better.
Ross Perkins
2. Roof-to-table is happening
Slipstream's space is shared with an art gallery and there's a rooftop garden. Miranda recently planted some micro-greens, and some of the fruits (and veggies) of her labor will appear on the menu. And as the garden grows, so will its impact on the dishes.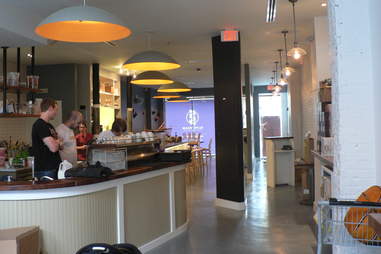 Ross Perkins
3. They're going to make sure you get EXACTLY what you want
Ryan and Miranda emphasize high-level service, and Slipstream's employees will walk customers through the process of figuring out what exactly they are in the mood for. Feel like having a drink, but don't want something too sweet? Slipstream's bartenders will help you along. Want a cup of coffee that's got some toffee in it? Done and done. Just be ready for a few questions so they can lock down the right order for you.
4. You won't even need to THINK about cream & sugar
Going back to Slipstream's emphasis on high-level service, if you like your coffee on the sweeter side, these guys will use their house-made syrups to give it a sweet kick. Like it milky? Again, these guys know what they're doing. So once your get your cup of caffeine, it should be perfect as is. No need for those annoying plastic stirrers.
5. You can expect perfect pairings
Why spend so much time figuring out what to drink if you're only just going to grab a stale pastry? Exactly. You shouldn't. At Slipstream, they'll be thinking about what you're drinking and suggest what you should be eating as well. So if you got blueberry notes in your coffee, you may be offered something with blueberries in it. Got a cocktail with a bitter edge to it? There may be a dish that's perfect to balance that out.
Ross Perkins
6. The art is (almost) as impressive as the drinks
To bring a pop of color to the space, Ryan enlisted his buddy from school, Danté Marshall, to paint Slipstream's mural on its back wall. Danté's part of the LA art scene, and this his first piece in DC. So Slipstream is bringing some California influence to town.
Sign up here for our daily DC email and be the first to get all the food/drink/fun in town.