Beauty is in the eye of the beer-holder, especially at these 14 DC bars that bring it in the looks department. From dark and broody to warm and glowing, it's hard not to pay attention to your surroundings when you're imbibing in one of these stunners. Some try to replicate Paris, others draw from history, and one goes full-on steampunk.
Downtown
Red carpets in DC are cheesy. Red velvet upholstered bars are not. The lush fabric combined with dark wood and twinkling chandeliers makes for a bar that takes your breath away. It's impossible not to feel important at Off the Record. Fortunately, the political caricatures lining the walls keep things from getting too serious. The bar opened in its current iteration in the late '90s, so someone tell Billy Joel you don't have to be young to be beautiful.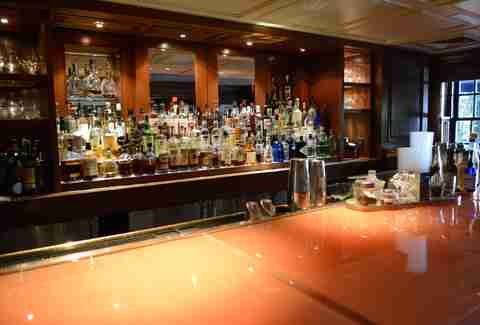 Downtown
Sure the centerpiece at Quill is the glowing glass bar modeled after the one at Hôtel Plaza Athénée in Paris. In fact, the sweet slab at Quill is the only all-glass bar in America. But there's more to this Thomas Jefferson-inspired bar that makes it beautiful. Take the parquet flooring that matches the flooring in TJ's Monticello home or the book room that's also a match. On the walls you'll find 18th-century maps tracking the former president's exploration of the wine regions of France, Germany, and Italy. Soak in the historic ambience over a fancy cocktail, live piano music, and frequent breaks to puff on cigars on the bar's patio.
Georgetown
When you walk into a bar, you likely don't pause to appreciate the floor. But, at The Rye Bar inside the Capella Hotel, you should. The flooring is a re-edition of the classic Versailles parquet seen in the Chateau de Versailles in France, as well as many other castles of the 17th and 18th centuries. Also cool is the honey onyx bar that gives the space even more of an opulent feel. Take in the gold-and-brown-hued setting while sitting on a Chesterfield and admiring the fine art.
Chinatown
When you climb the stairs to Daikaya Izakaya think of your ascent as a 14-hour flight to Tokyo. The bar's design so closely resembles Japanese pubs across the Pacific that it's transformative. Before building out the restaurant, the design team took a trip to Japan for inspiration and brought back textiles, posters, and other authenticities. From the ropes that form a cool barrier between tables, to the red-hued bar displaying sought-after Japanese whisky bottles -- this spot is a stunner.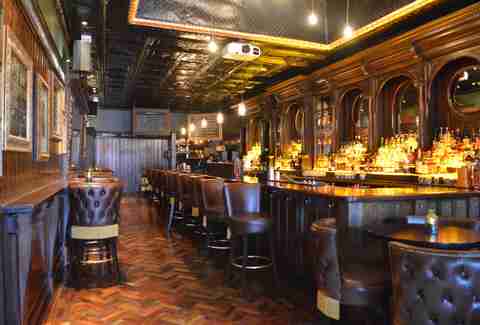 Georgetown
Sure the downstairs of Ri Ra Georgetown is good looking, but the second floor holds something really special -- a 1,200sqft bar within a bar called The Whiskey Room. Everything about it is masculine and Irish, like certain distinguished grandfathers. Amber lighting reveals a polished copper bar top, antique mirrors from the Emerald Isle, and an extensive whiskey collection. Not only is the bar beautiful, but the flattering light means anyone in it will look beautiful, too.
Downtown
You probably came to POV to show the view off to visiting friends. But do yourself a favor and pause to take in the sleek, patriotic design inspired by the landmarks that dot our city -- like a dome-shaped bar. Then there's the red tape installation poking fun at the bureaucratic obstacle course that is politics. Finally, the bar had a little fun by inviting in street artist AIKO to create a whimsical installation inspired by DC architecture. Who knew mimicking monuments could create such a sexy setting?
Chinatown
This bar is Adrian Grenier level of dark and broody, so bring an entourage (!) of friends to experience it before a Caps game. It's brassy and legit gold-leafed like a hotel bar in the 1920s, where classic cocktails were just known as cocktails. There are Art Deco embellishments everywhere, including cage-like structures protecting precious bottles and a sweet black-and-white-tiled floor. The dim lighting adds drama, and a sultriness that The Greene Turtle somehow lacks across the street.
H Street NE
Even though Copycat Co. is a laid-back bar, its design is anything but banal. Instead, the upstairs oasis is full of ornate details like a jade-colored screen that begins at the top of the stairs, wraps around the bar, and forms a screen over the half-moon window. The dark wood, jewel-toned accents, cool moldings, and velvet upholstery combine for an exoticism that feels more like something you'd stumble upon on vacation than above a dumpling shop in DC.
14th Street
The upstairs lounge at Provision No. 14 looks like it was carefully procured from the estate sale of the coolest of whacky aunts. Victorian-style couches and chairs upholstered with old coffee sacks don't quite match, but it doesn't matter because the overall effect is very Anthropologie. The cerulean-colored walls and basket lanterns lend a Southeast Asian feel for even more attractive quirk. The downstairs bar is quite striking too with its stools made from old oil cans.
Chinatown
There's nothing quite like Flight Wine Bar in DC thanks to its dramatic wooden centerpiece that looks like the underbelly of a mushroom with its arcs. It draws your eye to the circular bar that acts as the heart of the operation. Look down at the floor and you'll notice it's cork -- quite a fit for a wine bar -- and also note the stone-tiled bar top and wine bottles on display reminding you what you came here to do.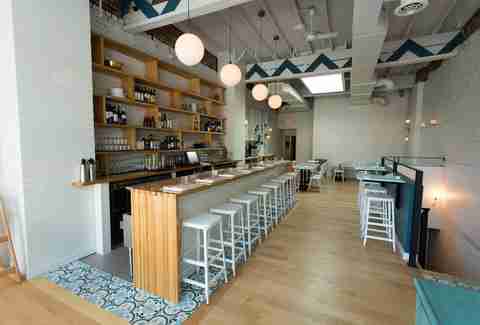 Woodridge
Bars don't have to be dark bomb shelters to be beautiful, as Nido in Northeast proves. The designers punted away from the industrial reclaimed wood look in favor of a bright and airy space where you can catch your breath. It should feel Mediterranean like the food. Owner Erin Lingle gave a hat tip to her mom, Robin, by going nuts with robin's egg blue and the actual bar is made of beech wood. The Woodridge newcomer is the perfect place to sip vermouth and be swept away to wherever you studied abroad.
Georgetown
Ever been turned on by those steampunk cyborgs that have machinery where one arm belongs and a corseted bust of some kind? If the answer is yes, you might be attracted to The Alex and its Van Helsing aesthetic. One of the first things you'll notice at this sunken hotel bar is a 20ft brass pipe ceiling installation. Though it's not overly apparent, the bar, like the hotel that houses it, is a tribute to Alexander Graham Bell.
Downtown
A brilliant shade of green saves this basement bar from suffering from no windows, and actually transforms it into quite a looker. The shade is one of those greens that bridal magazines dub parakeet, grasshopper, or something equally esoteric. Also sexing things up is a glowing onyx bar that makes for a good cocktail Instagram shot every time. The mahogany-and-glass back bar with its traditional details, antique mirrors, chartreuse tiles, and illuminated shelves complete the dual-personality design feel that pulls at both turn-of-the-century and today.
Dupont Circle
With this historically appointed beaut, the devilish attractiveness is in the details. From the lanterns suspended from metal hooks and military jacket buttons that were won in an eBay battle, to the tufted benches adorned with plaid flannel that say "stay a while," McClellan's is the king of cozy. The framed old-timey photos are a nice touch too. Also note the sexy feminine curve to the bar top that swirls from one end of the small bar to the other. There's really no bad seat in the house.
Sign up here for our daily DC email and be the first to get all the food/drink/fun in town.
Laura Hayes is a DC-based food, drink & travel writer who also contributes to Washington City Paper, Food Network, Edible DC, and others. She's a little jealous of these bars that #wokeuplikethis. Follow her on Twitter: @BTMenu.