The 17 Best Waterfront Bars in Maryland
Courtesy of Natalee DeHart
There's something calming about being on the water, sipping a cool drink on a hot day, letting the breeze pass by while you pretend to be on vacation/contemplate stealing some rich guy's boat. Thankfully, Maryland has a robust coastline, and therefore, plenty of prime waterfront bars.
From tiny Tiki shacks with boat slips to picturesque decks with sunset views, here are the 17 best spots for a boozy Maryland mini-vacation.
Baltimore
Nick's Fish House has one of the best views in Baltimore, with its multilevel decks overlooking the Patapsco River and Hanover Street Bridge. Plus, it just got a major facelift when the owners of the Starboard in Dewey Beach, DE, purchased it in the winter. Expect live bands every night and a serious seafood menu including broiled crab cakes, flash-fried calamari, and chipotle-lime mussels. The drink selection includes four different crush varieties (Maryland's signature drink of crushed ice, flavored vodka, and fresh-squeezed fruit), and strong Dogfish Head beer.
Dundalk
You might think you're pulling into someone's private marina, but beyond the dirt road is the oasis of Hard Yacht Cafe. This Dundalk Tiki bar is located right on Bear Creek, a location that locals affectionately refer to as the "Redneck Riviera." Whether you're driving or boating in, you can expect a live soundtrack of steel drums or country musicians, depending on the day. Munch on Caribbean favorites like conch fritters, fried shrimp, and fish tacos as you watch the boat traffic and waterfowl on the creek.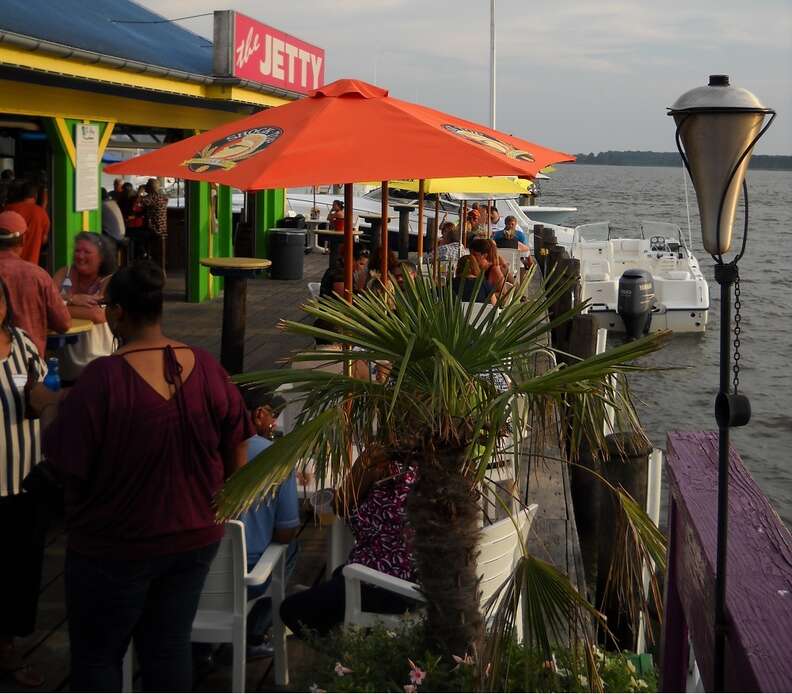 Kent Island
If you've ever taken a drive East on Route 50, you've probably noticed the brightly colored Jetty off to the right. Next time, take a pit stop so you can enjoy cracking steamed crabs on the dock overlooking the Chesapeake Bay. If hard shells aren't your thing, the menu boasts a variety of creative seafood options, like crab and shrimp nachos and even a "Freuben" with flounder subbing for corned beef. The Jetty is super kid- and dog-friendly (offering menus for both) with a strip of sandy beach where you can frolic in the sand... or lounge lazily in one of the vibrant Adirondack chairs.

Deep Creek Lake
Most people figure to get a good water view in this state, you must go East. But we can't forget about the nearly 70 miles of shoreline around Deep Creek Lake in Western Maryland. With mountain views and a lakefront lawn, Honi-Honi Bar is probably one of the furthest Tiki bars from the ocean, but what it lacks in oceanic proximity, it makes up for in character. There are animal statues everywhere (gorilla on the roof, giant elephant on the lawn) and it's the home of the Deep Creek Dunk, where hundreds of brave souls swim in the lake for charity every freezing February. But summer is the best time to be at the bar with its giant rocking chairs, games of cornhole, live music, and house Honi-Honi cocktail: Southern Comfort, rum, sweet vermouth, banana liqueur, grenadine, and orange Kool-Aid. One or two of those and you'll end up climbing on the elephant.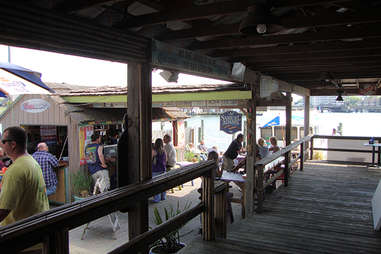 Cambridge
Cambridge's main street is filled with award-winning cuisine and inventive gastropubs, but get closer to the water and things loosen up a bit. The laid-back vibe of Snappers is evident as soon as you walk by its front-door sign, which features what appears to be a stoned snapping turtle. There's almost always cornhole or a live band playing at the Tiki bar -- and the food is a mash-up of Southwestern and Caribbean, with a bit of local seafood flair mixed in. Think jumbo jerk shrimp fajitas with peppers and pineapple. The place has been family owned for 20 years, the crab meat is picked next door at J.M. Clayton (the oldest and largest crab producer in the country), and Orioles and Ravens jerseys abound. It keepz it simple, but gets the important things right.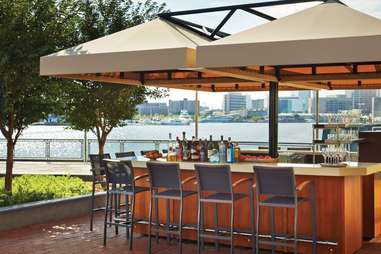 Baltimore
For something a bit fancier, but still decidedly relaxed, there is Wit & Wisdom at the Four Seasons in Baltimore. Perched right along the harbor promenade, the bar has a beautiful interior, but the outside patio is what really shines. There are outdoor bars, lounge furniture, and even a newly installed raw bar for local oysters and a smoker for pig roasts. Sink into one of the 85 seats on the patio and watch the world go by --businessmen coming home from work, joggers getting in their evening run, and the water taxi gently humming along with the current.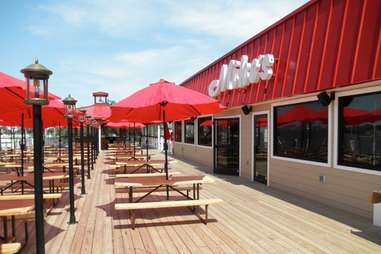 Pasadena
The original Mike's Crab House in Riva has been a beloved institution for 50 years. But in 2012, the owners decided to open another location a bit further North in Pasadena (hence the name) to satisfy increasing crustacean demand. The best part is that Mike's North shares a dock with White Rocks Marina, so there's a great view of Rock Creek. There's also a covered outside bar and dozens of picnic tables on the deck, where the crowds enjoy fried seafood samplers, steamed oysters, and meaty lump crab cakes. Of course, there's also all-you-can-eat steamed crabs with helpful servers to show tourists how to pick 'em, beachy cocktails, and live music at the Tiki bar, and an amazing fireworks view on the Fourth of July or New Year's.

Ocean City
Ocean City has a lot of bars. Some are on the boardwalk for perfect people-watching. Some are on the bay with their own piers. Some even house radio stations. But we prefer an even balance of rowdy partying and quiet relaxation, which Macky's strikes perfectly. Located on the bayside near 54th Street, Macky's has a sandy beach for bay-front dining and a more lively atmosphere at night with live bands and DJs. Happy hour is a prime time to visit, when drafts are only $3 and the sunset view is unparalleled. You can't go wrong with the lobster mac and cheese or the crab enchilada, plus no night at Macky's is complete without a 32oz (or 64!) orange crush bucket. Watch out. It'll getcha every time.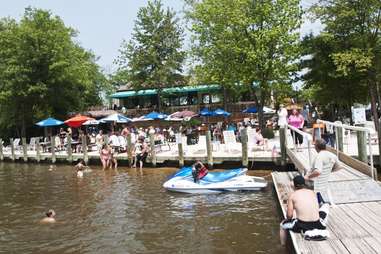 Bowleys Quarters
If a trip to the beach is just not in the cards, Sunset Cove is a good substitute. Located in Middle River right along Frog Manor Creek, this spot boasts a sandy beach with palm trees, a Tiki bar, and a long pier where boats can dock and patrons can swim. The Tiki bar's food is top-notch, especially the rockfish fritters, coconut shrimp, and oyster wrap with chipotle aioli. Don't miss the cove's Endless Sundays with live music on the beach and $3 Coronas and $5 crushes all afternoon.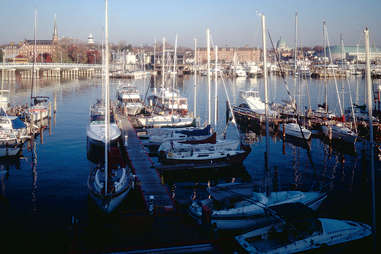 Annapolis
Downtown Annapolis is great and all, but we really love the city's more laid-back peninsula of Eastport. And for some of Eastport's best dining (and views!), head to Carrol's Creek Cafe, so named for a misspelling on a map of Spa Creek from 1781. Sit out on the elevated deck with a view of the State House and Naval Academy and dine on upscale seafood dishes like lobster and black truffle pot pie, herb-encrusted rockfish, and seared scallops with tasso ham risotto. Carrol's also has a delicious Sunday brunch with crab Benedict and a standout craft beer program.

Oxford
For some of the best sunset views on the Eastern Shore, the Masthead in Oxford is your best bet. Covered picnic tables and plastic chairs line the outdoor deck that overlooks the Choptank River. There's also a round Tiki bar playfully named "Tom's Second Wind," where you can sip on refreshing watermelon crushes. Unsurprisingly, seafood here is king, including Key West conch fritters with raspberry dipping sauce, the Pier Street lobster roll, and a monstrous house salad topped with four crab balls (think mini round cakes) all drizzled with a corn vinaigrette. Perhaps the best part is that margaritas are only $3. So order a few as you watch the sky turn amber and listen to a soundtrack of a live steel-drum band and the water rhythmically lapping up against the wooden dock pilings.
Baltimore
Tucked away from the busy traffic on Boston Street is The BoatHouse Canton, a half-indoor, half-outdoor bar and restaurant adjacent to the Baltimore Marine Center. With a covered bar, landscaped patio, and outdoor dining practically touching the boat slips, BoatHouse is a quick waterfront escape from the city. Happy hour, from 4-7pm, is the ideal time to enjoy the water views with $2.50 Natty Bohs, $1 oysters, and $2 off mussels, which are always plump and flavorful (we recommend the coconut-curry sauce). Wash it all down with a mix of grapefruit and orange crush.
West Ocean City
Right before you get onto the bridge of Ocean Gateway, hang a right on Sunset Avenue to find some of the best culinary and cocktail creations in the state. Chef/owner Travis Wright took home the coveted Chef of the Year award from the Restaurant Association of Maryland in 2014 -- so you know the food is good. While enjoying an inlet view of the Ocean City Harbor, you can dine on locally sourced proteins (the menu even tells you the names of the boats!) like pistachio-encrusted thresher, smoked strawberry BBQ mahi-mahi, and ginger-glazed swordfish. Almost impossibly, the cocktail menu lives up to the innovative food with selections like alcoholic birch beer and a refreshingly tart prickly pear paloma. We recommend sitting at the bar (you can still see the harbor), ordering a few cocktails, and not leaving without trying the shark bites.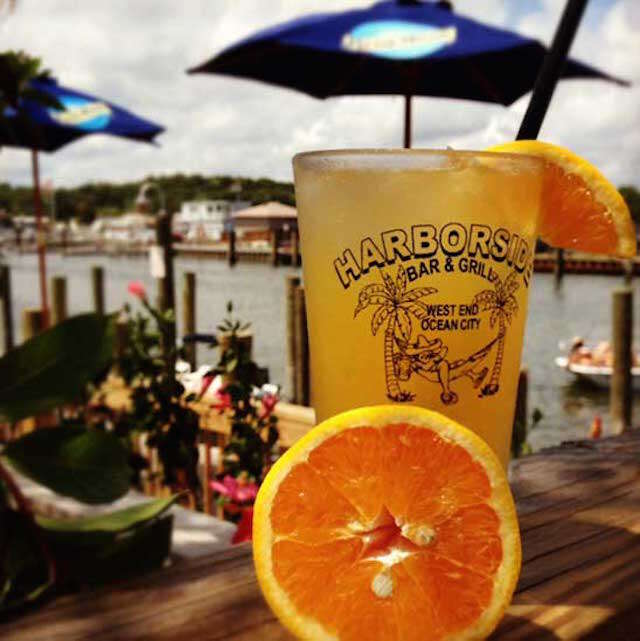 West Ocean City
Right across the water from the Shark is Harborside, whose claim to fame is the invention of the orange crush, which, as you've probably guessed by now, is a Maryland staple. Of course, there are nearly 15 crushes on the menu -- everything from peach to passion fruit -- and the place also offers a Grand Marnier or Tuaca floater for an extra kick. We advise going to Harborside on Thursdays when orange crushes are discounted at $5.50 apiece, the acoustic duo of Opposite Directions is playing on the deck, and you can snack on the white pizza flatbread or ahi bruschetta.
Essex
With a name like Island View Waterfront Cafe, how could it be bad? Located near Rocky Point Park in Essex, this spot indeed does have a view of Hart-Miller Island, a 250-acre speck of land in the Chesapeake Bay that's only accessible by boat. But, back on the mainland, things are good on the deck of Island View where you can chow down on comfort food like fried chicken, crab cakes and butterfly shrimp, or mixed-up crab soup (a genius combo of cream of crab and traditional). Come during happy hour when Natty Bohs are only $2 and house wines are $3. The best part? If you want to work off all those calories, the place rents out kayaks, too.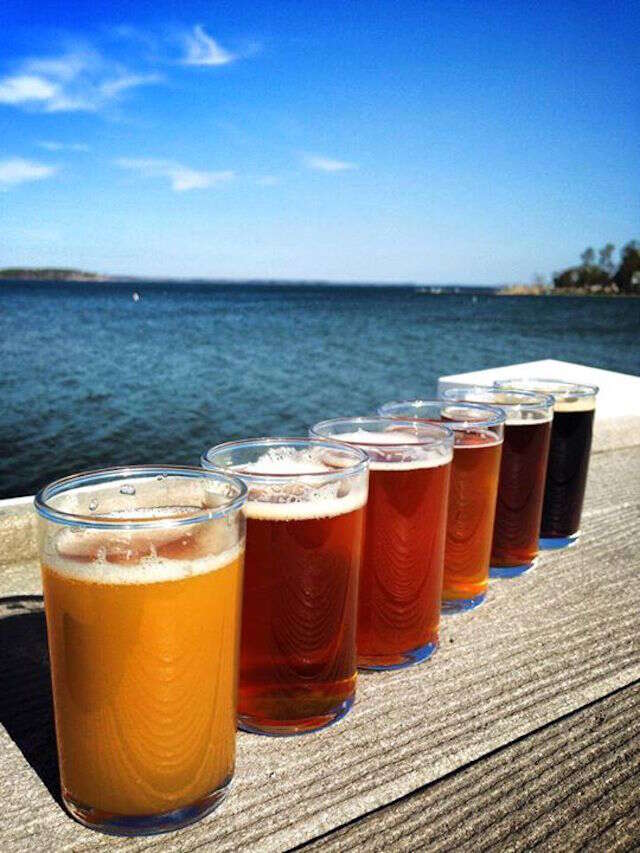 Piney Point
In Southern Maryland, there is a tiny strip of land between the Potomac and St. Mary's Rivers known as St. George Island. There's not much to speak of on the island -- just a bridge over from Piney Point's lighthouse -- except for private homes and lots and lots of boats. But there is Ruddy Duck, a restaurant and brewery, with amazing views of the river. There is a long pier and a deck, but the water views are visible anywhere inside the restaurant, too. Be sure to try one of Ruddy Duck's house-made beers, like the hazelnut porter or Rud Light, an American ale brewed with honey. All the food is fresh and delicious, but standouts include the duck-a-dilla (BBQ duck quesadilla), beer brats, and famed crab cakes served with pineapple coleslaw. More important than anything (even the view) though, the appeal of Ruddy Duck is that it has the friendliest servers and bartenders around.
Jellyfish Joel's
Chestertown
It's a good sign when a Tiki bar gives its directions in latitude-longitude coordinates. That's because boating in is frequent at Jellyfish Joel's in the Great Oak Landing Marina that overlooks Fairlee Creek and the Chesapeake Bay. This tropical-themed bar boasts live music on the weekends and 200ft of private sandy beach, where drinkers can wade in the water, dance to live cover bands, or fuel up from the food wagon with delicious sausage sandwiches. A Jellyfish Joel's must-have is a Pain n'de Ass drink from one of the Hawaiian shirt-clad bartenders in the Tiki shack. Be sure to get an extra rum floater for a truly no cares-in-the-world afternoon.
Sign up here for our daily DC email and be the first to get all the food/drink/fun in town.