An Editor's guide to drinking around town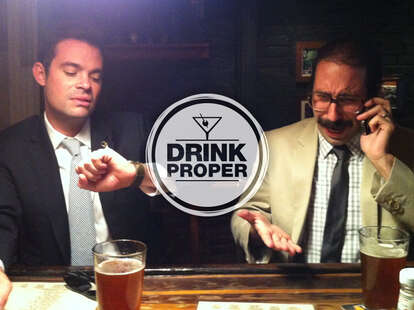 With the highest number of college degrees per capita in the nation, it's no secret that the District is an ambitious place with some seriously judgmental intense people. But follow this guide from our DC editor Leo Schmid, and when somebody in the bar inevitably asks, "So what do you do?", you can confidently respond, "I, at least, drink like a boss".
Best Cocktail Bar: Spanish-themed Estadio has my favorite gin and housemade tonic in the city, in addition to three great porron concoctions. If you're asking yourself what a porron is, I suggest you come not wearing your favorite shirt.
Best Sunday Funday: Running an all-day happy hour that rips half off all drafts and slings buckets of tallboy Bud Lights for $10, Black Jack should have a bar stool available for you right when they open, assuming you play your cards right.
Best Club: Located in South Dupont, The Huxley is divided into two rooms: the Ballroom, with its giant gold chandelier and dance floor, and the Library, a lounge for those who prefer to kick back and check things out. Library humor!
Best Outdoor Spot: Poste's patio and garden in the center of Hotel Monaco has a slew of great cocktails and is always jammed up with ladies during Summer happy hours.
Best Old School DC Bar: If you're across the street from the White House, head to Off the Record to surround yourself with caricatures of the political elite, and also, the real political elite.
Best Day Drinking: Pumping out Coronas and margs all day, Cantina Marina in Southwest is actually the only dock bar in the city, and it's the perfect place to tie one on all day long.
Best Hidden Club: The only signs of Heist are its black, bull-horn door handles, as the subterranean club has no signage, but locate those and you'll find a lair decked with bullet-casing tables, surveillance footage from actual bank jobs, and a water buffalo skull dipped in gold. I run through a few Hail Marys before walking in.
Best Beer Bar: It's funny that the best beer bar in the city would ask patrons to climb stairs, but alas, Churchkey's 50 draughts, multiple casks, and 555 unique labels (from over 30 countries) will have you pulling a Patrick Duffy and slowly walking out Step by Step.
Best German Beer Hall: Auf wiedersehen! Or so one would say prior to downing the 1L booze cannons at the Biergarten Haus on H Street.
Best Tasting Room: With two separate bars that fill pints and growlers on the cheap, the only thing that would make Port City Brewery's tasting room better would be a metro stop located inside of it.
Best Local Beer: The guys over at 3 Stars Brewery have a Belgian-style farmhouse ale called the Peppercorn Saison that, out of three stars, I give... three stars.
Best Sweaty Dance Party: The underground Imperial Champagne Bar at Napoleon's is raved-out with international DJs, endless champagne flutes, and private stall bathrooms so you can towel off privately. Or with one other person. Or with two other people, if you're really feeling it.
Best Locals' Bar: A favorite of the industry crowd, the Passenger is away from any tourist destination and usually has a great tallboy & shot combo.
Best View: The W's P.O.V. Lounge overlooks the White House, and provides mile-stretching views into Virginia. Oh, and when celebrities like John Legend and Pharrell come to the city, this is where they party.