Courtesy of ChurchKey
Courtesy of ChurchKey
DC has been enjoying a booming beer scene for a few years now, and it's no longer uncommon for our pubs to serve brewed-on-premise beers, have dozens of draft handles, and supply 30-page beer lists: basically, DC has established itself as a solid beer town. Bolstered by the area's killer breweries, which tend to focus on local ingredients and distribution, our beer bars have shifted their focus from quantity to rarity, and curate their menu with an eye toward seasonal offerings and regional loyalty. We've rounded up a variety of establishments that keep the District's beer scene on point.
Georgetown
A staple of the DC beer scene decked out in a pizzeria costume, Pizzeria Paradiso presents one of the finest curated beer menus in the entire town. The menu always reflects traditional seasonal offerings without overwhelming you with a 50-page bible of beer choices -- plus, the staff know how to pair their beers with their pizzas, should you want help. The option to choose your own flights means you can give yourself a taste of the odd soured Brett beer or cherry-infused cider on tap. In a futuristic display Pizzeria Paradiso's website lists the near-real-time beer menu, including long-form bottles, hard-to-find beers, and an anticipatory "Coming Soon" section to tease future beer-delights. Perhaps the best part about Pizzeria Paradiso, though, is their inclusion of some ubiquitous favorites from breweries like Sam Adams and Allagash, making this a destination for beer snobs to bring their less-enlightened (OK, annoyingly obsessive) friends.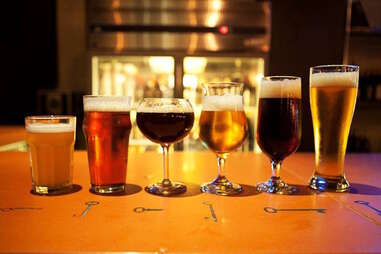 Logan's Circle
There is a reason ChurchKey is practically synonymous with DC beer: this place helped create beer culture in the District, and it remains at the forefront of the DC beer scene. ChurchKey has an impressive array of taps and bottles, the beer program here introduces trends into the market, and honestly, the Disco Fries are one of the best things you'll ever put into your mouth. But perhaps most importantly, ChurchKey has made the daunting world of beer nerdery easy to understand: instead of categorizing their beers in styles, they utilize flavor profiles like "Crisp," "Fruit & Spice," and "Tart & Funky." This makes bellying up to the bar at Churchkey feel like you're about to embark on a guided journey into the unknown -- in like, a really pleasant way, of course.

Dupont Circle
The Big Hunt may seem like an odd selection, given its cartoonish, jungle-themed wall hangings and dark-in-the-daylight ambiance. But what was once a headquarters for the Miller Lite crowd has blossomed, over the past few years, into one of the chillest bars for uncommon brews. The beer program at the Big Hunt reveals surprising depth, typically offering a few trending styles, local brews, and usually something big (meaning "potent") and bad (meaning "good") to take the edge off your workaday DC existence. While the upstairs deck seating is truly tempting, the Big Hunt is best enjoyed on a weeknight or Sunday: the crowds get insane here during peak hours, and the downstairs has a bigger beer selection.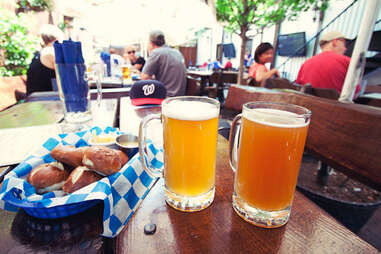 H Street
Biergarten Haus is the very best at what it does: outdoor drinking of tall German-style beers while snacking on pretzels and schnitzels. No other bar in the area comes quite so close to the mark, and Biergarten Haus continues to impress after years on the scene. Come early, and aim to socialize at long bench tables over giant steins of ale. Though the place can get a bit elbowy and the service inconsistent deep into a Friday or Saturday night, the early bird gets the wurst, as they probably say in Germany, and also the best seats. Bring your whole friend-family and plan on spending a few hours in the waning evening sun on a Wednesday.

Gallery Place
Walk into RFD, and you may think you've just landed in a former TGI Friday's. This place seriously lacks decor, but do not mistake: RFD represents the very best version of a beer bar, with no pretensions. The selection here is much larger than you ever imagined, and the tater tots covered in bacon and cheese pair perfectly with basically anything in this life. RFD is the kind of beer bar you trick your coworkers into going to, laughing into your tulip glass of cask Wee Heavy while they happily sip a Coors Light.
Dupont Circle
Another dark horse candidate, St. Arnold's sticks with one thing and one thing only: Belgian Decadence. The front-and-back menu at St. Arnold's offers more options for styles of mussels than it does beers, but every beer here was chosen with care. Drafts come in variations of "Large" and "Dude I Can't Finish This!" But you can, and then you'll have another Belgian-style abbey ale or trippel before venturing the very short distance to the metro to call it a night, because these beers are serious, this is the kind of place that fills your whole evening.
Adam's Morgan
Smoke & Barrel, the barbecue joint owned by the same people who brought you Meridian Pint, continues to present itself as a semi-secret beer lover's paradise. This place offers remarkable barbecue, plentiful vegetarian options (which is... pretty charming, considering), an impressive whiskey library, and then gilds the lily by offering a continually rotating selection of rare, seasonal, and delicious beers. Why does Smoke & Barrel get to do three things incredibly well while the rest of us struggle to even find one? Lean into it, and grab yourself some tasters of incredibly well-curated drafts with a side of brisket -- or vegan spare ribs.
Sign up here for our daily DC email and be the first to get all the food/drink/fun in town.
Jon Novak is a freelance beer writer, food blogger, and longtime homebrewer who one day plans on ordering one of everything on the ChurchKey beer menu. He one time drank a third beer at St. Arnold's, but only just once. Follow him on Google Plus, Twitter @PrinceofWhy, and Instagram @JPNOVAK1047.