The Best Spring Beers From DC-Area Breweries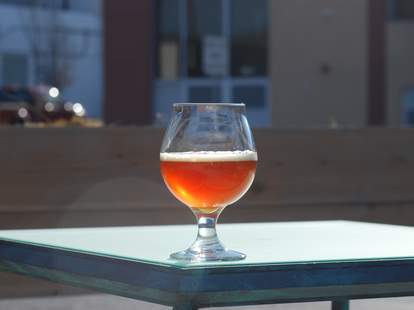 Courtesy of Denizens Brewing Company
Spring marks one major attraction for residents of the DC metro area: long outdoor day-drinking sessions. As the DC beer scene booms, the area's breweries offer springtime libations perfect for taking in the cherry blossoms (and handling the busloads of tourists that accompany their arrival). From Silver Spring down to Ashburn, we've rounded up the best seasonal offerings in the region.
 
Silver Spring, MD
This Silver Spring brewpub may still be fairly new to the scene, but brewer Jeff Ramirez has already established a super cool style: the dude brews experimental sour beers aged in mezcal barrels and names new creations after mid-'90s hip-hop references. The beers at Denizens really represent a combination of great inspiration and even greater execution. As its outdoor patio space opens for the spring, Denizens presents some truly stand-out seasonal beers:
Short Session 
Double IPA, 10.0% ABV
Living up to its name, this beast of a DIPA certainly ensures that any sessions drinking this beer will require proper monitoring and pacing. The full -- and please note, big -- malt body of the Short Session will thaw the last chunks of lingering ice from your bones, while the intense hop profile, described as possessing "notes of pineapple, orange zest, and Ecto-Cooler," will ready your senses for May.
McRamirez
Tequila barrel-aged Irish-style foreign export stout, 7.7% ABV
Released on St. Paddy's Day, this beer combines ingredients that really, really do not seem like they would work together (at the outset, Irish stout and tequila seem more like an unintentional pairing invented by underage kids sneaking booze from their parents' liquor cabinets versus one crafted by an expert brewer). And yet, outside of all reason and logic, they work -- extremely well. Aged in tequila barrels, this otherwise innocuous and pleasant stout finishes with the unmistakable smoothness and fire of a fine tequila. Fingers crossed that supplies of this St. Paddy's Day release last all the way to Cinco de Mayo.
Macadocious
German-style maibock, 7.1% ABV
Brewed specifically to celebrate the start of biergarten season, this maibock is a traditional springtime beer with a twist: by utilizing Green Bullet hops (a style native to New Zealand), this brew pops with a surprising natural berry aroma. With a touch of sweetness and a big hop bouquet, and having been lagered to crystal-clear perfection, this semi-traditional maibock is best sipped outdoors in the warming springtime sun, preferably while snacking on pretzels and sausages and watching Flight of the Conchords.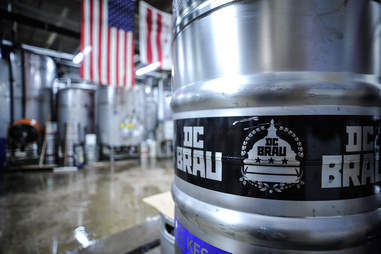 Steph Harding Photography
Washington, DC
In April, DC Brau celebrates its five-year anniversary as the District's most prominent brewery. In honor of this milestone, DC Brau is releasing five brand -new beers, brewed in collaboration with other breweries from across the country. Here are our favorite of the spring-themed offerings, which can be used to celebrate both the vernal equinox and a half decade of DC Brauship.
Celestial Garden
India pale lager, 7% ABV
Brewed in collaboration with Austin Brew Works, the emerging IPL style takes a traditional India pale ale and makes it... remarkably non-traditional. By using a lager yeast in lieu of an ale yeast, the beer changes from malty and bitter to light, crisp, and incredibly aromatic. Doubling down on the springtime theme, this lagered, hoppy beauty incorporates three types of fruit purée. Expect something with a whole lot of what wine snobs call "bouquet."
Pink Pallet Jack
Belgian-style saison, 6% ABV
Forgive us the ornate language, but we're just so stoked on this beer that we have to get poetic for a second: this brew is as pink as a fleeting, windswept cherry blossom on the DC breeze. Pink beer, y'all! Brewed in collaboration with Perennial Artisan Ales, the Pink Pallet Jack takes a traditional Belgian-style saison and adds rose hips and hibiscus, which gives the beer its distinctive pinkish hue. This fruity, spicy style, traditionally enjoyed by farmhands after a long day of toiling in the fields, is now available for enjoyment by Hill workers after a long day of toiling in their chinos.
Falls Church, VA
Bellying up to the bar at Glover Park for flights of Mad Fox's classic kölsch or hoppy Orange Whip is always a great idea. But those souls who venture into the outlands of Falls Church will find outdoor patio seating at the Mad Fox brewpub. It's kind of an ideal place to sample head brewer Bill Madden's seasonal beers, which will be rolling out throughout the spring.
Cherry Hill
Saison, 6.0% ABV
First out of the gate for spring's March of the saisons, the Mad Fox Cherry Hill saison is a traditional spicy, fruity farmhouse ale, finished with a sweet cherry purée. The resulting beer is set to pop with sweet tartness, perfect for a slow draught under a tree, accompanied by a side of house frickles (seriously delicious fried pickles -- just trust us).
Tristan gilbert
Rosslyn, VA
Though headquartered in Baltimore, Heavy Seas has become known as a regional brewery for the DC area, cementing this relationship with the success of its Heavy Seas Alehouse in Rosslyn. With a wide array of its own brews on tap, the Alehouse is gearing up for spring with the following releases.
TropiCannon
Citrus IPA, 7.25% ABV
So, so citrusy: the TropiCannon follows the Heavy Seas tradition of big IPAs with even bigger flavors. Using a trio of hops (Simcoe, Amarillo, and current belle of the ball, Citra), this beer pops with fruity notes and an orangey aroma. Heavy Seas then doubles down on the vitamin C, infusing the beer with citrus peels, hop oils, and dark fruits. The nose on this beer stars mango, with support from blood orange, grapefruit, lemon, and tangerine.
Blackbeard's Breakfast
Imperial coffee porter, 10.5% ABV
Look, we can't justify a big ol' bourbon barrel-aged porter as "seasonally appropriate." But in the end, we don't really need apologetic justifications for loving something this strong and sweet. This porter warms the body and awakens the goddamn soul, OK? (Plus, you know, there are some chilly days lingering out there, and this big beer will wrap you up in warmth and comfort.)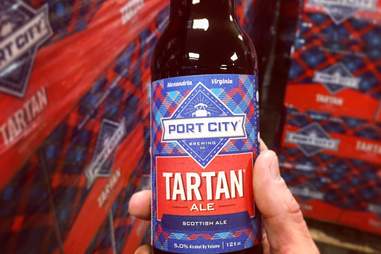 Courtesy of Port City Brewing
Alexandria, VA
Local favorites Port City have a track record of offering well-executed beers in classic styles. You can't go wrong with an Optimal Wit (preferably sipped on King St in Old Town), but the team at this Alexandria brewery have some inspired ideas for something a little different this spring.
Tartan
Scottish ale, 5.0% ABV
Brewed in the 80-shilling style, Port City's Tartan aims for a beer that's refreshing but not frivolous, resulting in a brew that will slake your thirst in the growing heat, while still displaying some depth of character. Save your cream ales and pilsner for the summer! This malty, complex Scottish ale shows impressive restraint when it comes to the ABV.
Ashburn, VA
Lost Rhino is establishing itself as a local presence with their distinctive can art, and crisp, German-style pilsners and kolsch. Do yourself a favor: grab a friend, hit the road, and take a drive to the Lost Rhino Tap Room in Ashburn for a sample of their exclusive tap room brews. Back home in DC, be on the lookout for Lost Rhino's seasonal entry, available on shelves now.
Ice Breaker
Double IPA, 10% ABV
Not the most subtle seasonal release, but Lost Rhino's Ice Breaker hits the mark. This is a beer designed to crush polar ice caps, with an intense malt body and an acute, bitter, hoppy aroma -- this beer is not playing around.
Sign up here for our daily DC email and be the first to get all the food/drink/fun in town.
Jon Novak is a freelance beer writer, food blogger, and longtime homebrewer who names all of his beer creations after his bossy cat. He can't wait to drink a Belgian-style white ale in the sunshine. Follow him on Google Plus, on Twitter @PrinceofWhy, and on Instagram @JPNOVAK1047.