The Crazy Tea Julep Recipe DC Needs for Spring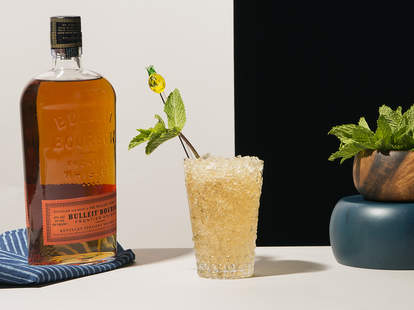 Photo: Eric Helgas/Styling: Ali Nardi
Nothing says spring, or the Kentucky Derby, like a julep. While it's tough to improve upon a classic, we figured that Adams Morgan bartender Trevor Frye was up to it. He gave us his take, which you can kick up several hundred notches with a bonkers homemade tea syrup.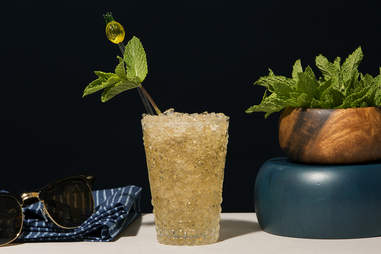 Photo: Eric Helgas/Styling: Ali Nardi
Until The Sun Comes Up
INGREDIENTS:
1.33 ounce Bulleit bourbon
0.75 ounce chamomile mint Arabic gomme syrup
2 dashes tea bitters
Crushed ice
Mint sprig and powdered sugar garnish
4 chamomile tea bags (Mighty Leaf if you have it)
Sugar
2-3 drops spearmint extract
0.65 grams gum Arabic powder
DIRECTIONS:
Steep the chamomile in 32 oz of 200 F water for 5-6 minutes.
Remove the tea bags and stir in equal parts tea to sugar. Mix well.
Add the spearmint extract and gum Arabic powder.
Using a blender, blend the mixture together until well mixed.
Let the syrup sit out uncovered to cool and settle.



Combine the bourbon, syrup, and bitters in a shaker tin.
Add ice, and shake and strain into a julep cup.
Add crushed ice to fill half the julep cup.
Lightly swizzle with a stirring spoon, top with crushed ice.
Add a sprig of pineapple mint, a light dusting of sugar, and a short metal straw.