The Ultimate Guide to Hanging Out Before, During, and After Nationals Games
BASEBALL IS FINALLY BACK, YOU GUYS! After a long, dark winter, the Nationals are ready to get back in action. Even though Opening Day is technically April 4th, the home opener for the Nats (i.e. the one we actually care about) is April 7th.
The Nationals open up the 2016 season with a series against the Miami Marlins, which is a good thing: the Marlins were 20 games under .500 last season. While they won't be quite that putrid this year, this season-opening series should be a great opportunity for the Nats to start out hot with some divisional wins.
Of course, you'll need somewhere to pregame before hitting up the in-stadium Ben's Chili Bowl, watch the game if you didn't snag tickets, and/or celebrate a Nats win, right? Here's a roundup of our favorite spots around Nationals Park to have some fun on game day.
Most family-friendly place before a game
Gordon Biersch (address and info)
If your family is in town and you're trying to please everyone -- from grown-ups with needs for things like beer & cocktails, to little kids begging for chicken fingers -- Gordon Biersch fits the bill. This place is always filled with lots of Nationals fans on game day, but never the obnoxious kind that scream at the TV.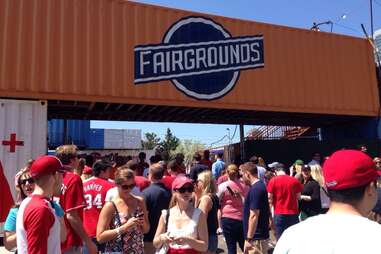 Best place to get social before a game
The Bullpen (address and info)
This place is always packed, largely due to its near-constant live music, food trucks, rows & rows of beanbag setups, and (most importantly) Red Bull vodka slushies. There's a reason you always run into someone you know at The Bullpen -- basically everyone goes here (and will be going here, for at least one more season). Oh, and if you can't make the game itself, stick around The Bullpen anyway; all drinks are just $5 from the 3rd through the 7th inning.

Best place to watch the game if you don't have tickets
Justin's Cafe (address and info)
Smaller than most of the bars on this list, Justin's is a true Nationals fan's bar. Billing itself as the first bar and restaurant to open up in Capitol Riverfront, Justin's is full of (mostly) locals cheering for the Nats, has great beers on tap, and serves bangin' pizza. Bonus: it has a serious bobblehead collection. In our opinion, this is the best bar near Nationals Park, a true original.
Best place if you're feeling hella baller
Lexus Presidents Club (address and info)
Maybe you're related to a player. Maybe you own a team. Maybe you just flew in on your private jet... if any of the above apply to you, you should probably pregame at the Lexus Presidents Club. If you actually get tickets that let you in here, the food (gourmet buffet, dessert bar) and booze (tap beers, bougey wine, etc.) are all complimentary, which is super necessary for those mingling with other millionaires. Yeah, you're right, we're just jealous. Anyone have a spare plus-one?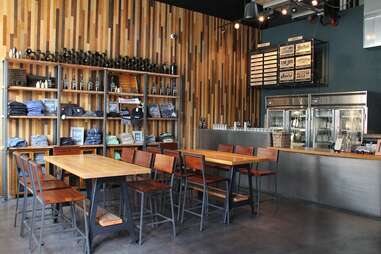 Best place for beer lovers to pregame
Bluejacket (address and info)
Esquire TV featured Bluejacket on its show, Best Bars in America, and with good reason. Its wall of beers changes often, and summertime is prime for sours, goses, and lambics -- perfect beers to wash down a Nats win. If you're not into any of those, just check out its huge selection... trust us, Bluejacket has something for everyone.

Most underrated place to pregame
Willie's Brew & Que (address and info)
Although there's been some heavy love directed at the new southern BBQ joint, Due South, Willie's wins out for its consistency: this place offers good barbecue, good beers, and way fewer crowds than the majority of spots near the ballpark. Plus, it has a gorgeous patio. Important note: it doesn't take reservations on Nationals game days, so get here early...
Best place to eat with your parents before a game
Osteria Morini (address and info)
Both gorgeous and moderately priced (two things that are usually mutually exclusive), Osteria Morini dishes up some of the best pasta in DC, period. Pro tip: hit this place up on a Monday night Nationals game -- the rotating selection of pastas is just $10 on Monday nights.
Best place to watch the game if you're a fan of the away team
The Big Stick (address and info)
One of the area's newer bars, The Big Stick is always slammed before, during, and after games. It's pretty much what you'd imagine: a big sports bar with above-average beers and food, a ton of TVs showing the game, and fans of all stripes. Side note: if you're a Mets fan, the best place to watch the game is AT YOUR HOUSE.

Best quick bite and a beer before a game
Bonchon (address and info)
In terms of pure pleasure for the price, I'd put Bonchon's Korean fried chicken up against damn near anything. The wings and drumsticks are twice-fried (to order, mind you), so the exterior audibly shatters when you bite it. These wings draw stares. Here's the move: step 1) order half wings, half drumsticks, AND half soy garlic, half spicy; step 2) devour; step 3) head to the stadium.
Sign up here for our daily DC email and be the first to get all the food/drink/fun in town.
Logan Hollers is an environmental lawyer in DC who also contributes food and booze articles to Thrillist and BrightestYoungThings.com. From April 7th to October 2nd, odds are you'll find him at the ballpark... or at Justin's... or maybe the Bullpen. Follow @lhollers on Twitter and Instagram.