Tim Prendergast on the District's First Winery and the New Wave of the DC Drinks Scene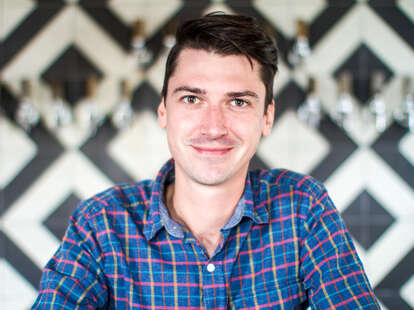 What do you see as this year's biggest change or development in DC's drinks scene?
Over the last year I've noticed that there's a new "generation," for lack of a better term, of people starting their own projects and opening their own bars. I'm starting to see people who were staple DC bartenders and longtime industry people finally branching out and opening their own projects. It just seems like there's a changing of the guard, or at least some new guards showing up in the DC drinks scene. Some people that come to mind are Trevor Frye with Marble Alley, Lukas Smith with Cotton & Reed, the Archipelago crew, and Carlie Steiner with Himitsu, to name a few.
How do you think the addition of a winery has changed the wine conversation in DC?
I think it has made tastemakers in wine in this city stop and take notice. We intentionally do not serve any cider that has adjuncts like blueberries, ginger, hops, Snickers bars, or whatever else people are throwing in cider these days. We focus on the apple; our goal is to highlight the apple. Many people don't realize that cider is made exactly like wine, just with apples. Certain varieties do well in certain areas, and can express the terroir of those places just like wine. I'm not saying cider does the same things wine does, but it can [express] the same great things that wine can: tannin, acid, fruit, minerality... and it can do it in beautifully subtle ways, as wine can.
I think people are starting to take notice. Just the other day, someone in a tasting group that includes employees of several Michelin-starred restaurants came in to buy cider because the focus of their tasting group that week was cider. I think that's a signal that something very different is going on with cider in this city. Very knowledgeable people who have dedicated their lives to being supremely knowledgeable beverage people are starting to look at cider with the same attention they would wine, cocktails, or beer.
Tell us about your favorite cocktail or ingredient from 2016, and what you loved most about it.
It isn't really a cocktail. It's usually what I'll do a shot of if I do one behind the bar, and combines the two loves of my drinks life: four parts Cynar to one part Laird's straight apple brandy. I could drink both of those every day for the rest of my life. Combined, the sweetness and bitterness of the Cynar are complemented ever so subtly by a trace of boozy, oaky, 100-proof apple brandy. This is also my shift drink at the end of a long night... but it's about three times as large, and poured over ice.
Which aspect of your career is the most rewarding?
I was going to say helping guests who have never tasted real cider find that perfect cider that blows their mind and makes them say out loud, "This is awesome; I never knew cider could taste like this." But really, I think what's actually most rewarding is just watching people who are having a genuinely good time, and knowing I helped make that possible in some way.
I had a guest come in a few weeks who told me her father was Basque. She said it was the fifth anniversary of her father's death and she came in to ANXO to honor him. She loved our food and Basque cider and very emotionally said it brought back so many beautiful memories of her father cooking for them and drinking cider. She was so thankful to us for providing her this opportunity. I had no idea how to respond; I was tearing up. That's the most rewarding type of moment. How can you possibly top that? You put up with a lot of not-so-fun things in this industry, but those very rare moments can keep you going for months at a time.
What excites you about DC's drinks scene right now?
The single most exciting thing for me is how adventurous the people in this city are when it comes to drinks. People have very discerning palates, but are also very open-minded and eager to experience new things. I mean, the fact that we opened a bar that focuses not just on cider, but on very traditional cider, and we're extremely busy, is amazing. We're serving cider in 6oz pours in a white wine glass and people aren't coming in like, "What the hell is this? Why is this such a small pour in a wine glass?" They're just like "OK, cool, yeah, this makes sense. This is great. I want tons of this." I thought we were going to have to fight an uphill battle to educate people about cider and turn them on to cider, and honestly, I underestimated the people in this city.
What are you looking forward to in 2017, and what do you think the new year has in store for the DC drinks scene as a whole?
I think the Michelin guide will change the way DC is seen by the national food and drinks media. I think we'll start to see people in this city that have been doing amazing things for many years start to get the credit they deserve. This will hopefully start to get an influx of talent that will make things here even better. There's long been an issue with talent in the service industry. The best people, the real professionals, always move up super-quickly, then move on to bigger and better things. Compared to the size of the city, the DC service industry is a very small industry. There's often a shortage of high-caliber people to maintain high levels of quality and to keep pushing their establishments to innovate and maintain exceptional levels of quality. I think we'll start to see more talented people move here, and stay here. That's a good thing.
Sign up here for our daily DC email and be the first to get all the food/drink/fun in town.
Lani Furbank is a freelance food and drinks writer who is crushing hard on the bar stars in this year's winners' circle. Follow her on Twitter and Instagram @lanifurbank or read her blog at www.LanisCupOfTea.com.