10 Reasons Provision No. 14 Is Your New 14th St Go-To
Laura Hayes/Thrillist
Laura Hayes/Thrillist
The latest place to open its doors on the 14th St strip has the trifecta of a sweet space, food that doesn't hold back, and an innovative bar program. From sipping frozen drinks on an enviable patio to inhaling a burger that doesn't hold back on luxury, here are 10 reasons Provision No. 14 deserves to be on your radar this summer.
1. There are throwback snacks
What are you gonna pick? Provision No. 14's take on Hot Pockets -- the snack that got you through both fifth grade and your fifth final exam in college. The gourmet version contains sweet and sticky lamb sugo inside slightly sweet bread hailing from the Philippines called pandesal. They eat like a cross between bao buns and piroshky. Even Jim Gaffigan would dig these bad boys.
2. The patio wins the 14th St patio game
The outdoor space at Provision No. 14 feels like you're down the street in the demo area of West Elm with its cushy couch and comfy chairs. We predict this corner will become the most coveted on 14th St. But if it's too ritzy for you, slum it instead on blue-and-green-painted picnic benches where the picnic comes to you. Ants and other annoyances not included.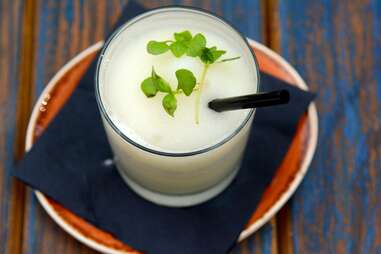 3. A brain freeze that's worth it
If your cranium is going to cramp up over a frozen cocktail it better be Provision No. 14's Moscow Mule. Ultimat vodka, Chinese five spice, ginger, and lime come together to form a session slushie you can slurp for hours because it's more spicy than sweet. If you swore off vodka after turning 25, don't worry -- there's always a seasonal slushie to tap. Right now it contains Beefeater dry gin, watermelon, grapefruit, and basil.
4. Caveman meat portions
Provision No. 14's menu is inverted. At the top is where you'll find some of the biggest plates in the city dubbed "communals." These Last Supper-sized feasting platters can easily feed a hungry table of four. While the pata has already made a name for itself (probably because the chefs braise a suckling pig leg overnight and then deep fry it), there's a dish more deserving of your attention: the chili-braised short ribs with apple salad, kohlrabi, and a log of pandesal bread. The meat is so tender it quivers; threatening to fall apart before your fork even gets there.
5. You can call sharesies on cocktails, too
Punch bowls and pitchers are passé, so Provision No. 14 decided to put its communal cocktails in French presses. Granted, it's basically a pitcher with an antenna, so it's what's inside that counts. We like "The Voyager" with Tullamore Dew Irish whiskey, black tea, sherry, lemon, and demerara sugar because it tastes like Arnold Palmer's naughty side. There are three other presses on offer containing about four-five servings each.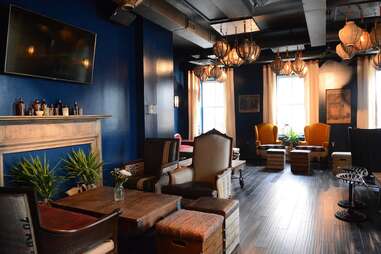 ​6. A quirky, sexy, cool lounge
If Pier 1 Imports got together with your coolest friend in Brooklyn and designed a lounge it would look like the upstairs at Provision No. 14. Mismatched upholstery, indigo-colored walls, a faux fireplace, and basket lanterns make this a place to retreat to with friends, especially when the humidity hits. The full menu is offered and this is one of the areas of the restaurant that accepts walk-ins, along with the patio.
7. A burger that says yes to excess
We can only imagine the thought process that went into building the P14 Burger. Maybe the chefs looked at ritzy steakhouse menus and pulled all the ingredients that screamed luxury. Lobster? Check. Foie gras? Check. Truffle? Check. And beef, of course. The foie is ground into two beef patties that are topped with a pile of lobster and goat cheese truffle mousse to make a $28 monster truck of a meal.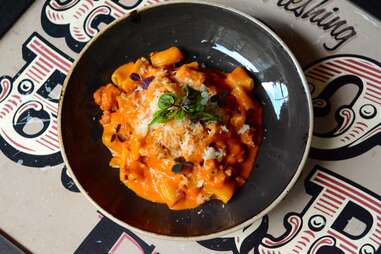 8. Pasta that hits home
Not all of the cuisine at Provision No. 14 is as balls-to-the-walls at the P14 Burger. In fact, some dishes are simple and homey, like the Rigatoni Alla Romano with fresh-ground veal sausage, tomato, and cream. The comforting, pumpkin-colored pile is actually Executive Chef James Duke's mother's recipe. The dish is one of three house-made pasta dishes that should be a part of every visit.
9. A bangin' beertail
Convert your last remaining friend who refuses to sip anything but suds with a tasty beertail. It could serve as a gateway drink to the finer things in life that he has yet to discover, thanks to a steady relationship with something that rhymes with Morona. Provision No. 14's "IPA Cocktail" mixes Tullamore Dew Irish whiskey, grapefruit, hop water, lemon, and Tröegs HopBack amber ale. The foam should trick him into thinking he's drinking a shandy.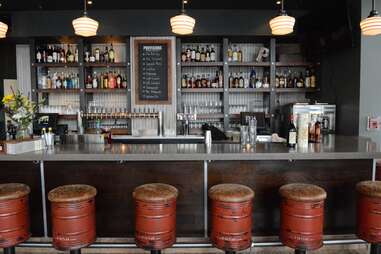 10. A standout bar program
We've told you about frozen drinks, communal cocktails, and a zippy beertail... but there's even more to Provision No. 14's bar program: draft Mai Tai cocktails served by the glass or by the bottle; 10 signature drinks; local spirit love for Green Hat, Copper Fox, and Catoctin Creek; 17 draft beers; and 14 wines available by the bottle or by the glass.
Sign up here for our daily DC email and be the first to get all the food/drink/fun in town.