From underground PBR bunkers to back-alley vintage stores, there's more than U know here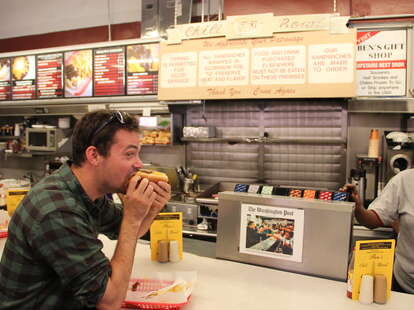 Alright, so you're Mr. U Street. You're so U Street, they should call it You Street. But behind the jazz and the cocktails and the jazz cocktails, there's another side to the neighborhood..
The freshest workwear around:Federal2216 14th St NW; 202.518.3375The big brother half of skateshop Palace 5ive, this place stocks American work & street wear that's surprisingly hard to find in DC, from brands like Levi's Made & Crafted, to Raleigh Denim (out of NC), to Red Wing boots. Come out geared like Steve McQueen with tons of leather goods and raw denim.Link up here for more on getting kitted at Federal
The best small date spot and wine bar:Dickson Wine Bar903 U Street NW; 202.332.1779Housed in a non-descript concrete building, this place is three narrow stories of steel wine bottles (over 700, actually). It's a great spot to bring the planet-friendly little lady for a small plate menu consisting of classified "organic" or "bio-dynamic", with bites like Serrano ham & Manchego flatbreads and banh mis w/ Berkshire pork belly.Jump here for additional info on Dickson's vino
Serious vintage clothing:Dr. K's1534 U St NW; 202.506.1817From a Thailand native that's sold his gear to the likes of Warehouse & J. Crew and started amassing his collection more than 20yrs ago, this place isn't the type of vintage store to hit for your Halloween costume. The owner's curated men's clothing and accessories spanning from the 1920s to '80s, and he's filled the store with his serious threads, like 30-era Levi's jeans, 40yr-old cowboy & motorcycle boots, properly aged military canvas bags & navy peacoats, and varsity jackets galore.Read on about the Doctor's serious vintage
Jam out to some serious funk:Tropicalia2001 14th st NW; 202.629.4535Like "Rio Funk" and "Afro-House"? Never heard of "Rio Funk" and "Afro-House", but hate top 40? Then hit this underground club tucked below the corner at 14th & U, and catch the sounds bouncing off surrealist art installations and a glass mosaic bar that slings six signature South of the border 'tails like the Lambada w/ coconut cream, spiced rum & maraschino, and a house caipirinha.But that's not all. More, here.
A dive that scores a 10:Codmother1334 U St NW; 202.265.0709Stay subterranean at Codmother, where punk tunes from the Sex Pistols and The Clash blare and the PBR/whiskey combos flow like (cheap) wine. Down beer-battered fish 'n chips while staring at Sid Vicious paintings and medieval knight's armor that totally fits the metal vibe.Dive on this link for some more on The Codmother's
Late night great bite:Black and Orange1931 14th St NW; 202.296.2242Irish goodbye from the bar and sneak over for some late-night ('til 5a), 1/2lb, "pink or no pink" burgers just off U. Cruise up to the steel counter and order up house specialties like their staple Rogue State w/ house spice blend, chipotle, and cilantro, the No Burger No Cry w/ habanero peppers and a house jerk blend, or the black truffle oil/ thyme "Pardon My French" -- you should be used to hearing that from your experiences at the bar.Find out the deets before heading to B&O
Best hidden game bar:Stetson's1610 U St NW; 202.667.6295Walk into Stetson's (the oldest bar on U Street) and you think you know the deal. But head upstairs and you'll find a full bar game center: HD projector, pool table, darts, foosball, Pacman, and a jukebox, all Golden Teed up for your enjoyment.Gamer or not, find out the deal