You don't need to head to a fancy cocktail bar (and certainly not a fake one!) to get a good drink in DC, because restaurants have really upped their game when it comes to imbibing options. These six spots are each known primarily for something else, but here's why you should skip beer and wine and trust the talent mixing drinks behind the bar on your next visit.
Recommended Video
These Onion Rings Are Stuffed With Cheeseburgers
Chinatown
Known for: Addictive pizza and chicken thighs with pepperoni sauce.
Pay attention to: Rico Wisner's featured Spirit of the Month. In October, he'll be crafting 3-4 cocktails with brandy and other grape-based spirits. November will usher in Scotch. Blood and Sand, anyone? Graffiato also has a standout barrel-aged cocktail program. Who else has the (ice) balls to put tequila, Pierre Ferrand Dry Curaçao, and Oloroso Sherry in a barrel? It's called the Brilliant Disguise. Finally, they're about to get in on the draft cocktail trend.
Dupont Circle
Known for: Epic Reuben sandwiches. And latkes.
Pay attention to: Their "Delicatessen After Dark" monthly cocktail series (the next one is Oct 30th). DGS bar man Brian Zipin has created 60 original cocktails since the deli opened. The latest to debut are fresh for fall. Try the Gentlemen's Agreement, with Redemption rye, Root liqueur, and orange clove cordial, or the Uncle Benny, with Four Roses bourbon, Bénédictine, Byrrh and preserved apples. DGS partner Nick Wiseman says, "the program is inspired by our grandparent's long nights in Lower East side taverns, winter getaways to Florida, and jazzy escapades to the Catskills." Jazzy escapades should be a part of everyone's life.
Barracks Row
Known for: Greek small plates or "mezze", and flaming cheese.
Pay attention to: Cocktails made with Greek liquors and cool infusions using ingredients from the kitchen. Beverage director Glendon Hartley is busy working his magic on a fall drink list, so stay tuned. The list is quite thick, and goes way beyond martinis and mojitos. Pop in Monday to work your way through the menu when cocktails are $5.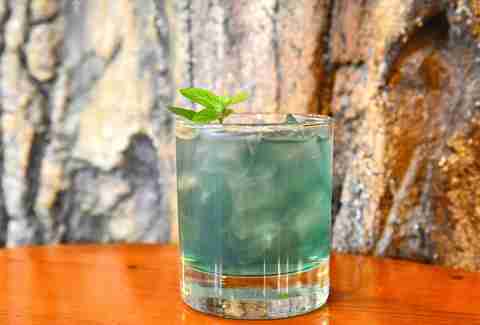 Dupont Circle
Known for: Organic, sustainable cuisine, plus a rooftop garden, and a cozy first-date atmosphere.
Pay attention to: The use of gutsy cocktail ingredients and hippy dippy drink names. There are 12 cocktails to work your way through, plus three more highlighting Chartreuse. After a sip, thank those Carthusian monks in Voiron, France for their recipe. Yeah, we thought they just did beer too. For something smooth try the Gift of the Gods, with Plymouth gin, house-made forbidden fruit liqueur, and Priorat Natur vermouth. Even the almighties need to take the edge off.
Cleveland Park
Known for: A standout wine program and farm fresh dishes.
Pat attention to: "Manhattan Mondays". This brand new, super customizable program lets you pick your bourbon or rye, vermouth, bitters, and fun extras like house-made spiced pears. Experiment with the bartender (not like that!) for $13. Or opt for the perfect fall cocktail, Make Love Not Warcraft, which combines whiskey, bitters, amaro, honey, and egg white. Ripple's cocktail goddess, Caroline Blundell, uses cinnamon and salt to cut the sweetness. She says it's suitable for any dude in plaid.
Chevy Chase
Known for: Southern charm and food with French flare. More specifically, fried green tomatoes with pork belly.
Pay attention to: Their brand new dessert cocktails launching this week -- because sometimes a cognac is simply not enough to rev you up for the rest of the night. One has a shot of espresso, so that should help. We also dig their variation on a Last Word that subs Pernod for Chartreuse, as well as the Mr. Burnt, an elixir of bourbon, burnt caramel, and tiki bitters.
Sign up here for our daily DC email and be the first to get all the food/drink/fun in town.