9 DC Bars & Restaurants Equipped With Fireplaces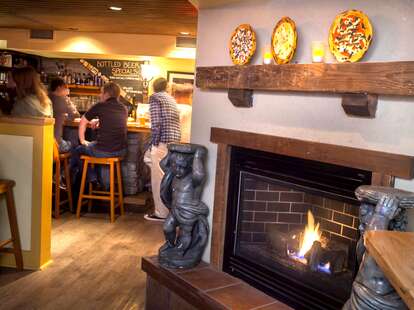 Pizzeria Paradiso
Pizzeria Paradiso
Stop pretending that cracking fireplace loop on Netflix is worth a damn and get yourself to a bar with actual flames you can feel and smell (from a safe distance). All that's missing from these nine spots is a bearskin rug and a little Boyz II Men -- well actually, who knows, MAYBE they'll be playing Boyz II Men. Regardless, these nine fireplace-equipped haunts will help you make it to spring.
Georgetown
Don't walk into Georgetown's Pizzeria Paradiso looking dumbfounded because you can't find the fireplace on the first floor. You have to wind your way down to the basement, commonly referred to as "Birreria Paradiso" because of its top-notch craft beer program: 16 drafts, 250+ bottles, and 14 cans. There's something about suds and a sweet little hearth that's like flipping the bird to the worst part of winter. Pro tip: Pizzeria Paradiso's Director of Operations Matt McQuilkin says, "The best way to score a spot is to get here early for happy hour and get your craft brews quickly! If you come in a group, someone can always hold down the fireplace fort and elect a member to replenish your beers!"
Dupont Circle
If you're going to splurge on a seal-the-deal romantic tasting menu, it better be lit by a roaring fire. The fact that Iron Gate's dining room doubles as one of the oldest eating edifices in the city also helps with the so-quaint-let's-get-it-on factor. There are four tables close enough for crackling action. Pro tip: General Manager Jon Barry says ask for table eight when making a reservation -- though anniversaries or birthdays get first dibs (in other words, be an opportunist and find or make a friend with an upcoming birthday).
U Street
U Street has a little bit of everything, including a lodge complete with a fireplace and sexy furniture. Fortunately, you don't have to stumble around ski boots to enjoy the après-ski atmosphere. Find the lodge on the second floor of The Brixton and get a mug of mulled wine in your hands as quickly as possible. Also, don't forget about their weekend happy hour from 1-5pm on Saturday and Sunday.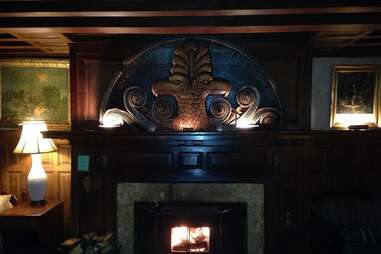 Dupont Circle
The fireplace in the main lounge at the Tabard Inn got even more awesome a few years ago when they installed a free-standing wood-burning stove for ambiance. Ambiance indeed! You can huddle up on couches that are worn with love (though hopefully not love-making) while listening to live jazz and sipping on stiff drinks fireside. Hear jazz Sunday, Monday, and Tuesday evenings and drink a top-notch Negroni, Sazerac, or a wintery "3rd District" made with Four Roses bourbon, spiced maple syrup, lemon, orange, and black walnut bitters. It has nothing to do with The Hunger Games.
Capitol Hill
To feel the heat, make your way upstairs to the lounge where a comfy couch faces the fireplace. From there you can nosh on impressive cheese and charcuterie displays, pizzas, or a bowl of comforting tagliatelle topped with duck confit ragu. Because the fireplace is located in the lounge, happy hour specials are fair game from 4:30-7:30pm on weekdays. Pro tip: call first to make sure a private event won't spoil your plans.
Georgetown
You + a heaping pile of nachos and a pitcher of beer at a college bar = the ultimate Throwback Thursday. Get to The Tombs, located under 1789 Restaurant, for a casual meal lit by a brick fireplace embellished with rowing oars. The fireplace is no surprise, because the Federal-style townhouse has been around since the mid-1800s.
Petworth
Intensify date night by hanging by the fire at Chez Billy. Ordering a dozen oysters is a good way to start, followed by something substantial for winter, like the steak frites. First timers should "get lost" on their way to the bathroom and explore the place. It's quite cavernous, with cool little nooks and a whole lot of history. Sometimes live jazz contributes to the mood.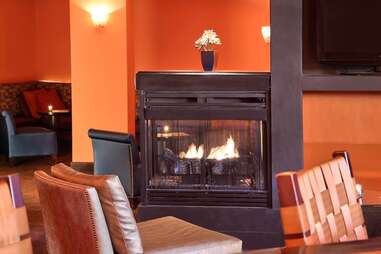 West End
Picture yourself in the Circle Bistro lounge with a gourmet grilled cheese in one hand, a Sidecar in the other, and the gentle heat from a fireplace caressing your... whatever. Now that's luxury (at not-so-luxurious prices). Because the fireplace is in the lounge area, you can gather around it to toss back $4 beers and $8 bar bites Mon-Fri from 4-7pm and Sat-Sun from 4-11pm. Other bar bites include pork belly with lentils, ham & aged-cheddar croquettes, lamb meatballs, and Clams Casino.
Georgetown
Paolo's can one-up most restaurants in the fireplace department, because they have three sources of flames -- this modern fire display, a traditional fireplace, and a pizza inferno that puts out a fair amount of heat as it cooks your Margherita pie. Ten pasta options should help you get that crucial winter padding for warmth. Pro tip: get in for happy hour (Mon-Fri from 4-7pm and Sat-Sun from 3-6pm) when they serve Bolognese fries for $6. They're exactly what you're picturing -- hand-cut fries topped with a three-meat ragu, cheese, and pepperoncini slivers.
Sign up here for our daily DC email and be the first to get all the food/drink/fun in town.