10 DC Bars You Can't Go to After 30
DC is inarguably a fine city for young people, attracting some of the smartest and most driven graduates from across the country. Those graduates need to blow off steam somehow, which means the nightlife kicks ass.
But there's a downside to being such a young city, in that it's quite possible to age out of certain portions of said nightlife. You can only rip shots in Dupont Circle with college kids for so long. With that in mind, here are 10 DC bars you probably shouldn't frequent after 30.
Dupont Circle
Have you ever seen a documentary about the first submarines that were used in war? The ones where they would show how an entire naval crew would fit into a space roughly the size of a dishwasher? Sign of the Whale is a bit like that, if every sailor in that crew was chugging rail liquor out of plastic cups. You are now at the age where it's time for big-boy glasses.

Dupont Circle
Going to Madhatter has always been a bit like going to McDonald's at 3 in the morning: it's fun while it lasts, but you hate yourself afterwards and don't want anyone to know you were there. Sweaty, sticky people drinking like the world is ending and losing their voices gets old after a while.
Logan Circle/14th St
Your 30s are supposed to be a time where you come into acceptance of who you are as a person. Masa 14 is a bar where you have to wait in line twice, once just to get in, and then once again to hang out upstairs in a crowd that's more often than not packed with style and lacking substance. After a while, you're less than impressed by big shiny staircases and "being seen." That said, the scene here is actually pretty reasonable in daylight and the food is impressive, just head elsewhere at sunset.

Georgetown
If you're 23, single, and have zero responsibilities outside of breathing and remembering to eat every four hours or so, Chinese Disco is a blast. If you're 30, rubbing elbows (and probably more) with a bunch of obnoxious Georgetown people probably isn't your best evening.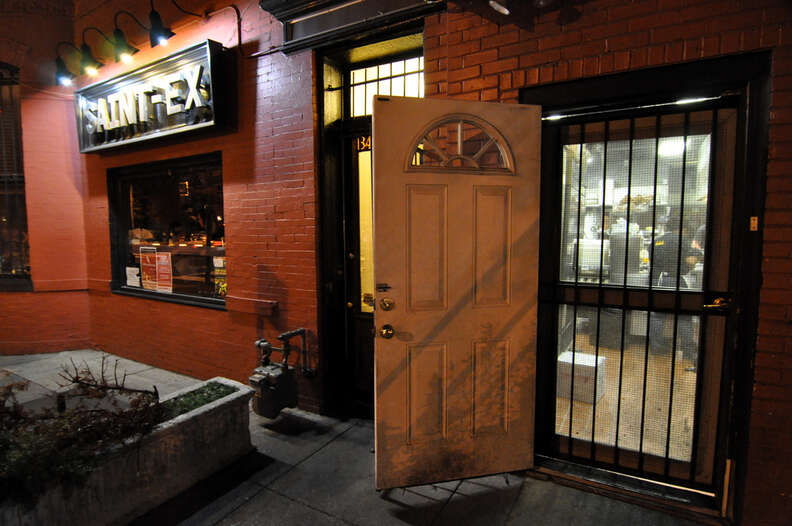 U Street
Here's the good: the service at Saint-Ex is almost always superb, the bartenders are fantastic, and the crowd is normally pretty great. Here's the bad: the bar has about as much real estate as a broom closet. Unless you're keen to come home wearing other people's drinks, it's probably best to avoid this sweaty cavern of questionable choices.

Glover Park
Walking into Town Hall for the first time feels like you stumbled into an SEC frat house, one giant orgy of Sperrys, pastels, and Patagonia vests. And while its back deck can make for a decent time, your 30s should generally not be spent around those still rocking fraternity letters. Especially if it's one of the biggest bro bars in the country.
U Street
If you've ever wondered what it would be like trying to order a drink while wearing a straightjacket, then check out El Rey on a summer night. If, on the other hand, as a 30-year-old adult you enjoy going to bars where you enjoy use of your extremities and don't receive angry glares from strangers on account of your crime of... standing, maybe head elsewhere.

Adams Morgan
Seeing as this is also a place to go in DC before you die, it was tough to include... and if you're in your late 20s and haven't yet been, better get on it, lest you miss the opportunity to belt out some heartfelt Billy Joel with strangers in a swampy basement with a disturbingly sticky floor. But alas, all good things must end sometime. In this case, at 30.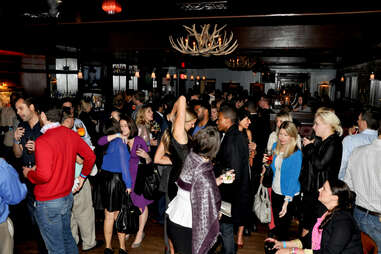 U Street
This might be the most ubiquitous rooftop bar in all of DC, which makes for massive lines. While the amount of real estate means it won't ever get as crowded as Madhatter, getting a drink can still take ages, as in if you're 29 you might age out of the bar by the time you get one.

Dupont Circle
Actual review from Yelp user Clifford D: "I do not like Rumors. It is loud. It is dirty. There really is no reason to go here unless you are single and in your early twenties. I am neither and I don't like it." Well said, Clifford. You made this one easy.
Sign up here for our daily DC email and be the first to get all the food/drink/fun in town.