What do you look for in a sports bar? Maybe a grungy basement fit for wearing sweatpants (the good ones) and downing domestics? Or perhaps a high-tech temple outfitted with strong Wi-Fi for fantasy football monitoring? Wait, wait, maybe it's a brotastic gastropub where you can scarf down hog wings or Old Overholt soft-serve! Here's where to head in 14 DC neighborhoods -- hopefully you'll find your sports bar soulmate.
U Street
The Prospect (address and info)
Everything about this sports bar is polished -- and not just because it's brand-spanking new. There are 40 flat screens for catching the game and food that's really hard to label as pub fare given that the kitchen team braises two goats a week and coats an invention called "hog wings" with any number of gourmet sauces. A ketchup-and-mustard hued first floor gives way to a staircase studded with Louisville Slugger bats and an expansive second level (pictured). Keep your eye out for a sweet golf club chandelier Tiger Woods would undoubtedly throw money at if he knew it existed.
Navy Yard
​The Big Stick (address and info)
When your team scores a TD at The Big Stick, there's only one right move: shot-skis. Yea, that's four shots lined up on a wooden ski for you and your buds to tip back. The new Navy Yard sports bar swirls baseball park and Alpine ski lodge aesthetics for an inviting atmosphere that also incorporates comfy couches, a fireplace, a 70in TV, eight flat screens, and wait for it... a pitching machine. You're ordering cheese curds imported from Wisconsin, corn dog nuggets, assorted sausages, and the pork belly burger all washed down with German beer. Before you have too many beers, see if you can find F.P. Santangelo's Montreal Expos jersey.
Adams Morgan
​Ventnor Sports Cafe (address and info)
During the summer sports hiatus when SportsCenter was virtually unwatchable, Ventnor Sports Cafe was making changes. The bar added eight TVs to bring the total closer to 40 and buffed up the food and beer menus a bit -- even taking advantage of DC's "gray laws" that allow bars to act as importers (read: drink cool suds). You can never go wrong with padding your stomach with the breakfast burger, but don't give the turkey Reuben any side-eye -- it's the best thing on the menu. Tots, too.
Petworth
​The Airedale (address and info)
English Premier League and German Bundesliga fans look this way. The Airedale, which just opened in that nebulous neighborhood between Columbia Heights and Petworth, is bringing it big time when it comes to footy. Starting at 10am, fans stream in to watch the games alongside brunch dishes that wow, like the Monte Cristo: deep fried and stuffed with French ham, roasted turkey, béchamel and Gruyère served alongside Lambrusco wine jelly. With a little peer pressure perhaps the bar could be convinced to open for the early games...
Shaw
Ivy & Coney (address and info)
Grab a stool next to a downtrodden Bears or Lions fan at this new-school sports dive. There's a lot of football woe-is-me going around, which usually leads to shots. In fact, the bar's loyalty to Chicago and Detroit is so strong, that even Rahm Emanuel swung by on October 7th to cheer on the Cubs. You're drinking Stroh's, and sloppily consuming Detroit Coney-style dogs. Maybe some Cracker Jacks, too, in order to keep the illusion of baseball season alive.
Chinatown
​Redline (address and info)
The move: get one of Redline's eight booths with the personal table tap system so you don't have to fight the crowd for a beer every quarter. They can be reserved via e-mail ahead of time for six people or more. But, that's not to say there aren't other plusses making Redline the pick for pre- and post-Verizon Center games. Food highlights include lobster & shrimp beignets, Kobe "haute" dogs, jumbo chicken wings, and pizzas. Make it a true Sunday Funday with Redline's shots & drops like the dirty golfer or oatmeal cookie. Hopefully your game is the one on the 11ft projection screen, but if not there are more than 40 flat screens.
Dupont Circle
​Maddy's Bar and Grille (address and info)
Maddy is more than the new baby name polluting your news feed. It's a sports bar/pot of gold in Dupont Circle with nearly 50 beers to choose from along with next-level bar food: we're talking raspberry BBQ pulled pork sandwiches; mini-burgers that come in orders of three, six, or nine; and a Philly cheesesteak that even Balboa would approve of. Wait, there's more. On Sundays, beer & shot combos (Natty Boh or Miller High Life with Fernet or Old Overholt) are $6 all day long.
Columbia Heights
Meridian Pint (address and info)
It's time to change the fact that you've never ventured downstairs at Columbia Height's best beer spot. That's where the magic happens on weekends, when Meridian Pint shows all NFL and College GameDay games across 12 TVs. Come before kickoff to give yourself plenty of time to peruse the beer list of 24 drafts and 72 bottles that is currently leaning hard on the Oktoberfest theme. Look for specials on brews, burgers, and nachos during games, and feel free to e-mail ahead of time to reserve a self-service tap table.
Logan Circle
​Stoney's (address and info)
Our kind of food and beverage pairing? A 20-wing platter for $15 paired with a $12 pitcher of beer. Get this deal on game days, along with $7 nachos and $9 pizzas. Stoney's sweetens things even further with the $30 NFL Black Card. Show it on Sundays, Mondays, and Thursdays and your first beer is free. The Skins game will be on downstairs with sound, then there's the upstairs with more tables and TVs (but also, Broncos fans).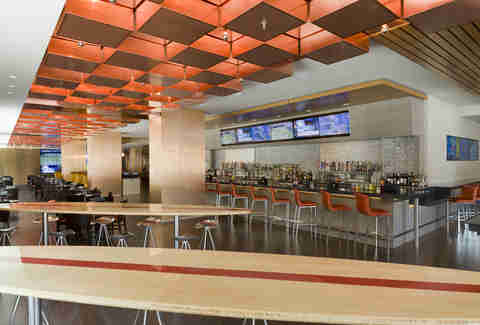 Mt. Vernon Square
​High Velocity (address and info)
This is your pick if fantasy matters more than reality on game day, because there's free Wi-Fi and plenty of space to spread out should you need to set up three screens (work league, frat league, CrossFit Box league). The 40 flat screens and ticker-tape scores should help, too. Choose from 48 beers on tap, and if you're going between-the-bun, know that the "Mighty Mo" with two beef patties, Mighty Mo sauce, onion rings, and coleslaw is the right move. Arrive early to snag a surfboard table if you're rolling with a crowd.
Barracks Row
​The Ugly Mug (address and info)
Come as you are to this neighborhood haunt that doubles as a sports bar selling 100oz towers of beer. It's got the laid back game day vibe down, especially once you order a football platter overflowing with wings, mozzarella sticks, and fried pickles. Don't even get us started on the pizza tots. Get ready for The Ugly Mug to get even better. It's about to roll out a new menu, and a second floor with a retractable glass roof is in the works.
H Street NE
​Star & Shamrock (address and info)
Star & Shamrock does so many things right, starting with the Irish pub meets Jewish deli thing. This winning cultural combo is how snacks like Reuben egg rolls and fried matzo chicken wings came to be. Then there's the fact that Bullfrog Bagels headquarters is right inside! Catch your game on one of the seven flatscreen TVs and look for specials on pitchers and bar food.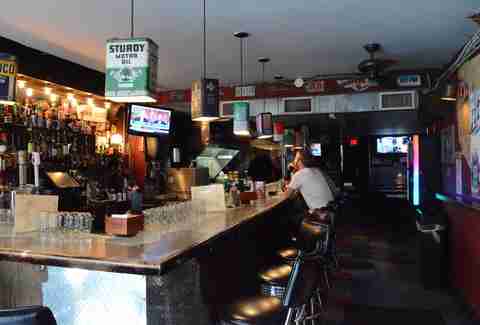 Capitol Hill
​Trusty's (address and info)
You know Trusty's for its sweet school-bus bar, but don't overlook this playful Potomac Ave bar when it comes to sports. Hipsters will cheers to the fact that the beers come in mason jars, while everyone else will derive maximum satisfaction from buffalo chicken cheesesteaks, bratwursts, and nachos that taste like they actually came from a stadium. During weekend games, Miller Lite pitchers are yours for $12.
Cleveland Park
​Cleveland Park Bar & Grill (address and info)
A neighborhood staple, Cleveland Park Bar & Grill has all the ingredients for a good Sunday: nearly 40 flat screen TVs (including several on the rooftop terrace); wood-fired pizzas; and cheap drafts. Always ask about the food specials, that's how you'll find out about things like fajita pizza or mac & cheese bites served with spicy marinara. Another good time to visit is during Monday Night Football, because burgers and buffalo wings are half-off from 5pm until close, and once you hit the second half around 10pm, PBRs and Miller Lites are $3.
Sign up here for our daily DC email and be the first to get all the food/drink/fun in town.