The 4 DC Distilleries You Need to Know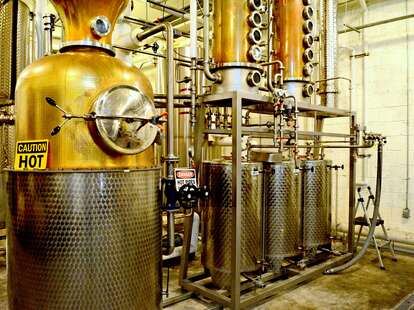 Purcellville, VA
The quick and dirty: A husband-and-wife run distillery in Virginia's wine country, producing organic (and kosher!) spirits in a setting you want to spend time in.
What they're known for: Roundstone Rye — a sweet and spicy rye aged in Minnesota white oak casks. You've likely sipped your share of Old Fashioneds made with this bad boy in bars throughout the DC area.
Other products: Roundstone Rye 92 Proof; Roundstone Rye Cask Proof; Watershed Gin, Mosby's Spirit (a white whiskey), 1757 Virginia Brandy, Pearousia (pear brandy) and Short Hill Mountain Peach Brandy.
Upcoming releases: An apple brandy coming late winter/early spring and an Old Tom-style gin aged in pear brandy barrels.
Visit: Tours ($5) and tastings ($5-$10) are offered Tues-Fri from 1-5pm with tours at 2pm and 4pm; Saturdays from 12-7pm with tours every hour; and Sundays from 1-6pm with tours at 2pm and 4pm. BONUS: Sometimes they'll let you jump in and help with bottling.
Special events: "Dinner at the Distillery" is offered one Friday per month and includes a tour and a four-course dinner paired with cocktails for about $100. The next installment is January 23, and February's dinner is a non-lame way to spend Valentine's Day. Musician Howie Day will perform at the distillery on Thursday, March 5th.
Recipe: "Miss Piggy"
2 oz Catoctin Creek Roundstone Rye, infused with cooked bacon
1 oz maple syrup
1 oz fresh orange juice
Angostura bitters
Orange twist garnish
Stir to combine with ice, strain and fill in a cocktail glass, and garnish with an orange twist.
Detour: Don't leave Catoctin Creek without taking down a burger at Market Burger Fries & Shakes, located across the street.
NW DC
The quick and dirty: A producer of small-batch Italian liquors with more history than you can handle. Founder Francesco Amodeo's family began distilling on the Amalfi coast back in 1883. They operated for nearly 100 years before an earthquake destroyed everything in 1980. Francesco has revived operations right here in DC.
What they're known for: All-natural limoncello made from Italian citrus. However, their Amaro delle Sirene (launched in June 2014) is having quite a moment. The recipe involves an infusion of 30 roots and herbs.
Other products: Walnut-based Nocino; hibiscus flower liquor dubbed Ibisco; Mandarinetto made from mandarin oranges; Concerto made from a secret monk recipe; prickly pear liquor called Fico d'India; and a fennel digestif called Finocchietto.
Visit: Public tastings are Saturdays from 1-4pm. However, Francesco will bring his wares to your apartment (or more awesome location) for a private tasting on Saturdays or Sundays. Private tastings are capped at eight people, and the cost is $40 per person.
Recipe: "From DC to Amalfi"
2 oz Green Hat Spring/Summer
1 oz DCF limoncello
Carbonated water or club soda
Shake with ice and strain into a collins glass filled with fresh ice. Top off with club soda. Garnish with lemon.
Detour: Less than a half mile from Don Ciccio & Figli is 3 Stars Brewing Company, so make a Saturday of it. Growler hours run from 1-5pm and tours are offered at 2pm and 3pm.
Ivy City
The quick and dirty: This new kid on block opens to the public January 10 in Northeast, DC with an expansive 7,500sqft production facility and dead-sexy tasting room. Co-owners (and former college roommates) Sandy Wood and Alex Laufer named their distillery after Article I, Section 8 of the Constitution, which provided for the establishment of a district to serve as the nation's capital.
What they're known for: Too soon to tell, but they're coming out of the gates with three offerings: District Made Vodka made from rye that Sandy and Alex vow will actually taste like something; a classic dry gin called Ivy City Gin; and un-aged Rock Creek White Whiskey.
Upcoming releases: Further down the line, One Eight plans to produce single malt whiskey, rye, and bourbon.
Visit: Tours and tastings are available Saturdays from 1-4pm. Expect local vendors and food trucks, like Red Hook Lobster Pound or Carnivore BBQ, to be on site providing nourishment.
Detour: Double down and visit New Columbia Distillers (below). Tour and tasting hours are identical and they're around the corner.
Ivy City
The quick and dirty: The first distillery to open its doors in DC post-Prohibition aptly named its signature product after a bootlegger rarely seen without his signature green felt fedora. George Cassiday originally sold booze on the sly to Congressmen out of a House office building. But, after loose lips got him caught, he bounced over to the Senate where folks were (and still are?) better at keeping quiet. Cassiday's son lives in the area, and was the first to receive a case of gin.
What they're known for: Their signature Green Hat Gin, which is ripe with citrus and coriander, but comes across smoother than most.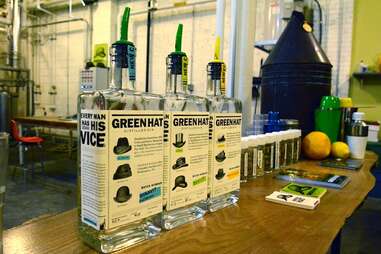 Other products: A spring/summer variation incorporating cherry blossoms. Relax, co-owner Michael Lowe promises they don't take branches from the Tidal Basin. They do, however, pluck fresh rosemary from co-owner John Uselton's garden. They also produce a fall/winter variation dubbed Ginavit because of its aquavit flavor profile. The Ginavit is aged in apple brandy barrels and has strong notes of star anise and caraway. It's a whiskey drinker's gin, so try it neat.
Upcoming releases: Get ready, because Navy Strength Gin is coming in about a month. Its high proof will be beloved by bartenders, because it allows the gin to stand out in cocktails. Boosting the botanicals helps prevent the gin from being a scorcher, Michael says. They're also in testing-mode for a rye whiskey, but the finished product is at least two years away.
Visit: Free tastings and tours are offered Saturdays from 1-4pm.
Recipe: "The Fascinator"
1 and 1/2 oz Green Hat Gin
1/2 oz Cointreau
1/4 oz Campari
3/4 oz fresh lime juice
Combine all ingredients in a shaker with ice, then shake and strain into chilled glass.
Detour: Union Market is a short drive away. Fuel up on 'cue from one of the market's newest vendors -- The BBQ Joint.
Sign up here for our daily DC email and be the first to get all the food/drink/fun in town.