If walls could talk at these 13 bars, they'd have stories FOR DAYS. That's because they're the DC area's oldest and most storied establishments (and whether that means the late 1800s or the 1940s, you KNOW there were stories going down). Many have been passed down from generation to generation.
Take, for instance, The Tune Inn. Pictured is Joe Nardelli in the 1940s. He founded the bar, which is now in the hands of his granddaughter Lisa. Read on to see where your favorite presidents got rowdy.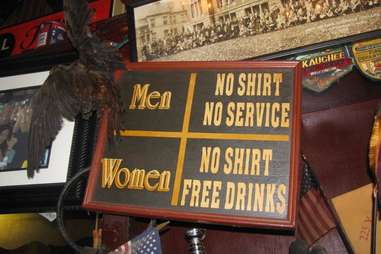 Capitol Hill
A lot's changed since Joe opened The Tune Inn in 1947. "To get from one end of the bar to the other, I had to walk the testosterone gauntlet; today it's much different, you can bring your kids," Lisa says. But everything else remains the same, even after a devastating fire. A dude named Ray restored all of Joe's hunting trophies — taxidermied animals that are partially responsible for the character of the place. "I even have my own ass above the men's room," Lisa jokes. She's talking about the mounted butt of her first buck. However, the biggest thing that's stayed consistent for 60+ years is the attitude that everyone's welcome — from the bigwig politico, to the guy who saved up all day for a beer.
Downtown
You'll feel like you're entering a private society of public figures when you step into the red velvet-wrapped Off The Record, located inside the historic Hay-Adams. It's been the place to be-seen-but-not-heard over stiff, classic cocktails for decades. But that's not to say it's old-timey. Quite the opposite — it's modern enough to attract the cast of Homeland. The caricatures lining the walls have provided continuity over the years; they showcase the work of political cartoonists of the past and present, and now include a series of coasters. Stop in to have a Manhattan on top of a coaster featuring Dubya pouring a drink for Obama.
U Street
The address 1610 U Street is storied as all get out. Pre-prohibition, it housed McCarthy's saloon, and when that damn 18th Amendment cropped up, the bar took things underground. Literally. A bottle label boasting the address proves liquor was being distilled in the basement. Much later, it became a steakhouse that played host to big-name jazz musicians. Finally, in 1980, a retired secret service member opened DC's first Tex Mex spot and named it Stetsons. Look for a bullet hole in the ceiling from when a guys' night out involved firing off a few rounds for fun. Also note that the downstairs bar remains intact from the 1920s, as do the floors, mirror kit, and gun cabinet.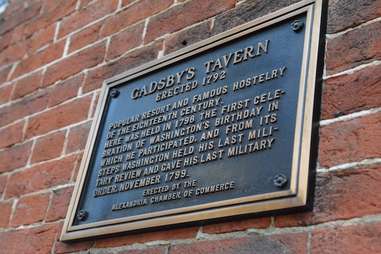 Alexandria, VA
Do it up like our first five presidents at Gadsby's Tavern. That's where they liked to imbibe and be entertained. It started out as City Tavern, when John Wise opened it in 1792. In 1796. it was leased to John Gadsby — "The Donald Trump of the Day," according to Museum Assistant Director Liz Williams. That's right, there's a museum next to the tavern, so pop in there before your pint. Gadsby had a rep for crushing it at hospitality, and poured George Washington, Thomas Jefferson, and the common man rum punch and Madeira. Don't leave before checking out the original, moneymaking ice well. Ice was hard to come by, because it had to be cut from the river and hauled up the hill.
Downtown
Though the modern oyster-shucking spot we think of as Old Ebbitt today opened in 1983, the history of the restaurant dates back to 1856, when it was a guest house down the street. McKinley, Grant, Johnson, Cleveland, Roosevelt, and more frequented the "Saloon for Presidents". Pay attention to three things when you visit: The gas chandeliers in the bar area (which come from the original site); the antique beer steins that have been gathering dust (in a good way) since 1926; and the animal heads, which may have been bagged by Teddy himself.
Dupont Circle
Just like the best bars today, The Tabard Inn's opening bash was recorded in the Washington Post. The year was 1922, and the proprietor was one savvy chick named Marie Willoughby Rogers. She named the property after the hostelry in Geoffrey Chaucer's Canterbury Tales, and the female-friendly slant continued into WWII, when the Inn served as a boardinghouse for Navy Women Accepted for Volunteer Emergency Service (W.A.V.E.S.). Today, you can drink a fancy cocktail, including one that famously bears the Inn's name, in one of the coziest lounges in the city.
Downtown
1.5 million deals have been brokered at Round Robin since the Willard family opened the doors in 1847. Ok, that number's not scientific, but it's probably close, since The Willard was the hotel of choice for president-elects, dubbing it "the Little White House". Not only have most presidents passed through, but so too have Mark Twain and Walt Whitman. Bar man (and remarkable historian) Jim Hewes can walk you through every decade of dirt while simultaneously making you a Mint Julep. After all, he's tended bar there for nearly 30 years. "Nobody does time like 25 years anymore, I must have done something really bad," he jokes.
Dupont Circle
Teddy Roosevelt's DC life wasn't so different than ours today. He'd climb out of his Dupont Circle residence and head to Rock Creek Park for a hike. Well, except for the fact that he was leading ambassadors on those hikes and the residence was a mansion. Today, that spot is the Eighteenth Street Lounge, according to the bars' owners. Next time you pop in for jazz in one swanked-out room, or for a dance party in another, ask yourself WWTD? (What would Teddy drink?)
U Street
Coming up on 90 years of operation, Bohemian Caverns is one of the oldest jazz clubs out there. It's provided awesome date nights of live jazz and candlelight since it opened as "Club Caverns" in 1926. After a brief shutdown in the 1940s, the club reopened as "Crystal Caverns", before finally being dubbed "Bohemian Caverns" a few years later. You name it, and they've performed here: Duke Ellington, Miles Davis, and John Coltrane, to name a few. Grab a drink to experience something people have loved for nearly a century.
Georgetown
Martin's Tavern has been passed on from one Billy Martin to another for four generations. It all started when William S. Martin traveled here from Galway, Ireland in the late 1890s. Together with his son (you guessed it) William G. Martin, they opened the tavern in 1933. Martin says every president from Harry Truman to George W. Bush has had a meal at Martin's, and some had many many meals. Like Richard Nixon, who has his very own booth. It's a fun place to sit to sip a pint, but if you're on a date, see if you can snag the booth that bears a plaque about JFK's proposal to Jackie O.
Potomac, MD
Things that hadn't been invented when The Old Angler's Inn first opened: typewriters, telephones, metal detectors, machine guns, and Coca-Cola. Hopefully that puts "old" in perspective. The Inn's original purpose was to serve those coming and going along the C&O Canal, but big names like Teddy Roosevelt also stayed there (for hunting and fishing of course). A DC attorney purchased the Inn in 1957 as a gift for his wife, Olympia Reges, who took charge through the 1980s. When she passed, the second generation of Reges took over. Recently, while doing restoration work, hidden paintings were discovered on the walls behind layers and layers of paint and plaster. Ask about them on your next visit.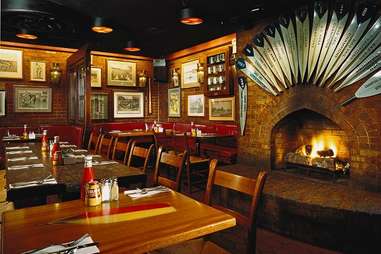 Georgetown
Most things at The Tombs aren't older than a college senior today. However, the Federal-style townhouse playing host to all those hormones was built in the mid-1800s. The rathskeller-style bar was founded by Richard McCooey in 1962, who named it after a T.S. Eliot poem. His goal was to create a place where teachers, students, and parents could come together. One of his favorite things was to invite in The Georgetown Chimes — the university's acapella group that's been singing since 1946. Also look for name inscriptions of people who've worked there; they date all the way back to 1962.
Capitol Hill
When a flock of Irish-Americans migrated from Boston and elsewhere to DC during the Kennedy Administration, Danny Coleman answered the call for a legit Irish pub by opening The Dubliner in 1974. The bar, now run by his son Gavin, has been pouring perfect pints of Guinness ever since. Naturally, every Irish Prime Minister since the bar opened has visited The Dubliner on their annual St. Patrick's Day visit to DC. We reckon they appreciate the authentic fish & chips and authentic Irish-accented staff that goes along with them.
Sign up here for our daily DC email and be the first to get all the food/drink/fun in town.