Your Sunday Funday Handbook: 10 Spots to Day Drink in DC
Turn laundry, gym, and call-your-dad day into an adventure that can transport you to far-off lands like New England, Spain, and wherever a Margaritaville still operates. All it takes is the right amount of day drinking and a festive atmosphere. We've rounded up some old favorites and fresh picks for your next Sunday Funday.
Union Market
The signature silver bean of a bar that produces some of the best frozen drinks in the city is now open outside Union Market. Find it by looking for the NFL-grade turf, lawn games, flip cup table, and buzzed clientele holding sticky summer shandies made from beer, lemonade, and fresh ginger. Suburbia offers 10 beers on tap plus two draft cocktails and buckets of beer whenever they're open, but Sundays are special. That's when they bust out experimental Bloody Mary cocktails and sell them two-for-one. Suburbia opens Sundays at 11am.
SW Waterfront
Cantina Marina's Margaritaville atmosphere means you'll feel more like you're on vacation and less like you're putting off errands. The guilt subsides even further when your first "Escalade Margarita" arrives. That's the frozen margarita that comes with a mini bottle of Grand Marnier, just because. Another bonus to Sunday Funday? Corona-ritas are only $10. Bring the pup and tackle some Super Nachos by the water. Open Sundays at 11:30am.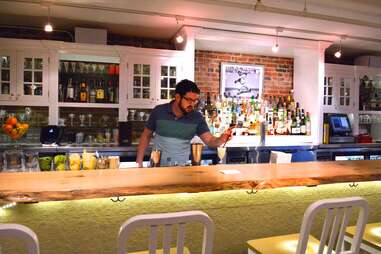 14th Street
Usually the clock has to strike 6pm to enjoy 2 Birds, 1 Stone. That's no longer the case on Sundays, when the doors swing open at 3pm for what they call "6 ways 2 Sunday." Six cocktails from Adam Bernbach are on offer -- several acknowledge you're drinking during daylight, like the michelada and Irish coffee. Bring a group of Sunday Funday friends and split the Airmail-in-Carafe ($34), which contains dark rum, sparkling wine, honey, lime, and bitters.
Trinidad
Everything is intense at Bardo Brewpub in Northeast. It's gargantuan in size, and the beer list reads like a quirky novel. A good Sunday Funday session beer is the Australian-style Bunbaberg Ginger Beer, because it's boosted with pounds of fresh ginger instead of hops. Bardo is also obsessed with aging beers in chestnut oak. Work your way through the rotating selection of 16 drafts starting at 1pm on Sundays. Note that Bardo could be much bigger by summer's end. The team behind the brewpub is gearing up to open a two-acre beer garden and dog park near Nationals Park.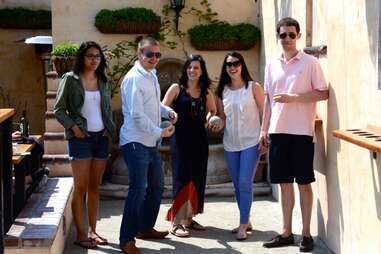 U Street
Getting time on the Vinoteca courtyard bocce court means you're practically Sunday Funday royalty. Everyone sipping amari spritzes and eyeing the court wants to be you. But they're not, because you promptly arrived at 11am when the court opens on Sundays. Relish in that as you throw a few in between bites of fancy dogs and pitchers of sparkling sangria. This year's grill line-up includes duck sausage topped with slaw and Korean chili mayo and a Columbian-style dog topped with grilled pineapple dubbed "Miss Universe."
14th Street
The weather's not going to bring it's A-game every week, so make sure to cue up some rainy-day retreats. Black Jack, for example, goes on happy hour pricing all day Sundays from 3-10pm. Think $7 pizza and burgers and $10 buckets of beer all throughout the afternoon. The best deal, however, is the $25 bucket of fried chicken, bacon-braised greens, spicy coleslaw, and jalapeño corn muffins. Having a picnic in a bar means no busted tan lines or ants, and the Nats game will probably be on.
U Street
This place is a hipster bingo card: can beer, Mason jars, local sausage, Narragansett lager, pickles, and bar food with adorable names ("swatchos," anyone?). That being said, it can be a low-key Sunday-hang that's only a fraction less crowded than Dacha or Garden District. In addition to the swine-topped nachos, try the half-smoke that hails from nearby 13th Street Meats. Open Sundays at 1pm.
Dupont Circle
You, your swim trunks, and a cocktail belong on the roof of the newly renovated Embassy Row Hotel. Sure, you have to pay $25 for a day pass, but all will be forgiven after your first hour of lounging in luxury with a view. The bar opens at 11am Sundays, and they'll serve drinks and snacks off the new Station Kitchen & Cocktails menu. If you want to wait it out, roof access is free after 5pm. Just no ticking people off in the cabanas by doing your best cannonball.
Capitol Hill
Start Sunday Funday off with Hank's "Hangover Juice," which will fix the fact that last night ended with Fireball. It combats a thumping headache with rum, falernum, carrot, orange, coconut water, and cayenne. Then you'll be ready for mix-and-match bottomless drinks until 4pm for $15. Nosh on lobster rolls, popcorn shrimp, Bloody Mary oyster shooters, and more to curate a Cape Cod-like afternoon. Both the restaurant and The Eddy Bar open at 11am on Sundays.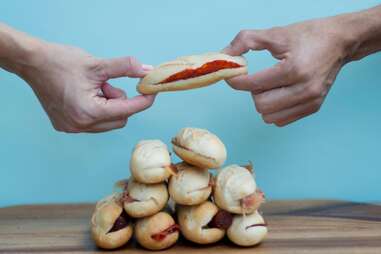 Navy Yard
This is your Sunday Funday option if you accidentally bought too many $14 cocktails on 14th St last night, because it's dirt cheap. The Spanish import boasts a menu with 100 (duh) mini-sandwiches priced at $1.50-$3.00 each. Nibble on them on the sunny patio while kicking off a serious sangria session. Five types are available by-the-mug for $4, or pitcher for $10, and buckets of beer are just as cheap. It's open Sundays at 11am.
Sign up here for our daily DC email and be the first to get all the food/drink/fun in town.