We Took a Philly Field Trip to Hoist a Barrel From the Hottest Craft Distillery
<strong>Declaration's Old Fashioned |</strong> Laura Hayes/Thrillist
Twelve bucks is a bargain for an Old Fashioned at Shaw newcomer, Declaration. Hold up, eye-roller, and keep reading: this variation on the classic contains Dad's Hat Rye, savory syrup made from DC Brau's Penn Quarter Porter, a mezcal rinse (so hot right now), Angostura bitters, and a rye cherry. What makes it worthy of opening your wallet and making it rain plastic is that Declaration handpicked a proprietary rye on a cheesesteak-fueled trip to the Bristol, PA distillery. Of course, we had to tag along to watch the bar's cocktail maven plant his flag in something special.
"The inspiration for the restaurant is the Declaration of Independence, so we tried to fold in elements that make sense, like serving a rye from Philly," says John Hogan, who is also the beverage consultant for Declaration's sister restaurants -- Lincoln and Teddy & The Bully Bar. If you have a home bar worth a damn, you probably recognize his mug from the label of Bar Keep lavender bitters.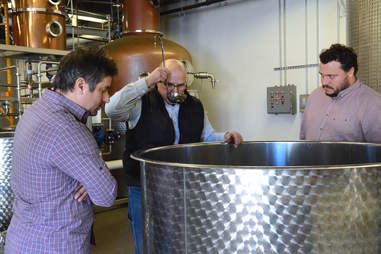 <strong>John Hogan, Herman Mihalich &amp; Chris Schmid of Ledroit Brands |</strong> Laura Hayes/Thrillist
Accompanying this bar big shot on our trip was a crew from DC-based Ledroit Brands -- a liquor distribution company that gets anything-but-boring products into your favorite bars with swagger. It was the first to bring Dad's Hat out of Pennsylvania. "That's why they let us get away with murder a little bit," says managing partner Mike Cherner. Fast-forward to the present, when you can find Dad's Hat up and down the East Coast, as well as across the country in California, and overseas in Europe and Asia.
Laura Hayes/Thrillist
Murder, indeed. Dad's Hat was named "Craft Whiskey Distillery of the Year" in the March issue of Whiskey Advocate. That means fewer proprietary, or "barrel select" orders for bars or restaurants. "We're taking the foot off the pedal for the moment, just because there is such a high demand for our whiskey," says founder and distiller Herman Mihalich. "We got caught with our pants down a little bit when the award came out, because everybody doubled their orders." See why that $12 drink is starting to look like a better value than an Adele ticket? It's practically liquid accolades.
Laura Hayes/Thrillist
After a tour of the facility's fermenters, tanks, and stills, we grabbed taster glasses in pursuit of finding Declaration, something customers would go gaga over. And get this: as is Dad's Hat tradition -- and so painfully Philly -- the palate cleansers between nips of rye were none other than Entenmann's chocolate donut holes and Herr's pretzel rods. The only thing that would have been more brotherly love is if each barrel was called a jawn.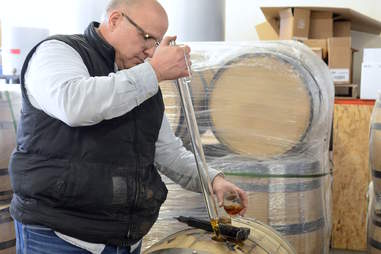 <strong>Herman Mihalich of&nbsp;Ledroit Brands |</strong> Laura Hayes/Thrillist
Mihalich guided us from barrel to barrel, drawing out rye with a whiskey thief so we could evaluate its merits -- often stopping to deliver his favorite line, "Are you rye-curious?" (T-shirts coming soon.) There was significant flavor variation between whiskies aged in 53-gallon barrels versus 15-gallon barrels: the smaller barrels receive the cleanest cut of whiskey coming off the still because they age for significantly less time -- only six or seven months -- while the 53-gallon barrels can handle liquid that's a little more gruff because it has years to mellow out. While we called out descriptors like "grassy," "fruity," and "dry," Mihalich was not as verbose. "For me, it's yes or no -- it's an emotional kind of thing," he says.
<strong>Chris Schmid, Mike Cherner, Herman Mihalich &amp; John Hogan of Ledroit Brands |</strong> Laura Hayes/Thrillist
The first cut was the deepest for Hogan. Despite sampling at least ten pulls of whiskey, he fell for the first one we tried -- a spicy blend of rye from 15-gallon barrels. Typically, Dad's Hat hauls in grain from a farm in Bucks County, but this particular rye came from a different source, making it stick out: the rye was velvety, like Mexican chocolate, but with a kick. It was also dry and a little vegetal. "If you chew on it a little, you'll feel the heat on your gums," Mihalich added. Hogan determined it would stand up to all of the other players in the cocktail.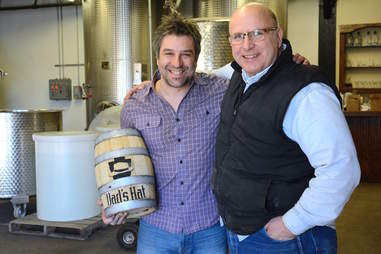 <strong>John Hogan and Herman Mihalich |</strong> Laura Hayes/Thrillist
Hogan scored beaucoup bottles of his made-in-heaven rye match, with the hopes of the supply lasting through the summer. Fat chance, in a city fueled by brown liquor, but our fingers are crossed. He's dubbed the first batch "Declaration Straight Rye," and come fall, he'll return to the distillery to make a fresh selection. He plans to name each subsequent batch after a signatory of the Declaration of Independence.
Sign up here for our daily DC email and be the first to get all the food/drink/fun in town.
Laura Hayes is a DC-based food, drink, and travel writer who also contributes to Washington City Paper, Food Network, Arlington Magazine, and others. She hails from Philly, so she's allowed to poke fun at the City of Brotherly Love's idiosyncrasies. Follow her on Twitter @BTMenu.